Hi and welcome to
Easy Peasy Lemon Squeezy
A place to inspire, share and talk everything kitchen with a side order of lifestyle and social ;)
Easy Naked Cake – perfect for birthdays
Easy Naked Cake
I've been promising this new Easy Naked Birthday Cake for a very long time and here it finally is.
And it's SIMPLE – yes really!
It a simple Naked Birthday Cake!
Just in time for Mothers Day!!!! But of course it doesn't need to be Mothers Day – anyway will do
See how I spoil you with this easy naked cake recipe!
Sometimes this type of cake is also referred to as a semi dressed cake or a rustic birthday cake!
How flipping pretty and natural is that!
No fancy pants stuff here, no need to be hesitant.
It's super easy and you should really give it a try.
Simple Naked Cake often called semi-naked cake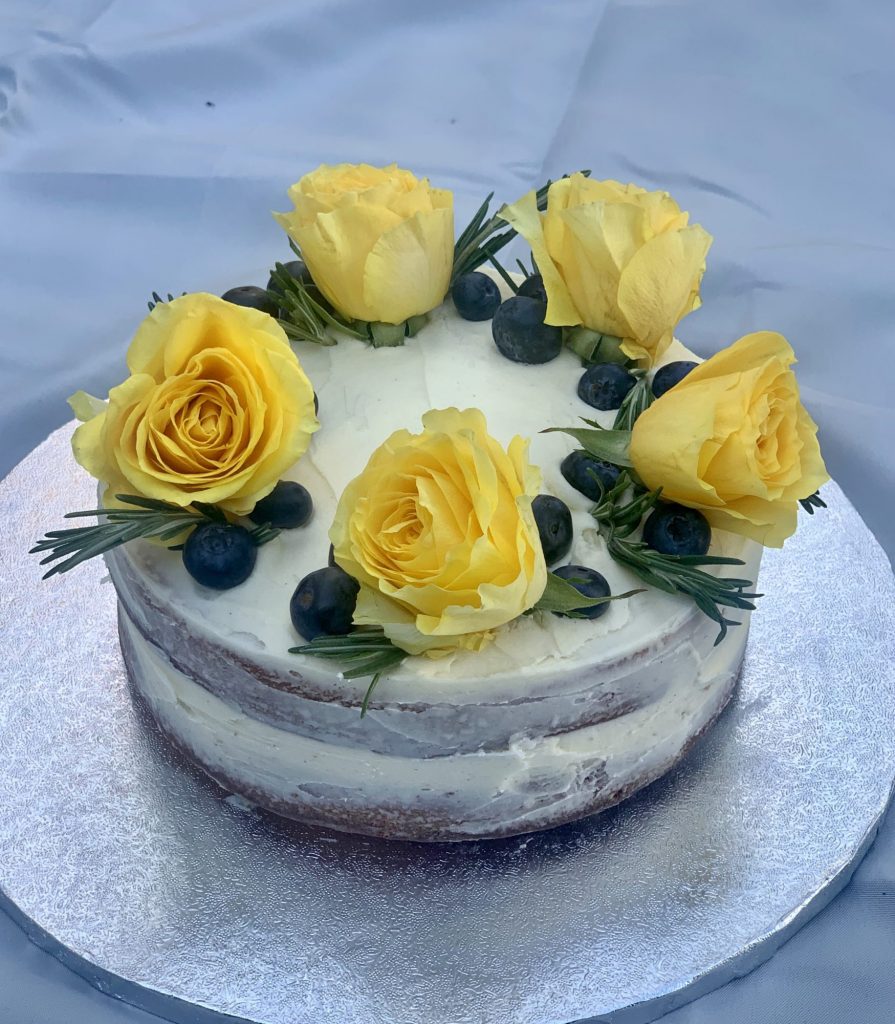 Pretty Naked Cake
It is the simplest and prettiest cake you could ever wish to see.
And I promise anyone can make it, irrespective of your skills.
The beauty of a naked cake is exactly that – it's naked with just a brush of butter icing on the sides.
It doesn't have to be perfect at all and for me the 'scruffier" it is the more individual it is. That signifies to me what a proper homemade birthday cake should be?
My Birthday Vanilla Sponge is a good old fashioned heavy type. One that is reminiscent of the 'old school type.'
It's tastes buttery and sweet with a good texture for icing. Yum!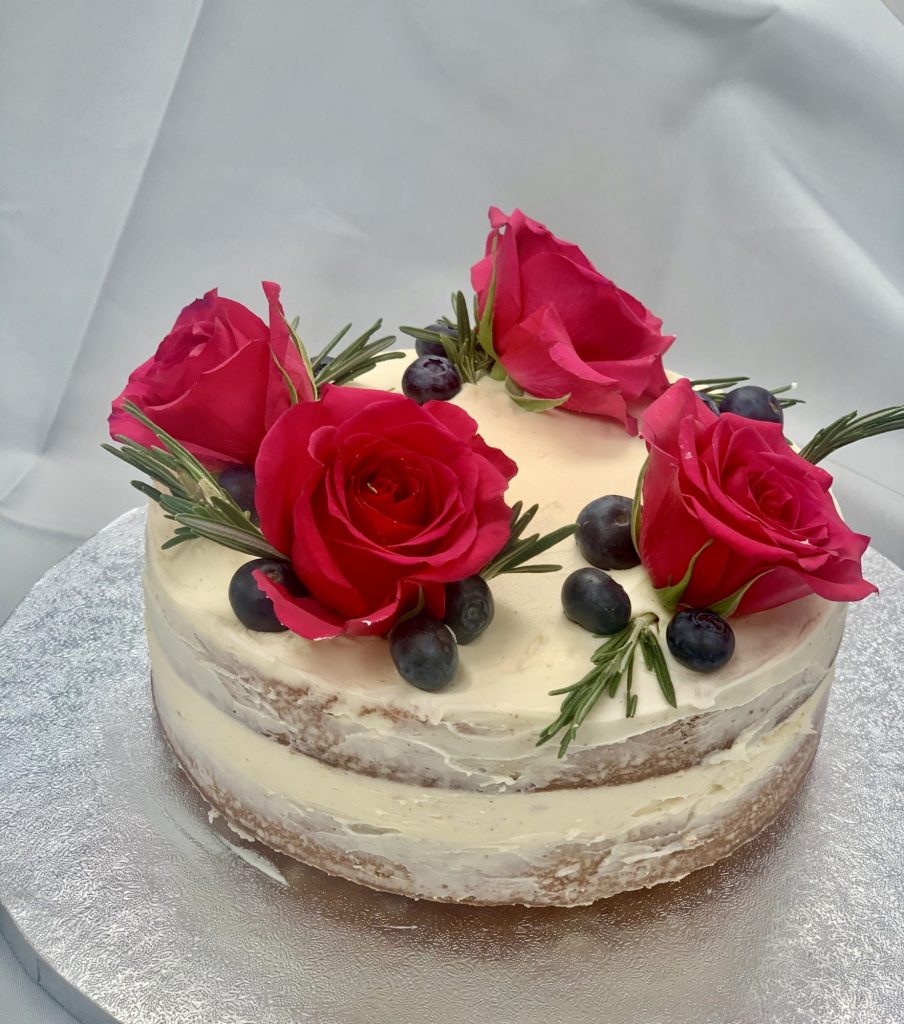 Step by step – how to make an easy Naked Cake
My photos are just as I made it. You will see how non precise it is! That's the beauty!
So here's your step by step guide to the perfect Naked Cake!
First up is the
The Sponge Cake recipe for your Naked Birthday Cake
Now my sponge is a good old heavy one – full of butter and sugar and with a lovely vanilla flavour, reminiscent of the old days!
I also use sour cream in it as I find it keeps it very moist and gives it a lovely dense crumb structure, I love it.
But if you prefer the namby pamby lighter sponges just use your own recipe, no problem.
Big Tip – always grease and line your tins – ALWAYS. A piece of baking paper cut in a circle in the bottom of the tins, it's a must as is a good old grease!
This cake is a 20cm one and is perfect for 6- 8 people. It is also two tier as I wanted to keep it simple.
However you can make it into 3 tiers by upping the mix by a third! (see recipe below)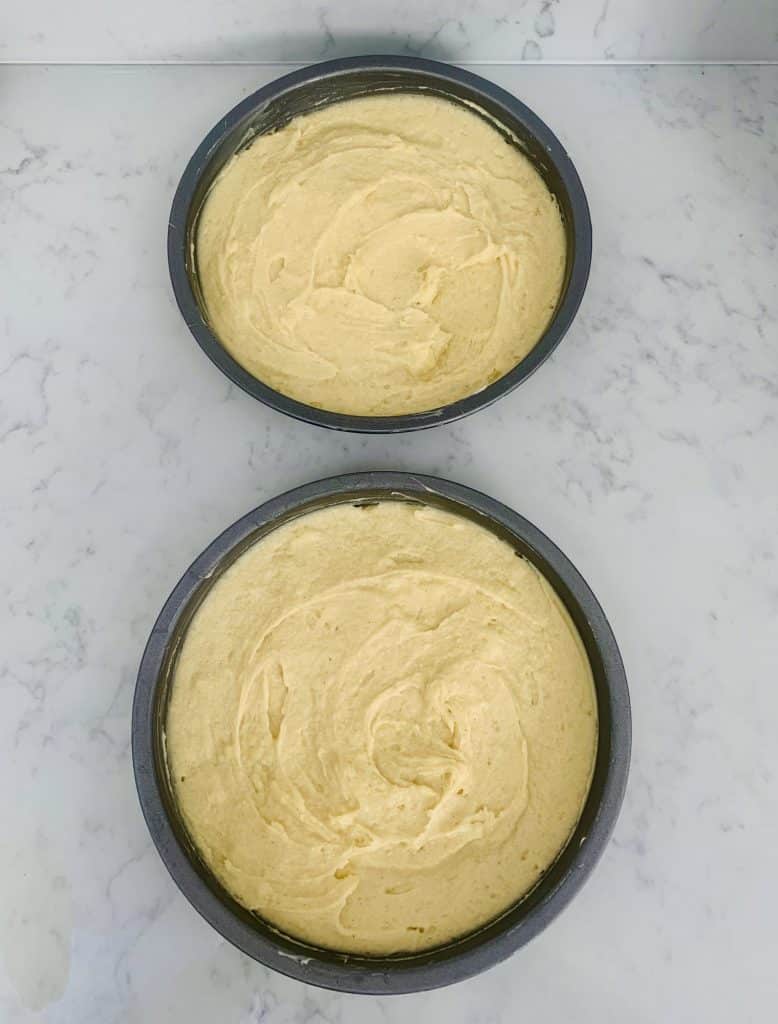 How to decorate your Naked Cake
Baked and ready for the icing. Make sure your sponges are cold.
Please do not try and decorate with warm sponges, else you'll end up in a mess
Always invert your sponges before you start – so what I mean is, always have the bottom of the cake on the top for icing as it gives you a super flat surface and a very symmetrical cake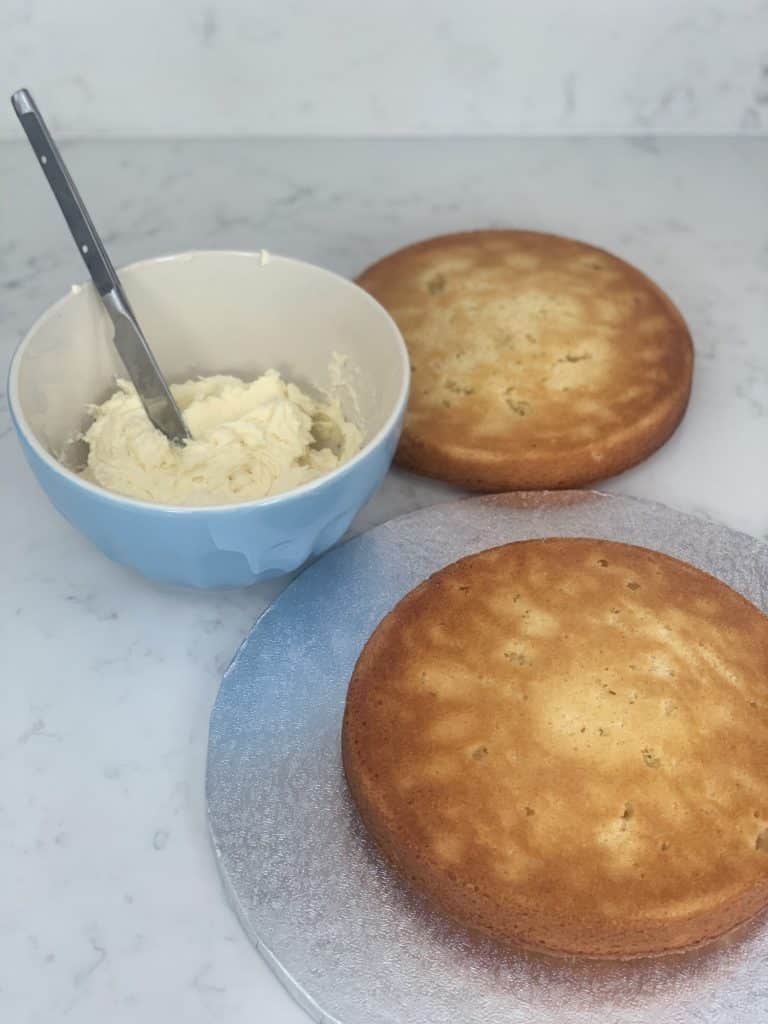 Using a teaspoon or piping bag pipe a circle of buttercream to hold your jam in – see pic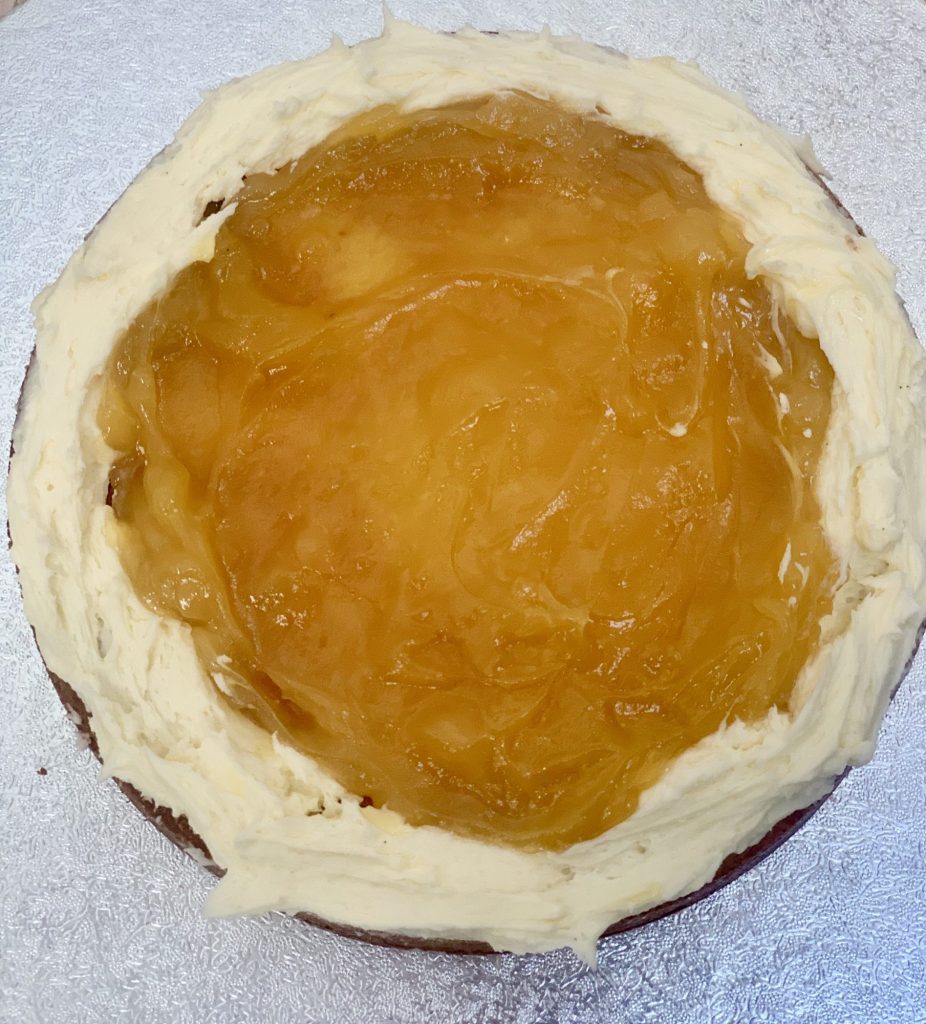 Next tip your remaining butter cream on top and then grab your palette knife and get spreading!
Cover the whole cake with Butter Icing making sure the top is nicely flat and the sides straight. But it doesn't need to be perfect
Then use your palette knife to scrape around the sides – whole point of a naked cake is to see the sponge through the icing!
What flowers to use for decorating your Naked Birthday Cake
Now please listen up!! You need to be really careful with what flowers you use to decorate your cake
They need to be NON-TOXIC – this means it's safe! Don't go poisoning anyone!
Even if they are in contact with your buttercream TOXIC flowers can still affect the health of the cake eaters.
Be sure to make sure your flowers are NON TOXIC and if in doubt check online
Some flowers are technically edible, but you wouldn't want to eat them. Roses are exactly that.
You must wash and dry carefully your flowers to remove any dirt!
And so please just remove your flowers before you cut your cake and pop them on one side
There ARE edible flowers such as gardenia, pansies, violets, and dandelions, and many others. Please just check!
AND you can use artificial flowers if you prefer then you take no risk. and there are some beautiful ones around
I also tend to use herbs too as they are safe…
Other ideas are, fruits, cinnamon sticks, cumquats etc – and figs look amazing too!
So I hope you enjoy making your cake and I hope whoever is the recipient loves it?!!
I'd love to see your creations really I would – so please share your pics
Any questions please just message me in the comments – Thanks
Big Love Clare x
Other Birthday Cakes
If you fancy an Easy Chocolate Birthday Cake – then this is my other birthday cake recipe and it's so good and really popular!
You can simply create your very own showstopper 🙂
Kitchen Kit
You lovely peeps have started to ask me about kitchen kit. Well you need to know I use the below stand mixer!
It's quite an investment HOWEVER I love it and I know I will have it for life. I see it as my essential piece of kit.
I also have lots of the attachments which I can talk about soon in another post Especially the pasta attachment !
Personally I believe this is the best stand mixer on the planet – but that's just my view!
(NOT Sponsored)
Disclosure: This post may contain affiliate links, which means we may receive a commission if you click a link and purchase something that we have recommended. While clicking these links won't cost you any extra money, they will help us keep this site up and running! Please check out our disclosure policy for more details. Thank you for your support!
Ingredients
Sponge
250g Butter, room temperature
200g Caster Sugar
4 Eggs, medium
Vanilla
250g Self Raising Flour
100g Soured Cream
Butter cream
150g Butter, room temperature
300g Icing Sugar
2 Teaspoons milk
2 tablespoons Lemon Curd / Raspberry Jam / Strawberry Jam – whichever you prefer
Decoration
Serving Plate or cake board
Fresh Flowers
Fresh Fruit – Blueberries / lemons / oranges – whatever you fancy
Rosemary Sprigs
Preparation Method
Make your sponges
Preheat your oven to 180c/350F/Gas 4
Grease & line two 20cm cake tins (3 if you are increasing the amounts of batter mix for a 3 tier cake)
Cream the butter & caster sugar until light and fluffy (a stand mixer or hand whisk makes this very easy)
Add one egg at a times and beat well, if your batter splits then add 1 Tablespoon of your flour
Keep going until all your eggs have been added
Fold in your flour and then stir in the soured cream, making sure it is all combined well
Bake on the middle shelf of your preheated oven for 25-30 minutes. Your sponges should spring back when gently touched
Once baked remove from the oven and leave to cool for at least 5 minutes in the tins
After 5 mninutes carefully remove the sponges, gently removing the greaseproof paper from the bottom of the sponges
Leave to cool on a wire tray tops down, bottoms up
Make your Butter Cream
Beat your butter until soft and smooth. Again a stand mixer or hand whisk helps
Slowly add your icing sugar and beat well
Keep going until all your icing sugar is incorporated and your buyer icing is lovely & smooth
Finally whisk in 2 teaspoons milk to slacken the mix
If you are adding vanilla, do so at this point and mix well
Construct your cake
Firstly make sure your sponges are cold, really cold
Next pop your first sponge on your serving plate or cake board top the cake on the bottom
Using a Teaspoon (piping bag if you prefer but I wanted to make it simple) place a ring of butter-icing around the edge of the base sponge
Then spoon your lemon curd or jam in the middle and spread to the sides of the butter cream
Next pop the top sponge on and press down a little (again bottom of cake on the top)
Tip your butter icing on top and using a palette knife 'paddle' backwards & forwards and basically coat your whole cake. Make sure the top is smooth but the sides do not need to be totally covered in butter icing (hence the 'naked' part)
Once roughly covered in butter icing use the palette knife to scrape around the sides, it's ok to see the sponge visible
Then its time to decorate by placing your flowers around the top, with your rosemary and fruits!
Remember to remove your flowers when you serve