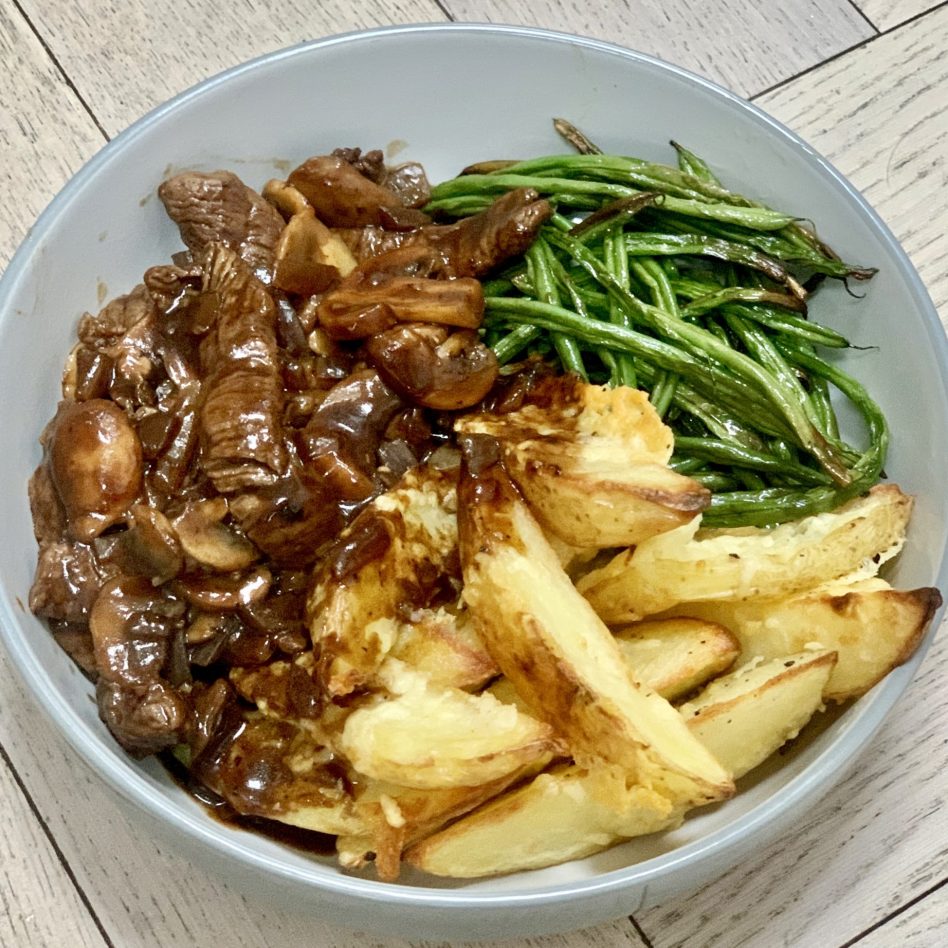 AD – this is a commissioned post – Review
I was so pleased when Hello Fresh got in touch and asked me to work with them. And I was delighted I chose the Steak Strips and Cheesy Wedges 'n' Posh Gravy recipe to review, it was a belter.
Bit more about that later……
Hello Fresh
I've tried Hello Fresh in the past and although I've never been a big advocate of delivery boxes, I do now see their value and purpose.
For busy families, couples or single people everything is delivered in the right quantities.
It's all there in the right amounts, ready for you to cook with a really clear Recipe Card!
What I love about Hello Fresh is that the recipes are really nice (well the ones I've tried anyway)
And do you know that on their website you can look at loads of recipes and get some great ideas too for mixing up meal time a little.
With Hello Fresh (no matter the Box Type you order) you get to make different meals.
It's so easy to get stuck in a rut sometimes and Hello Fresh helps you out of that rut!
Recipes for All Tastes and Occasions
In this collection of Tried and tested HelloFresh recipes, you'll find a mix of old classics, exciting fusion recipes and dishes from around the globe.
There's no shortage of delicious recipes everyone will love, all made in just six easy steps.
There's also a section for popular recipes; browse through their most popular recipes, these are the specific ones that were rated as the top dishes to delight.
So, whether you're looking to impress at the dinnertable, or just fancy a recipe that works, these are for you!
Hello Fresh – recipe boxes:
At HelloFresh they realised that one box doesn't fit all.
They've created a range of recipe boxes so you can choose the one that's just right.
It could be the classic box bursting with choice, our family favourite or a rapid box for speedy suppers in a flash?
Or why not even the Vegetarian Box
So what are the Benefits of Hello Fresh:
Deliciousness
Chef-created recipes are tested 200 times to ensure your meals are as delicious to eat as they are easy to make.
Simplicity
From step-by-step recipes to no-hassle account changes, they make your life easier every way we can.
Flexibility
They accommodate every appetite, household size, and schedule. Need to skip a week or cancel? No problem.
Stress-free
Take back your evenings with fewer trips to the store, pre-planned meals, and little cleanup.
Dietarily diverse
Picky appetites welcome! Tell us what you like and don't like, and we'll recommend something delicious.
No waste
It's easy being green with our pre-measured ingredients and recyclable materials.
So now to the recipe I decided to make:
Steak Strips and Cheesy Wedges 'n' Posh Gravy
I chose this recipe as I really liked the look of it and the sound of it and I wasn't wrong!
At Easy Peasy we have A LOT of chicken recipes so I decided to pick a beef one.
The beauty of this is it's quick and it's fancy enough for a special night for the family and here everyone loved it- so easy!
I loved the cheesy wedges, I'll make those again for sure.
I also liked how you whacked the green beans in the oven at the same time and they were beautiful!
So all in all this Steak Strips and Cheesy Wedges dinner, together with the posh gravy and green beans will definitely always be in my repertoire now!
And I will make it quite often I imagine! YUM!!
So what you waiting for, why not have a go? I'm sure you'll love it!
Oh and please remember that if you do have a go, please share your pics and comments with me
I'd really love that
Another Steak Strip Idea
I think if you like this you'd also like my
Easy Beef Udon Noodles & Shiitake Mushrooms
Big Love as always, Clare x
AD – this is a commissioned post
Steak Strips and Cheesy Wedges 'n' Posh Gravy: Hello Fresh
Print
Pin
Rate
Delicious and easy Steak Strips, cheesy wedges with a really flavour packed gravy, served with green beans
Ingredients
4

Potatoes

100

g

Cheddar Cheese

1

Red Onion

200

g

Closed Cup Mushrooms

1

pack Green Beans

240

grams

Beef Steak Strips

8

grams

Plain Flour

ContainsGluten

1

Red Wine Stock Pot

200

millilitres Water
Instructions
Preheat your oven to 200°C

Chop the potatoes into 2cm wide wedges (no need to peel!)

Grate the cheese

Pop the wedges on a large baking tray in a single layer. Drizzle with oil, then season with salt and pepper. Toss to coat, then spread out and roast on the top shelf of your oven until golden, 25-30 mins.

Turn halfway through cooking. Five mins before the end of cooking, sprinkle the cheese evenly over the potatoes, roast for the remaining time

Meanwhile, halve, peel and thinly slice the red onion.

Thinly slice the mushrooms.

Put the green beans on another baking tray and drizzle with oil. Season with salt and pepper. Toss to coat and leave to the side

Heat a drizzle of oil in a frying pan on high heat.

Add the steak strips and season with salt and pepper. Stir-fry until nicely browned on the outside, 2-3 mins. Once browned, remove the meat to a bowl. Put your pan back on the heat and turn the heat to medium-high.

Add the onion and mushrooms along with a drizzle of oil. Season with salt and pepper, then stir-fry until golden and soft, 5-6 mins

While the mushrooms are frying, pop your green beans in the oven to roast until crispy but tender, 15-20 minsWhen the mushrooms are browned, stir in the flour and cook for 1 minute. Add the steak strips back in, along with any juices, then pour in the water and add the red wine stock pot. Dissolve it with a spoon and bring the mixture to a simmer.

Simmer until the sauce is nice and glossy and slightly reduced, 10-15 mins. IMPORTANT: The steak is safe to eat when the outside is cooked

Serve whichever way you want... either with the chips alongside the steak, gravy and mushroom and a good portion of green beans or the steak and gravy served on top of the chips! Enjoy!
Nutrition
Nutrition Facts
Steak Strips and Cheesy Wedges 'n' Posh Gravy: Hello Fresh
Amount per Serving
% Daily Value*
* Percent Daily Values are based on a 2000 calorie diet.