Hi and welcome to
Easy Peasy Lemon Squeezy
A place to inspire, share and talk everything kitchen with a side order of lifestyle and social ;)
1
2
3
Udon Noodles, Beef & Shiitake Mushrooms
Udon Noodles, Beef & Shitake Mushrooms
Total yumminess! These Udon Noodles, beef and shiitake mushrooms are the perfect combination.
I don't know why but I am so so hungry at the moment – maybe it's the weather.
I always seem to be a little more hungry in the winter months?
This is not conducive to my aim to drop some pounds!
I have a desire for starchy, warm, flavoursome food ….. aaarrrggg. So today I just decided I would try and drown out this incessant need for comfort food.
I did and it was delicious !
Luckily my Bundle came over for dinner (phew). I fear I may have woofed the lot if I was on my own….. I KNOW – not good
Look at these lovely ingredients. So fresh, so good!
This recipe is quick, very easy and extremely tasty! All cooked on the hob! No need to turn the oven on!
And it's a total mean no need for any accompaniments 🙂 but you could if you liked
So what exactly are these Udon noodles?
Well firstly they are a Japanese favorite. They are plump noodles and they have a distinct chewy texture. The traditional way to knead the dough to make udon noodles requires your feet! Really, it's a genius idea.
You use your feet and your body weight to do the kneading instead of tiring out your arm muscles.
Don't worry, you place the dough in a plastic bag, and cover that with a towel and then you knead the dough with your tootsies.
These fresh noodles are made using just flour, sea salt and water, but they can be fiddly and difficult to make just right. So luckily you can also buy dried udon noodles.
(If you choose to use dried or freshly made noodles, udon noodles can be served hot or cold. These Asian noodles are often prepared and served in hot broth or stir fried).
(When cold, they accompany grated vegetables along with a dipping sauce).
I hope you make and enjoy this Noodle dish and if you do please comment below – I so love to hear you comments, really I do!
Other yumminess
Also if you like these noodles have a look at my chicken noodle recipe too it also has courgetti.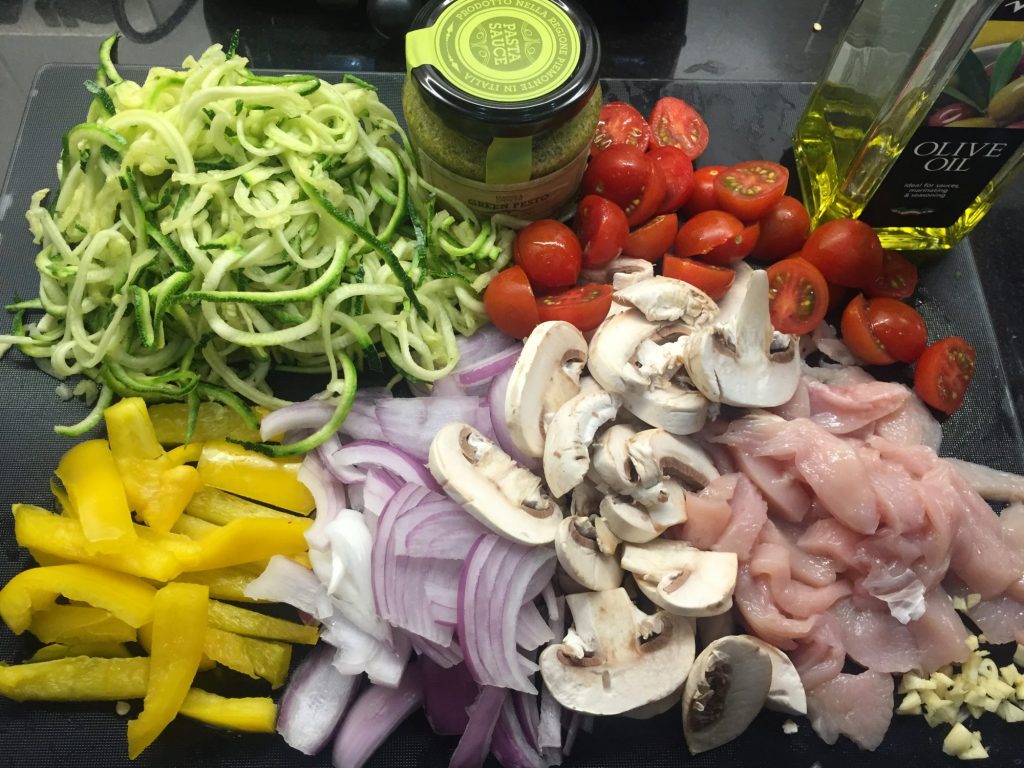 I'm sure you'll love it
Thanks Cx
Ingredients
1 Tablespoon Olive Oil (or fry lite)
300g Rump steak (fat trimmed)  sliced thinly – approx. 2-3 mm
1 Garlic clove, peeled and very finely chopped
Fresh Ginger 2cm piece,  peeled and chopped finely
1 Yellow Pepper, cut into matchstick sized pieces
1 box shitake Mushrooms, roughly chopped (not too small)
Bunch Spring Onions (6) – chopped into 1 cm pieces
Salt & Black Pepper – to season
300g Chilled udon Noodles (not dried) I used the straight to wok ones
2 Tablespoons Soy Sauce
Half a Lime – squeezed
Hand full of chopped fresh corriander
Preparation Method
In a wok or large frying pan add the olive oil (or fry lite),  when hot add the steak, garlic and ginger, fry off for 3-5 minutes unil cooked – not red (but not over cooked). Pop the beef in a warm place
Then in the same frying pan, add the peppers, spring onions and mushrooms and fry off for 5 minutes until soft- season with salt and Black pepper
Throw in the noodles and fry for a further  3 minutes until hot
Add the beef back to the pan together with the Soy Sauce and lime juice  stir and heat for a couple of minutes
Finally throw in the coriander and serve on hot plate
Get tucked in and enjoy