Hi and welcome to
Easy Peasy Lemon Squeezy
A place to inspire, share and talk everything kitchen with a side order of lifestyle and social ;)
Sweet Chilli Chicken Noodles, so easy!
Sweet Chilli Chicken Noodles
The easiest and stickiest lovely Sweet Chilli Chicken Noodles ever known to man!
Ok so maybe that's an overstatement – but boy they're good!
This recipe is so good, so tasty and so flipping easy.
It's perfect for all the family and everyone loves noodles don't they?
Lovely noodles coupled with chicken another family fave then they just have to be a success don't they?!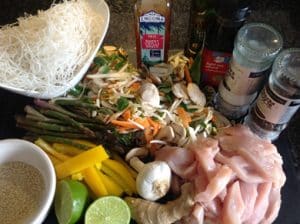 For the kids I guess you could leave the chilli sauce out and add honey maybe instead? But the sweet chilli sauce works so so well!
But you could call then Honey Chicken Noodles if you modify for the kids
This recipe is soooooo nice was featured on the Enconas brand website which makes me really happy!
I suggest you give it a try. It's so good! And it takes 20 minutes tops, what's not to like?! I so love a quick tasty dinner!
And all the family love it!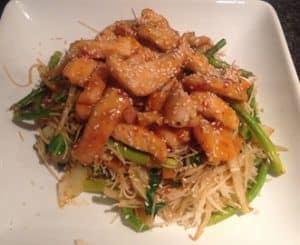 I used rice noodles as I love them but there's no reason why you couldn't use other types of noodles. Just cook according to on pack instructions. Udon noodles are lovely too, so soft to eat
Rice noodles, or simply rice noodle, are noodles made from rice, it's that simple.
The principal ingredients are rice flour and water.
Sometimes ingredients such as tapioca or corn starch are added in order to improve the transparency or increase the gelatinous and chewy texture of the noodles. Source -Wikipedia
If you love noodles as much as I do then made try one of my Oudon Noodle Recipes – this beef one is lovely!!
Also I think you'll love my amazingly Easy Pad Thai if you like this recipe.
Go have a look, it's so good and perfect for a quick supper! Again the emphasis being on quick
If you have a go please do let me know how you get on, I do so love to have your comments
Big Love Cx
Not Sponsored
Ingredients
2-3 chicken breasts cut into strips
2 crushed garlic cloves or squirt of chilled garlic
1cm grated ginger / or squirt of chilled ginger
Pack of stir fry veg/ or bean-sprouts pak choi carrot slivers pepper slithers/ mushrooms etc
3 tbs sweet chilli dipping sauce – (Encona for me is the best – tried a few)
250g bag fresh rice noodles
Bunch of fine asparagus
1 yellow pepper, seeds removed and sliced in 1cm strips
Juice 1 lime (yes I know it's a lemon in the picture but it's all I had :-0) half lime as you need it in 2!
2 tbsp olive oil / or fry light
1tbsp Soy sauce
Sprinkling Sesame seeds
Salt & Black Pepper
Preparation Method
In a large frying pan or wok add 1tbsp olive oil and squirt go ginger and garlic, add chicken strips and fry for 7-10 minutes until they start to go golden brown.
Add sweet chilli sauce and juice of  1/2 lime, coat chicken in sauce and fry for 2 mins.
Put in oven proof dish and pop in oven to keep warm.
In same pan add 1 tbsp olive oil and stir fry veg and asparagus – for 3 -4 minutes.
Add rice noodles and heat through say 2 mins. Add soy sauce and remaining lime juice. Season.
Pile stir-fry on warmed plate and pop chicken pieces on top. Sprinkle with sesame seeds and dig in………
Enjoy!  Clare Easypeasylemonsqueezy