Hi and welcome to
Easy Peasy Lemon Squeezy
A place to inspire, share and talk everything kitchen with a side order of lifestyle and social ;)
1
2
3
Easy Meat & Potato Pie – Bar Bar's
Bar Bar's Easy Meat & Potato Pie
So here is Bar Bar's Meat & Potato Pie Recipe. Now this is *VERY* special because it's my mumma's.
It is the most perfect dinner because it's so simple (It just takes a lot of time to cook the meat).
The key is to put the meat in the oven on low and go off and do something nice, come back and 5 hours later – Ta-Dah, the most tender meat ever.
When you cook stewing steak for this long (low and slow) it simply turns into the most melt in the mouth beef, packed full of flavour, rich and dark and falling apart. (no fatty or gristly meat here)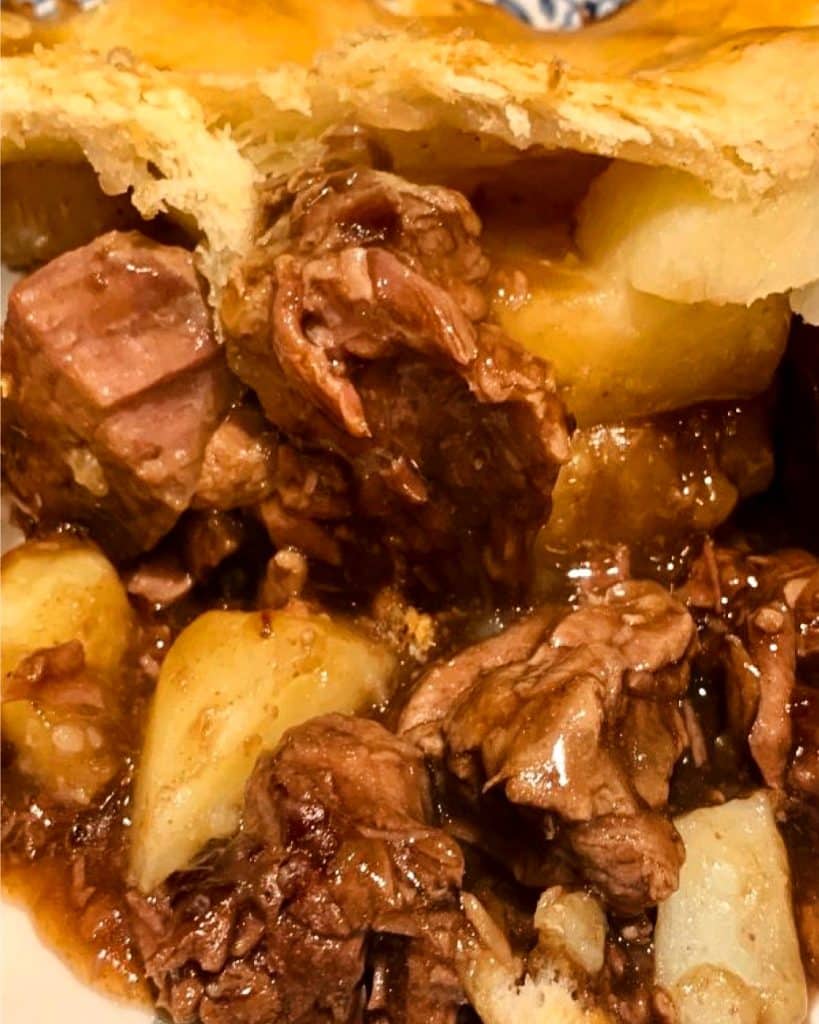 Preparation
It's great because you can do all the preparation the day before, then simply pop on the pastry top, bang it in the oven and you have a perfect family favourite dinner in 30 minutes.
This easy Meat & Potato Pie does take a long time due to cooking the meat for so long.
But you can do other things and leave it to get on being yummy all on it's own.
I use shop bought shortcrust pastry for speed (a little cheaty – but who cares?).
However of course you can make your own pastry
This pie is also great with puff pastry if you prefer?
I don't put a bottom layer of pastry on the pie as I simply don't think it needs it! And it brings the calories down a little!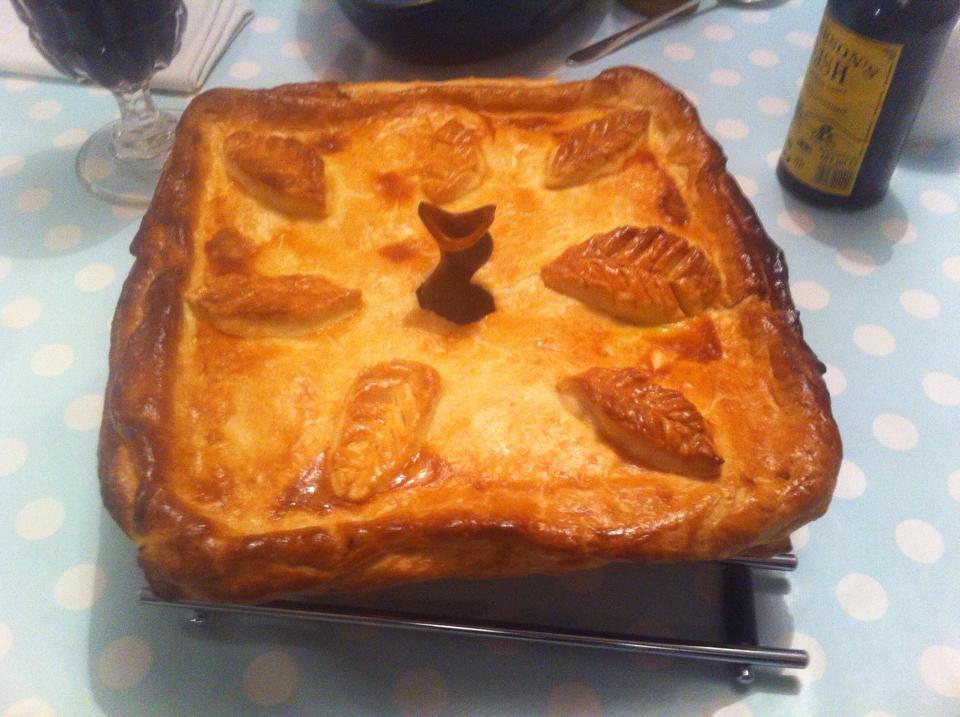 To Serve
For me it challenges a roast, really it does!
I love this pie so much it's such comfort food on a cold day and reminds me of mum and being in the north.
And the gravy! Oh the gravy, simply stunning, meaty and rich.
I think this delicious meat pie is best served with lots of lovely veg and away you go!
The perfect family supper!
Popular Pie
It is such a popular recipe on Easypeasylemonsqueezy and everyone raves about it! I have to say it's one of my faves too!
If you like this recipe I also think you might like my Shepherd's Pie recipe, it's so good too!
It has sneaky leeks 🙂
And it fits perfectly for #NartionalPieWeek or any week for that matter
Enjoy Clare x
Please comment below if you make Bar Bars Easy Meat & Potato Pie!
I would love to hear from you and so would my mum.
Ingredients
(serves 6)
1.2Kg – 1.5Kg lean Stewing Steak, fat trimmed off
1.5 pts water (enough to cover the meat)
2 OXO cubes
Black pepper
6 large Potatoes , peeled and sliced into 1cm slices
Pack of chilled Shortcrust pastry or make your own if you have time (you can use puff if you prefer)
1-2 tbsp Gravy granules or corn flour to thicken gravy
1 Egg – broken and beaten in a small dish
Preparation Method
Preheat oven to 110C / Gas 1/4
Put stewing steak in a roasting tin, cover with water (approx. 1.5 pts) crumble Oxo cubes in and add black pepper , stir. Put the lid on the roasting tin or cover with foil. Pop in the oven for minimum 4 hours. Go and do something nice 🙂
Peel and slice potatoes into 1cm slices, boil for 10-12 minutes or until tender, drain and put aside
Once meat is cooked – tip 1/2 the meat juice into a jug and put on one side for gravy later. Meanwhile thicken the remaining meat and juices with gravy granules until really thick. (2 tbsp)
Put meat and gravy in the bottom of a large pie dish (reserve a little gravy for on top of potatoes) pop the cooked sliced potatoes on top add a little gravy on top. Preheat oven to 190 C/ Gas 5
Roll out pastry , trim a small strip from the edge and using water place / attach this thin piece all around edge of pie dish.
Next with a pastry brush egg wash the pastry strip, then place rolled pastry over pie using the rolling pin to lift it. Press down and trim the the excess with a knife. (make a fancy pastry shape for the top)
Egg wash the top and bake in a preheated oven 200C/400F/Gas6 for 30 minutes until the pastry is golden and the filling is piping hot
Serve with lots of vegetable and additional gravy (using the meat juices put aside) …. ENJOY Cx