Hi and welcome to
Easy Peasy Lemon Squeezy
A place to inspire, share and talk everything kitchen with a side order of lifestyle and social ;)
1
2
3
4
Easy Shepherds Pie with sneaky leeks
Easy Shepherds Pie with sneaky leeks, time!
Shepherds Pie with sneaky leeks is one of my fave dinners a good old pie and in this one I hide a layer of lovely buttery leaks underneath the potato layer.
It's so good and makes such a great get ahead dinner.
Actually technicaly I think it's a Cottage Pie but I've always called it Shepherds Pie.
But they are very similar, dishes and are often confused apparently.
Both consist of a meat base covered in a potato top crust. …
"Shepherd's pie" is made from lamb (hence "shepherd"), while "cottage pie" is made with beef. Hey Ho!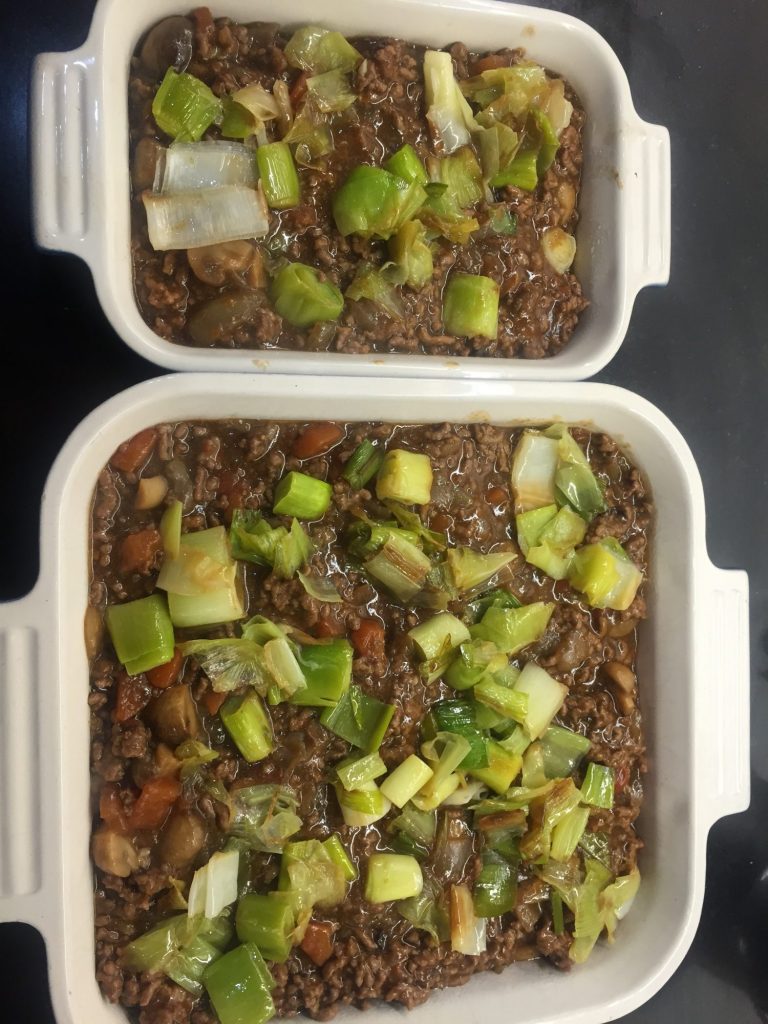 There is nothing nicer than a wonderful comforting pie in my book! I strongly believe this is one of the best pie recipes you'll see! Yes, I'm that confident!
And just imagine how smug you'll be when you'd been out for the day and you already prepared this dinner before you left! Now all you have to do is bang it in the oven! 🙂
This is what we often do go out for the day and I generally make it the night before then just bang it in the oven and Ta-Dah a lovely family warming dinner. I'm a firm believer it tastes better the next day 🙂 you know with all those crusty bits!
That's where all the flavour is!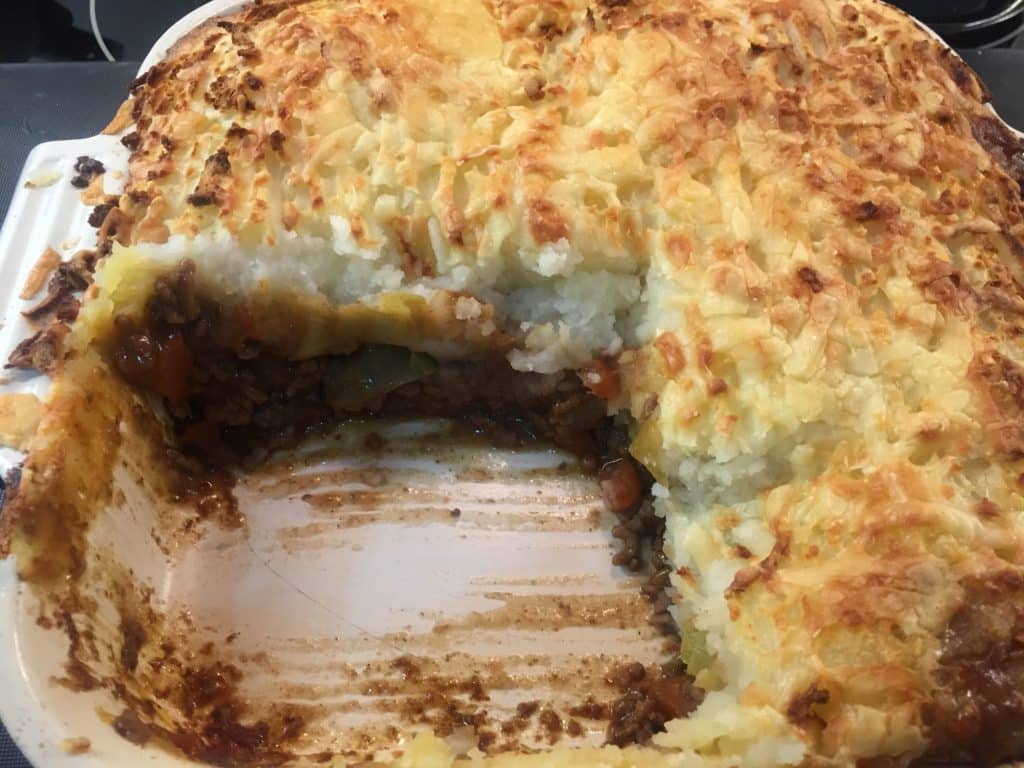 How to serve / Get ahead
Have a go at this Shepherds Pie – I like to serve it with a big portion of green veggies. But it's also lovely with baked beans – oh yes it is
And why not batch cook it and make one for the freezer too? Freeze unbaked and fully defrost before you bake.
Go on sneak those leeks in and let me know how you get on.
Drop me a comment below, I love your comments
If you love this traditional dinner why not have a go next at my lovely Toad in the Hole!
And never forget my Mums Meat & Potato Pie amazing x
Thanks Cx
Ingredients
750g Lean Minced Beef Steak
1 Clove garlic, crushed
1 Large White Onion, roughly chopped
2 Carrots, chopped small
Small box Button Mushrooms, halved
Handful Cherry Tomatoes, halved
2 Oxo Cubes
Freshly ground Black Pepper
1/2 Litre Water
4 Leeks, sliced into rounds
Knob butter
1 Tablespoon gravy granules
600g Potatoes, peeled and cut in half
200g Matured Cheddar Cheese, Grated
Preparation Method
Preheat oven 180C/350F/Gas4
In a pan add the minced beef, garlic onion and fry off until the mince is brown
Add the carrots, mushrooms and tomatoes and crumbled Oxo Cubes & Black Pepper- fry off for a final 5 Minutes
Add the water and stir, pop in the oven for 1 1/2 – 2 hours – with no lid – stir after 30 minutes
In a separate pan add the butter and sweat off the leeks for 10 minutes, leave on one side
In a pan boil the potatoes and reduce to simmer for approx. 25 minutes until tender, drain and mash well, you do not need milk or butter
Remove Mince from Oven – stir in quickly 1 Tbs Gravy granules
CONSTRUCT
Tip the mince into an oven proof dish
Pop leeks on top
Next the mashed potato
Then sprinkle with the grated Cheddar Cheese
Pop it in the oven at 200C/400F/Gas 6 until piping hot and crispy on top (approx. 30 – 40 mins)- dig in …..