Honey Garlic Chicken
This slow cooker Honey Garlic Chicken is delicious. It's easy and packed full of garlicky sweetness, there's a lot of garlic :-). It's the perfect midweek meal, or family dinner when you're busy
You simply pop it all in your slow-cooker (crockpot) switch it on – and off you go – I guess it's what you call a dump recipe
And 4-6 hours later – boom a delicious hot and healthy dinner is waiting
Why Slow Cooker / Crockpot Meals?
Well they are the best thing for busy people, really they are. And energy saving. It's so much cheaper to run a slow cooker than to put the oven on. I read somewhere that it's a quarter of the electricity price – so why not?
You simply do a little prep, pop it all in the slow cooker, leave for anywhere between 4-8 hours (depending on the recipe) and leave it all alone!!
Then you have a wonderful warm dinner prepared – voila
How do you make Honey Garlic Chicken?
Step by step
Step 1 – chicken thighs or Chicken breasts for your honey garlic chicken?
See the full recipe card at the bottom of this post
Pop your chicken thighs in your slow cooker – remove all visible fat
I like thighs, however chicken breasts work just as well
Step 2 – your Honey garlic chicken sauce
In a small bowl mix all your wet ingredients together and add your chopped garlic

Step 3
Poor over your chicken thighs and cook of high for 3-4 hours

Step 4 – thicken your honey garlic chicken
Once cooked add your cornflour and water mix / sauce mix, back into the slow cooker to thicken. You may feel it's thick enough already so skip this if this is the case
Add your chopped spring onions at this point too – reserving a few to serve / garnish

Step 5
Once the cornflour mix is added you will see it thicken in the heat of the sauce and serve accordingly
You can shred using 2 forks or simply leave if you like your chicken a little more chunky

Step 6
Ta-dah! Serve

Other ideas for your Honey Garlic Chicken
Try adding a spoonful of sweet chilli sauce or a few dried chilli's – the amount is up to you, depending on how much chilli kick you want.
You can also sprinkle with sesame seeds as this gives a mote Asian theme
What to serve with your Honey Garlic Chicken
I serve mine with a mix of basmati and wild rice
It also works well with vegetables and potatoes
or if you fancy it with a bread roll!
The Deets for your Garlic & Honey Chicken
Your stock cubes are free
1 level tablespoons cornflour is 1
Honey – 4 tablespoon is 10 syns
= 11 – so say 3 Syns per portion
****However I am not a Slimming World consultant (or linked to SW at all) so you need to check yourself
Can I refrigerate my Leftover Honey Garlic Chicken?
Yes you can. It will keep in the fridge for 2 days.
Pop it in an airtight container once cool and make sure you fully reheat before serving. Heat in a saucepan for approx 10 minutes until piping hot all the way through, it must be piping hot
Can I freeze my leftover Honey Garlic Chicken?
Yes you can – it freezes perfectly – and that what makes a perfect recipe to batch cook
Simply pop your left over cooled honey garlic chicken into an airtight container, freeze and use within a couple of months
To reheat – defrost overnight in the fridge, then heat in a saucepan for approx 10 minutes until piping hot all the way through, it must be piping hot
Slow Cooker Choice
Lots of people ask me about which slow cooker I would recommend
Well it has to be this one, it has a sear function for browning – so a lot less washing up and a way more flavour for your recipes
(affiliated link)
Disclosure: This post may contain affiliate links, which means we may receive a commission if you click a link and purchase something that we have recommended. While clicking these links won't cost you any extra money, they will help us keep this site up and running! Please check out our disclosure policy for more details. Thank you for your support!
The Easy Slimming Group
I also have a Facebook Closed Group called Easy Peasy Slimming Style Recipes .
Come over and join this great honest community Facebook for Easy Peasy Slimming Recipes if you're interested
Just use the join button if you like real home cooked tasty easy food!!
We support encourage and laugh!!Loads of tips and tricks – I promise
Oh and why not join me on Instagram – I'd love to see you there 🙂
Big Love Clare x
Another couple of crockpot suppers
Beef Bourguignon is a delicious slow cooker meal – it's also very low in Syns
Have a gander at the recipe
If you love your slow cooker / crockpot and the convienence of it you might also love my Slow Cooker Shredded Chicken recipe
And it's the perfect recipe for both summer & winter too
Look at it
And four more slow cooker recipes …..
How about a Slow Cooker Chicken Curry? – it's just as easy as this one, if not easier
Finally my Healthy Turkey Mince Chilli – also made in the slow cooker – delicious

And finally the DUMP recipe of all time
My Easy Slow Cooker Chicken Tikka Masala is just delicious! Uber easy

Enjoy Cx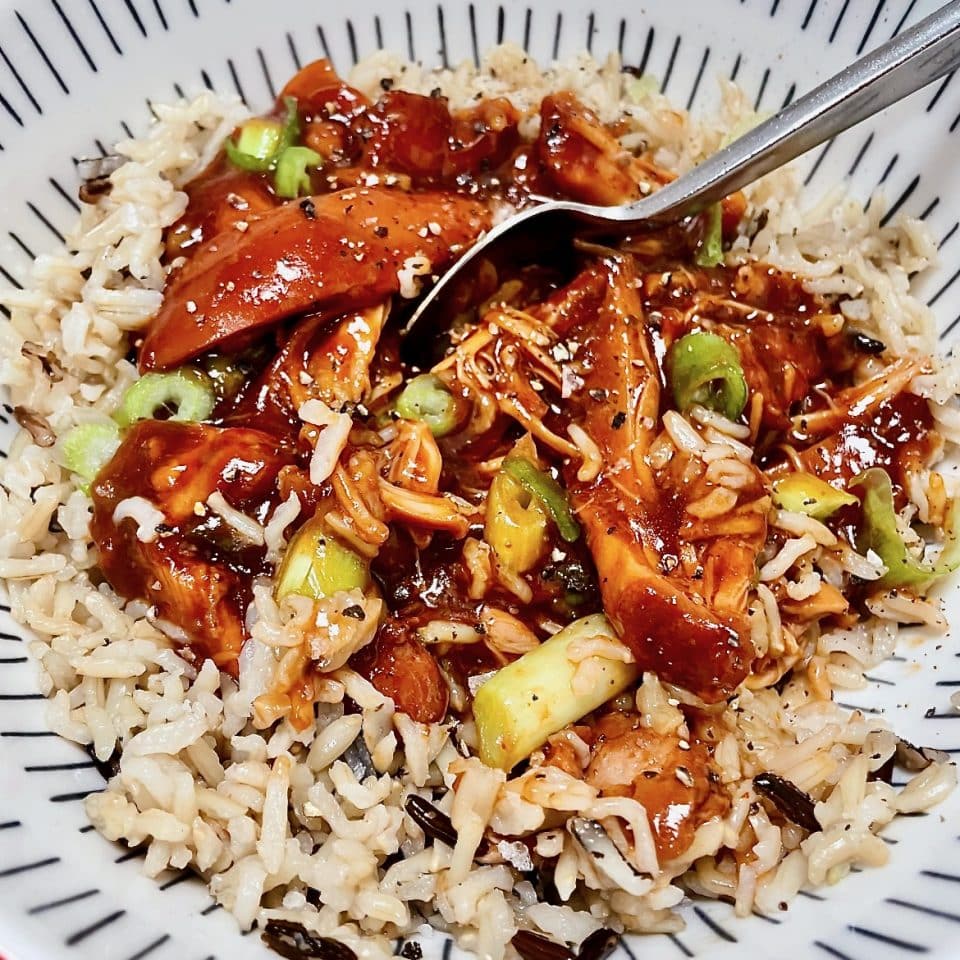 Honey Garlic Chicken - slow cooker
Print
Pin
Rate
A delicious sweet garlicky slow cooker meal. Tender fall apart chicken thighs in a delicious sauce - yum!
Ingredients
600

g

6 chicken thighs

Boneless & skinless

100

g

Runny honey

100

g

Light Soy Sauce

50

g

Tomato puree

3

tbsp

water

1

tbsp

Balsamic Vinegar

4

Cloves garlic (or 3)

peeled and chopped very small

Salt & Black pepper

Seasoning

6

Spring onions / scallions

peeled and chopped

1

tbsp

cornflour

1 tbsp

water
Instructions
Place your chicken thighs into your slow cooker / crockpot

In a small bowl mix your honey, tomato puree, soy sauce, water, balsamic vinegar, chopped garlic and salt & pepper and stir well

Next tip this wet mix over your chicken thighs in the slow cooker

Cook on high for 3-4 hours

When almost ready take your cornflour and use a tablespoon of the sauce to blend, add this back to the slow cooker and stir well - it will thicken. Add your chopped spring onions and stir (hold a few back for garnish)

You can add water here to achieve the consistency you like

Then serve, you can either shred with 2 forks, or leave the chicken as it is

Test the seasoning and adjust, use the remaining chopped spring onions to garnish
Notes
*** Nutritional information is approximate and intended as a guide 
Nutrition
Nutrition Facts
Honey Garlic Chicken - slow cooker
Amount per Serving
% Daily Value*
* Percent Daily Values are based on a 2000 calorie diet.