Hi and welcome to
Easy Peasy Lemon Squeezy
A place to inspire, share and talk everything kitchen with a side order of lifestyle and social ;)
Homemade Oven Chips Slimming style
Homemade Oven Chips Slimming style
Ok so I'm putting it out there, here's a step by step to the perfect Healthy Homemade Oven Chips slimming style.
Ive been making these for years and trust me there's a fine line between a good oven chip and a bad oven chip
I think over the decades I've perfected my potato choice (Maris Piper) and my method and I get perfectly crispy on the outside, fluffy on the inside, golden chips – yum yum!! Every time – even using a low cal spray
I'd even go as far to say they rival a fried one, yes I said it 🙂
And let's just forget about those frozen, bland anaemic things out the freezer shall we? Yuk 🙁 Why would you buy those, I'd like to wager the fact that if you try these – you may never buy oven chips again
Look at these beauties!!! Basking and beautifully golden – swoon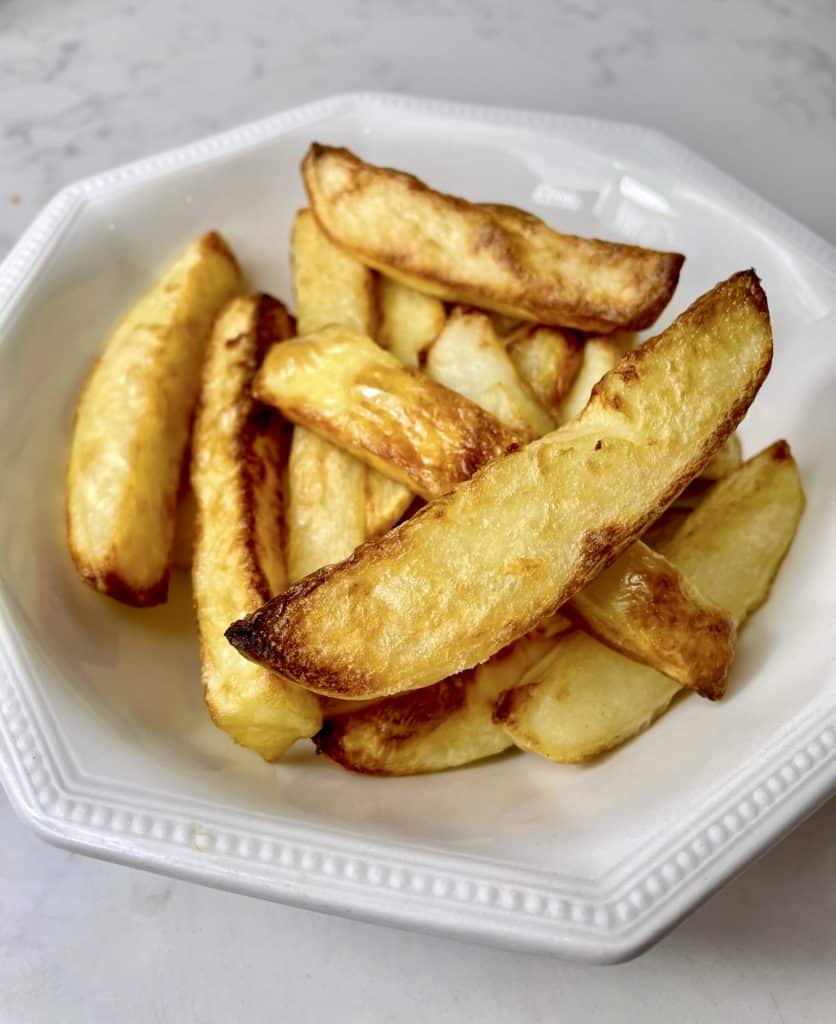 Oven method for fab Healthy Homemade Slimming Style chips
And no fancy pants Actifry here – just an oven – and trust me it works.
Maybe one day I'll buy an Actifry for blog purposes and then I can compare, but for now here goes…
However for now if you follow this method to the letter you'll end up with fab chips
I read a lot on groups on Facebook that people struggle to make slimming chips and so I have invested a little time and researched throughly the method and documented every little thing – which I hope will help
Step 1
Preheat your oven (see full details on the recipe card at the Bottom).
Line a large baking sheet with paper and spray liberally with fry light. I like the sunflower one, but the others work too
I use Maris Piper Potatoes I think they make the perfect oven chips, other varieties work too, just think these are the best
So I peel using a potato peeler (if you want skin on chips for extra fibre they also work using this method)
And then slice into chip shapes, try and make them all the same size (ish) I usually ago for about 1.5cm thick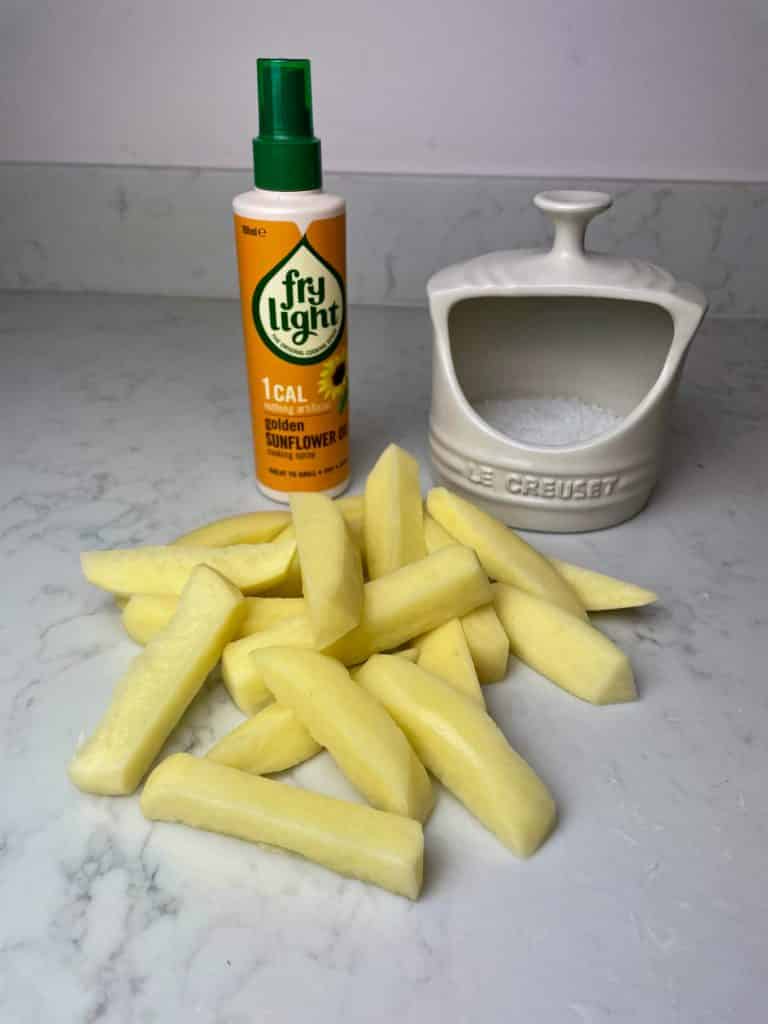 Step 2
Take a large pan and half fill with water, salt well and bring too the boil
Pop your chips in and parboil for 5 minutes only – no longer
Remove and drain immediately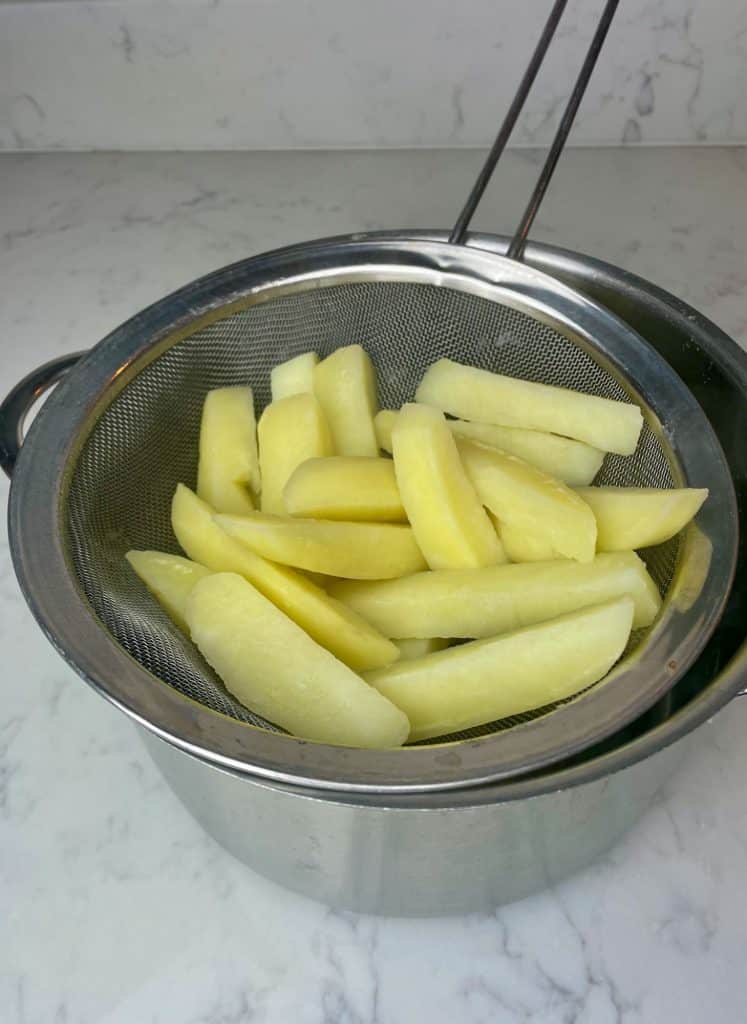 Step 3
Place chips in a single layer (that bit is important) on your paper lined baking sheet
Spray liberally with Fry Light
Use salt if you like too and pepper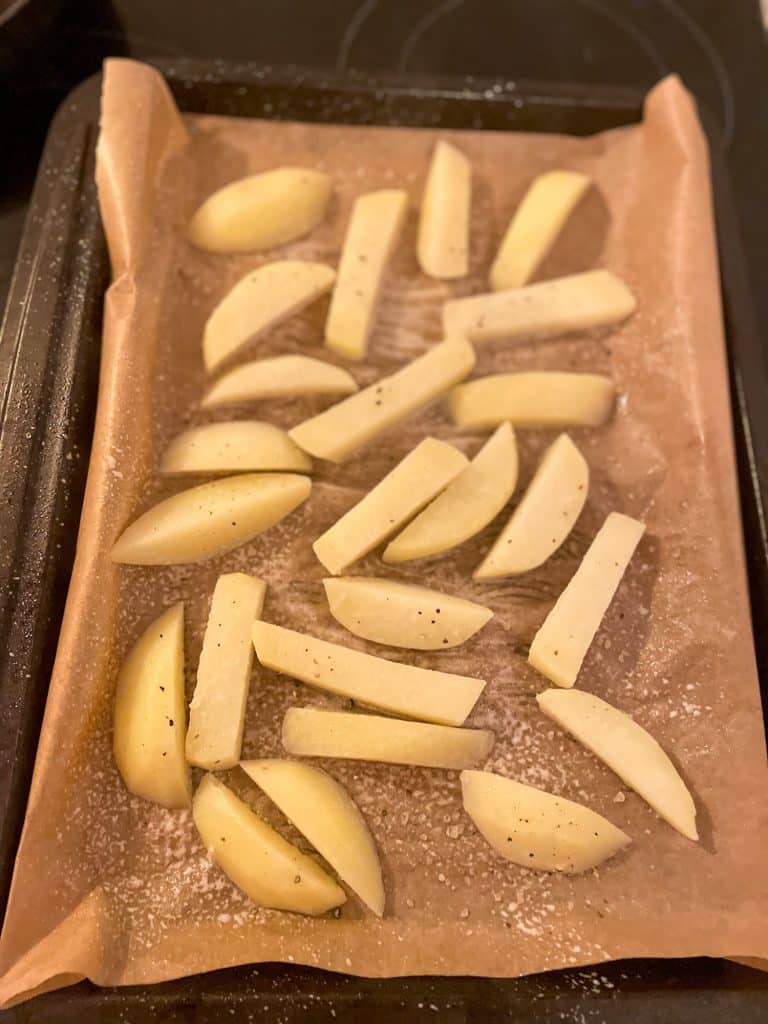 Bake in your hot oven for 10 minutes
Step 4
Remove from the oven and turn your chips over – this is important to ensure even browning.
Spray again and return to the oven for a further 10 minutes
Ta-Dah the perfect Oven Chip – slimming style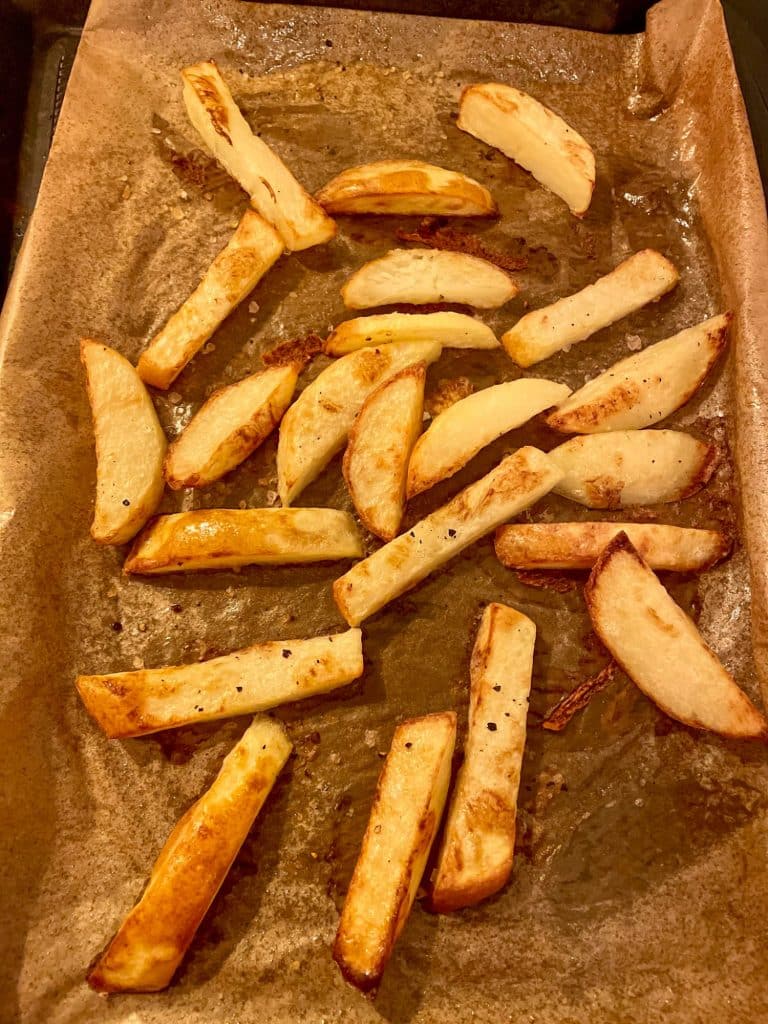 Pimping your Oven Chips
Once you have cracked this method you can pimp them anyway you like
Your could try
Garlic salt
Cayenne pepper
Spices
Italian herbs
Parmesan cheese (at the end)
You could grate your healthy Extra Cheese over the top and make them into dirty fries – so many ideas!!
Potato Nutrition
I love potatoes, in any shape or form – chips, mash, roasties
Here's a little info on the nutrition of the lovely specimins
Potatoes are a great source of fibre with their skins on as well as being naturally fat-free and Gluten free.
If you want more info of the nutritions then check out the information on Love Potatoes
Syns for your healthy oven chips
Free 🙂
Kit for chip making
I use a potato peeler like this – In fact I use it for all my veg to be honest
It's worth investing in a decent one
And if you make a lot of chips, often, this is great
It makes your chips all the same size 🙂 love a gadget 🙂
(NOT Sponsored)
Disclosure: This post may contain affiliate links, which means we may receive a commission if you click a link and purchase something that we have recommended. While clicking these links won't cost you any extra money, they will help us keep this site up and running! Please check out our disclosure policy for more details. Thank you for your support!
The Slimming Group
I also have a Facebook Closed Group called Easy Peasy Slimming Style Recipes
Come over and join this great honest community Facebook for Slimming Style Recipes if you're interested
Just use the join button if you like real home cooked tasty easy food!!
We support encourage and laugh!!
Loads of tips and tricks – I promise
Big Love Clare x
Ingredients
Serves 2
4 Medium sized Maris Piper potatoes, peeled and sliced into 1.5cm chips
Fry Light cooking spray
Salt & Black Pepper
Preparation Method
Preheat your oven 220C / 425F / Gas
Line a large baking tray with baking paper and spray the paper liberally with fry light.
Peel your potatoes, and slice into approx 1.5cm chips
Half fill a large pan with water, salt well and bring too the boil
Pop your chips in and parboil for 5 minutes only – no longer
Remove and drain immediately using a sieve or colander
Place your chips in a single layer (that bit is important) on your paper lined baking sheet
Spray your chips liberally with Fry Light . Use salt and pepper at this stage if you fancy
Bake in your hot oven for 10 minutes
Remove from the oven and turn your chips over – this is important to ensure even browning.
Spray again and reign to the oven for a further 10 minutes
Ensure your chips and golden and remove from the oven and serve immediately