Healthy Homemade Burgers Slimming Style, naked, with bun – whatever!!!
Oh I love Burger & Chips – do you? And I especially love healthy homemade burgers slimming style 🙂
It's not the first thing we think of when we are trying to be healthy is it?Can burgers be healthy? Well they certainly can be made in a healthier way
Well let me tell you beef burgers, made the right way with a few tweaks here and there – are fine!!! And super filling
It's all about balance and it's all about enjoying your food and your family enjoying it too!
So make this a fun evening and treat it as a perfect takeaway – yum
So let's talk Healthy Homemade Burgers
I love to make beef burgers myself, as they are so tasty and you are totally in control of what goes into them.
None of those weird ingredients you see on the back off pack of those bought ones. Have you ever looked? Scary sounding stuff
And homemade burgers are also super easy to make – like really!
How to make a homemade healthy burger
I always buy a good quality minced beef and if you're keeping it healthy (and following the slimming style diet) make sure you buy the minced beef that's <5% Fat
I pop the beef in a bowl and then. season and mix with my fingers (full recipe at the bottom of the post)
AND I also like to add a little surprise to the centre 🙂
I hide a light Baby Bell Cheese in the middle, simply mould the beef around the cheese – ensuring it is totally encased
Cooking your Homemade healthy beef burger
Now this is an area of personal choice
I tend to dry fry mine between 5-6 minutes each side – this cooks them through
If you like a rarer burger (more juicy) cut the time down by a minute or two
With real homemade burgers it's a bit like your steak – some like it well-done some don't
Just make sure you are careful with anyone susceptible – cooking through is probably sensible
So let's talk Burger Buns / or no buns
You can use whatever you like
I use a brown wholemeal roll 60g
Or a Warburton thin? it's nice and sometimes I toast it too
Naked Burger
If you are being really good you can use 2 Portobello Mushrtooms – baked in the oven
You can use these mushrooms to form the 'bun'
You will possibly need to use a knife and folk to eat your Naked Burger – messy
What can you add as toppings to your burgers?
Well you can add anything you like really?
If you're trying to be healthy or doing it slimming style I would recommend:
Salad leaves
Tomato slices
Onion Slices
Bacon Medalions, cooked
Low Fat mayo
Extra Cheese (Healthy A)
Gherkins
Mustard
Horseradish
Cucumber
Family Burger night?
What I tend to do is make the burgers and the chips and pop all the fillings on the side.
Then I let everyone construct their own burger
We love it!! Have a go – winning!!
The Slimming Deets for your Homemade Burger
Free – if you use your Healthy B – 60g wholemeal roll
AND part of your Healthy A for the Light Baby Bell
Then you have to decide what to add and syn those additions
E.g Tomato Sauce, Low fat Mayo, extra Cheese – all these need to be syned
And the below chips are free too!! Bingo
The Best Slimming Style Chips
These really are I think the best Syn Free chips.
They are so good I'd already dedicated a full step-by-step to creating these golden beauties. Crispy on the outside, soft and fluffy on the inside
So easy and perfect!
The Slimming Group
I also have a Facebook Closed Group called Easy Peasy Slimming Style Recipes .
Come over and join this great honest community Facebook for Easy Peasy Slimming Recipes if you're interested
Just use the join button if you like real home cooked tasty easy food!!
We support encourage and laugh!!Loads of tips and tricks – I promise
Big Love Clare x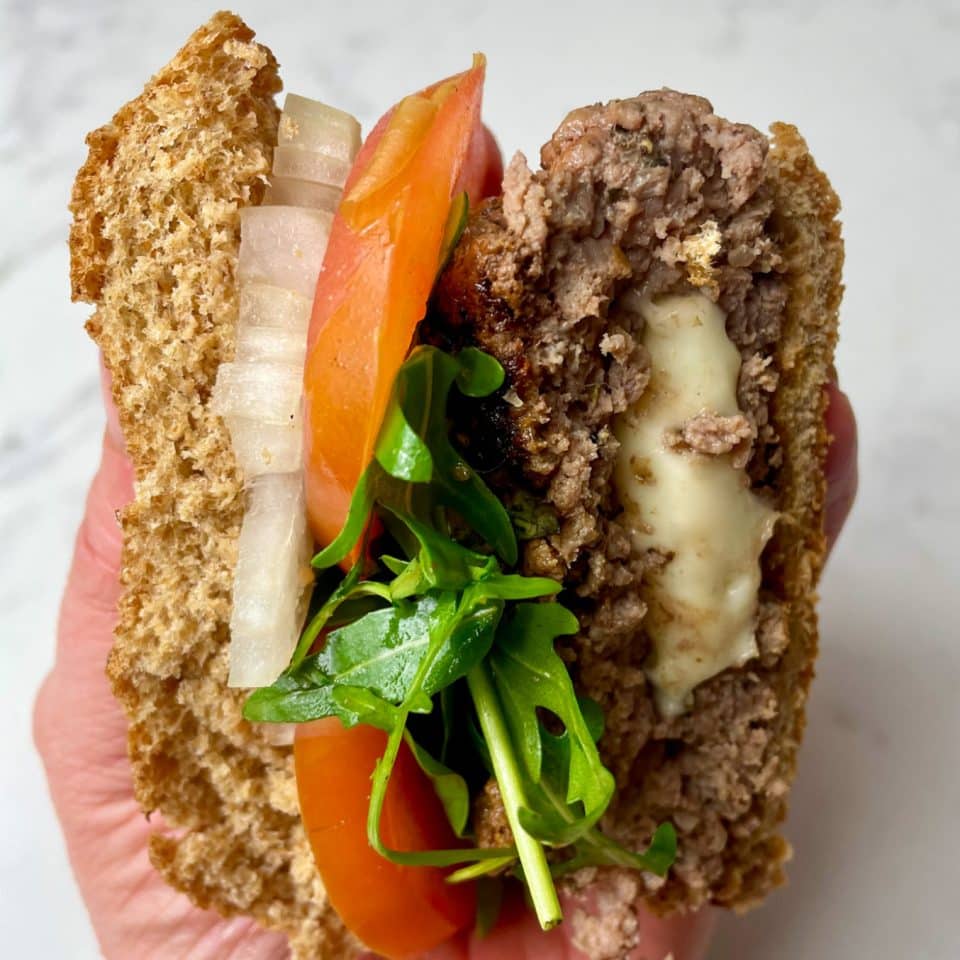 Healthy Homemade Burgers, slimming style
Print
Pin
Rate
An easy and delicious healthy homemade beef burger recipe with a cheeky cheese middle!
Ingredients
500

g

Minced beef

<5% fat

1

teaspoon

Garlic granules

1/2

teaspoon

Mixed herbs

Salt

Freshly ground Black pepper

4

Light Baby bell cheeses

Fry Light

4

wholemeal Buns

Lettuce

Tomatos

sliced

Onion

peeled and sliced
Instructions
Place your minced beef in a bowl and add your garlic granules, mixed herbs, salt and pepper on top

Using your hands mix lightly (no not over mix)

Then split your mixture into 3 or 4 portions (depending on what size burger you like)

Next shape into flat rounds about 12 cm in diameter, pop your peeled baby bell in the centre of each round

Next using your hands to shape, bring the minced beef mixture around the cheese and mould to a burger shape,  encasing the cheese. Make sure you cannot see any of the cheese through the burger pattie

At this point you can pop them in the fridge for later. If you are having your burgers straight away pop them in a frying pan (not fat required) and fry over a medium high heat for approx 5 minutes each side (longer if you like them well done)

The outsides should be nice and brown and a little bit crunchy

Next prepare your buns / thins and all your salad bits and don't forget your healthy chips

Simply build your burger however you like to and eat
Notes
*** All nutritional information is approximate and intended as a guide 
Nutrition
Nutrition Facts
Healthy Homemade Burgers, slimming style
Amount per Serving
% Daily Value*
* Percent Daily Values are based on a 2000 calorie diet.