Bacon, Egg & Mushroom breakfast cups
These lovely little breakfast cups are so nifty! Bacon & Egg breakfast cups!
They also have toast and mushrooms – yummy!
I don't know about you but I think breakfast or brunch on a lazy Sunday morning may just be one of my favourite meals?

Sunday Brunch – What about you?
And the good news is – you can have them as part of your Slimming regime (:-) – (bread is your Healthy B)
I also really like a savoury breakfast. I'm not really a pancake kinda girl!
I love the fact you can have brunch then dinner and then that's it (just 2 meals)
The best thing about these beauties is that if you do breakfast often for the masses (as I do) everything is ready at the same time and everything is hot!
I love cooking breakfast for loads of people, it can be such a social fun meal
They are so easy to make and taste so good – go on wow your family or guest with these Bacon, Egg & Mushroom breakfast cups.
Just follow the instructions, it's really just a construction job!
Brunch Idea…. Easy!
First you start with a bread bottom:
Then it's bacon and mushrooms:
Then topped with an egg
Weekend Breakfast Idea or Brunch Cups?
And there you go!! Bacon & Egg Breakfast Cups… easy as
I love breakfast or brunch at the weekends so so much – it could almost be my favourite meal time – I've said it again so it must be
I make sure I really enjoy my breakfast at the weekend, using a little more time (I'm always late in the week lol!)
Perfect
Have a go!
The Slimming Group
I also have a Facebook Closed Group called Easy Peasy Slimming Style Recipes .
Come over and join this great honest community Facebook for Easy Peasy Slimming Style Recipes if you're interested
Just use the join button if you like real home cooked tasty easy food!!
We support encourage and laugh!!
Loads of tips and tricks – I promise
Thanks
Big Love Clare x
Other Tasty Brunch Morsels
If you love this recipe I think you might like my Sunday Brunch Recipe too
Made all in one pan 🙂
And another brunch idea
And heres my delicious and luxurious Potato Rosti recipe with smoked salmon – it's so good!
Or maybe my lovely Home made Granola Recipe 🙂
Big love Clare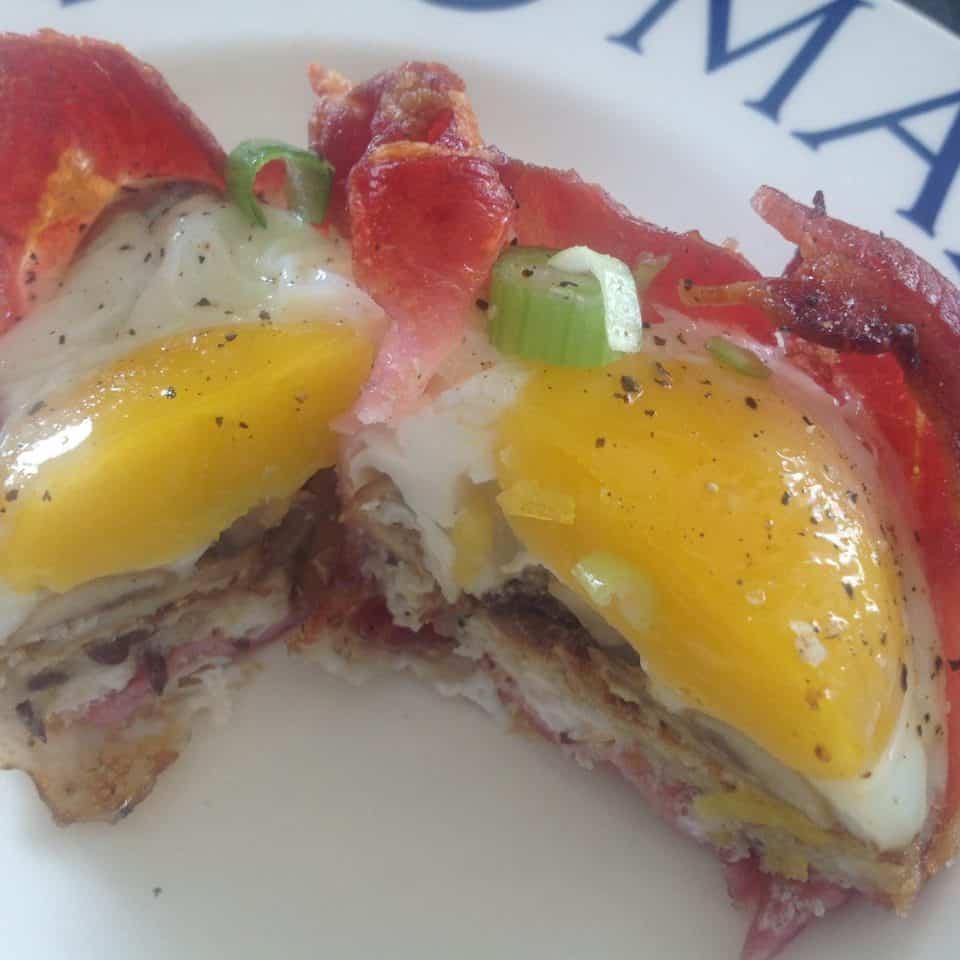 Bacon & Egg breakfast cups
Print
Pin
Rate
Lovely Little Breakfast Cups, perfect for the masses
Ingredients
Butter or oil for greasing / Fry Light if you're being good

6-8

Rashers good Bacon / or medalions

200

g

Mushrooms

sliced thinly

2

Slices

bread - toasted

6

Free Range Eggs

Salt & Freshly Ground Black pepper

2

Spring Onions - chopped for garnish
Instructions
Grease muffin tin with butter or oil or Fry Light

Grill bacon until almost done, must still be pliable

Pan fry sliced mushrooms until golden

Cut 6 discs out of the toast the same size as the bottom of the muffin tin using a cutter

Construct - line the sides of the muffin tin with a bacon rasher, pop the toast disc in next and push down, add some mushrooms.

Then break an Egg on top, do this for all 6 - season with Salt & Black Pepper

Pop in the oven for 12-15 minutes depending on how you like your eggs

Once baked run a knife around the cups, garnish and dig in
Nutrition
Nutrition Facts
Bacon & Egg breakfast cups
Amount per Serving
% Daily Value*
* Percent Daily Values are based on a 2000 calorie diet.