Hi and welcome to
Easy Peasy Lemon Squeezy
A place to inspire, share and talk everything kitchen with a side order of lifestyle and social ;)
Homemade Granola – Cranberry, Goji & Apricot
Simple Homemade Granola
You know Granola is so easy to make, have you ever tried? Jump too it you're missing out homemade granola really is the best!
I don't know about you but I find those small boxes or bags of granola so expensive and soooooo sweet too, check out the side of the pack, the nutritional information, i think you'll be very surprised 🙁
So anyway try making this one.
Here is is before baking 🙂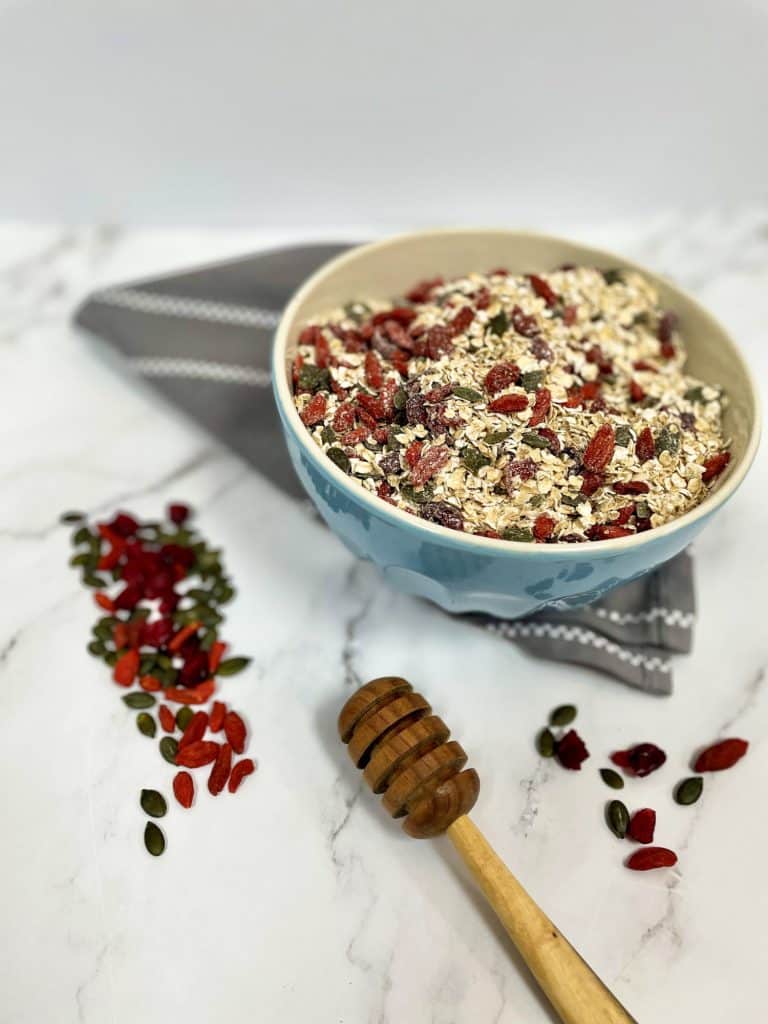 Firstly it makes so much and is nowhere near as expensive as the shop bought stuff and twice as tasty. It's also so satisfying and easy to make.
You can add all sorts of combos of fruits and nuts. It really is down to you and what you prefer
Dried blueberries, cranberries, coconut – whatever takes your fancy – go experiment.
Coconut oil for your Granola
Instead of the vegetable oil you could always use coconut oil if you prefer.
I love coconut oil and it's so good for you! I've popped the link in to my Coconut Oil post where I talk at length about everything you can do with this miracle oil.
From eye makeup remove to teeth whitener all the way to an ingredient for baking and frying with! Have a read you'll be surprised
How to serve your simple granola
Serve cold with milk or yoghurt – so much better than the bought stuff.
Keeps for about 3 weeks in an airtight container…. it will never last 3 weeks –
it's so very good 🙂
Homemade Granola as a gift
Also it also makes the most lovely gift. Simply pop it in a mason jar and tie a ribbon round!
So pretty and so thoughtful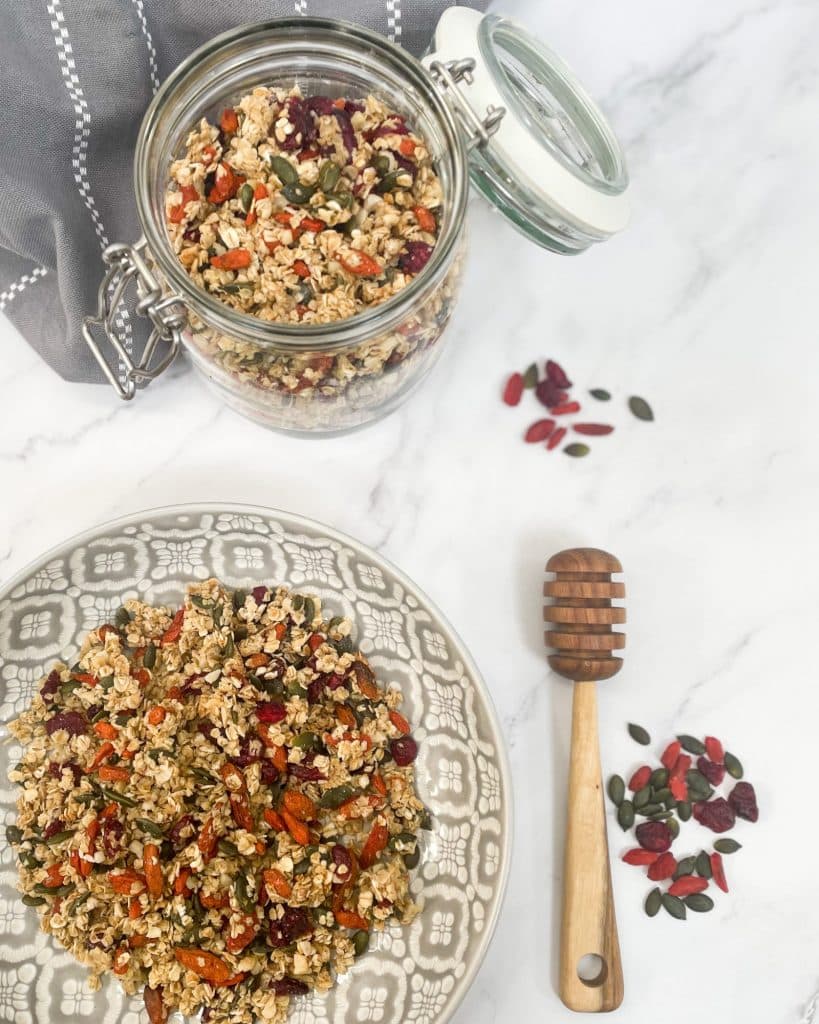 If you have a try at this lovely breakfast Granola stuff, please let me know how you get on by posting me a comment below the recipe, I love to receive your comments
Thanks Clare x
Ingredients
Add all sorts of combos of fruits and nuts – dried blueberries, cranberries, coconut – whatever takes your fancy – go experiment. Also makes a lovely gift
125ml Maple Syrup (Clarkes)
2 tablespoons Vegetable oil
2 tablespoons Runny Honey
300g Rolled Oats /Porridge Oats
Then you need to decide on the mix anything goes! (make up to 350g in total) I used:
50g Pumpkin Seeds
50g Dried Apricots, cubed
100g Goji Berries
50g Dried Cranberries
100g Flaked Almonds
Preparation Method
Preheat the oven 150C/300F/Gas 2.
Mix all the wet ingredients together in a bowl, the Maple Syrup, Vegetable Oil and honey
In another Large Bowl mix Porridge Oats with all the other seeds and nuts
Pour Maple syrup mix on top of drys and stir to combine
Spread the mix evenly over two lined baking trays
Bake for 20-25 minutes
Remove from oven and tip onto a cold tray – leave to go cold (you should have a few 'clusters' )
Serve cold with milk or yoghurt – so much better than the bought stuff.
Keeps for about 3 weeks in an airtight container…. it will never last 3 weeks – it's so good Cx