Hi and welcome to
Easy Peasy Lemon Squeezy
A place to inspire, share and talk everything kitchen with a side order of lifestyle and social ;)
1
2
3
Breakfast Bars made with Coconut oil
Breakfast Bars made using Coconut oil
(or anytime bars 🙂 )
I've been experimenting a lot with coconut oil as the benefits are supposed to be immense, even if the oil itself is very calorific. So heres my Breakfast Bars made using coconut oil! Have a go?
BUT it's good fat – apparently!
So I have developed the most wonderful 'I should CoCo Bars' perfect for breakfast or any time.
Who doesn't want Breakfast Bars made using Coconut oil so scrummy?
They are made not only using Coconut oil, but pumpkins seeds, oats, cranberries, apricots and honey! Delicious!
Flipping lovely at anytime.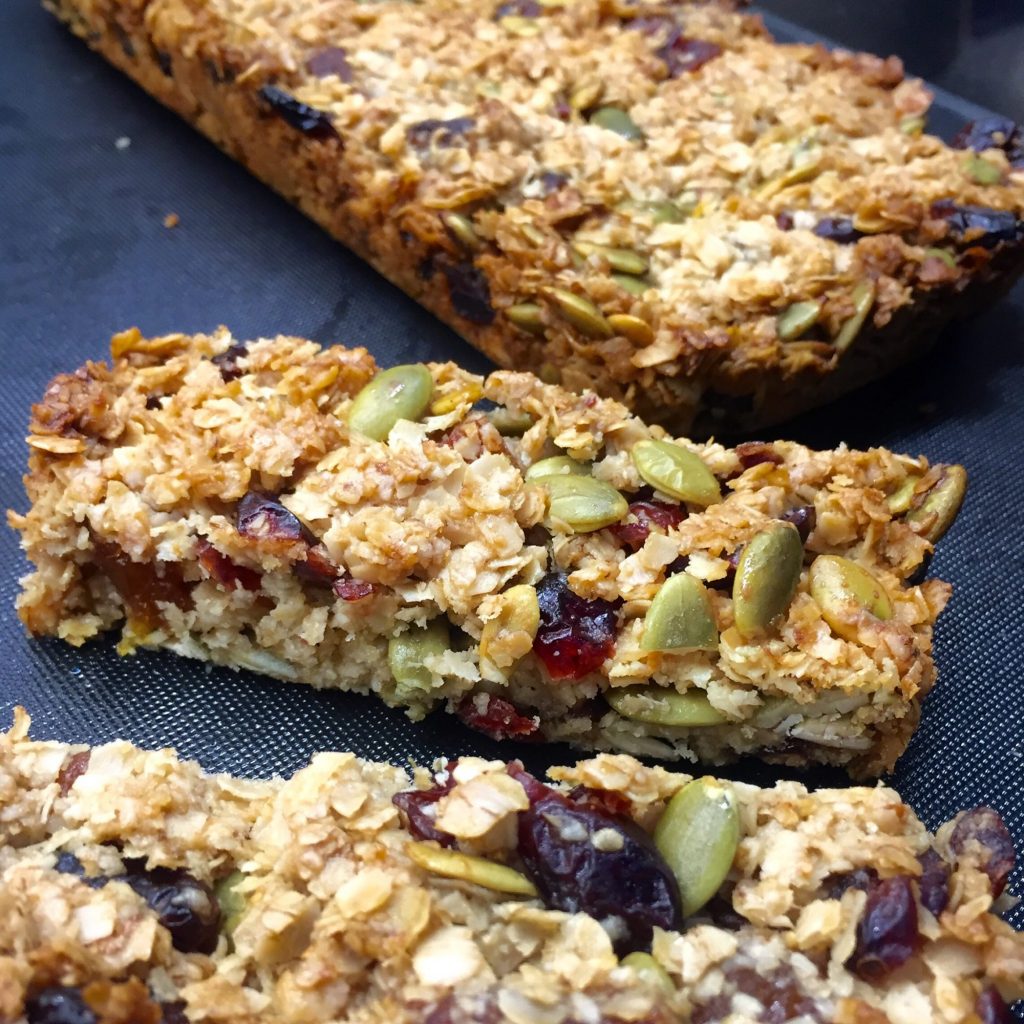 Coconut Oil for breakfast bars
These could be perfect before or after exercise! I used 'VitaCoco' as its raw and organic and readily available at the supermarket.
Did you know there are so many amazing uses for coconut oil – from recipes to skin & hair care and also for whitening teeth?!
I have a lot of experimenting to do and I'm looking forward to developing more recipes with Vito Coco Coconut Oil.
Already I'm using it for frying, lovely.
Next I hope to make a nice fruity loaf! Watch this space.
I also use it to remove my make-up – oh yes I do!
There's a post on the website now – as I've done my homework. Extensively – so so many uses for coconut oil
It's really interesting have a read – coconut oil – what's it all about?
I'd love to know if you use coconut oil and what you use it for?
Let me know in the comments below
Thanks Clare
Ingredients
125g Raw Organic Coconut oil – it will be solid and white in appearance
125g Honey – I used Clear
170g Oats -I used Scotch Porridge (I think you can get Gluten Free Oats)
50g Dried Cranberries
50g Pumpkin Seeds
75g Chopped Dried Apricots
Preparation Method
I wanted bars so I made mine in 2 loaf tins with liners (I'm lazy 🙂 )
Preheat the oven 180C / 350F / Gas Mark 4
In a saucepan melt the coconut oil and honey until clear
Add the oats, seeds and fruits stir really well
Press the mix into the tin/s – I used the back of a spoon to level
Bake in the oven for 25 minutes until golden brown and firm
Leave to cool totally in the tin – you need to do this as tempting as it is to try some 🙂
When cool cut into bars or squares – they are quite crumbly, but lovely and are firmer the next day
Really delicious!