Hi and welcome to
Easy Peasy Lemon Squeezy
A place to inspire, share and talk everything kitchen with a side order of lifestyle and social ;)
Freda's apple and fruit loaf (thanks Freda)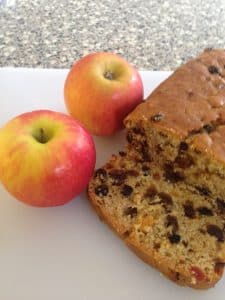 Freda's apple and fruit loaf
Such a lovely fruit cake, a great one for keeping in that tin! It also helps use up all those fallen apples couldn't be a more perfect cake, its moist, easy and tasty!
This recipe is very popular – Pinterest loves it?! and I mean LOVES it!  It is a super old fashioned cake and so very very easy to make. I'm sure you'll make it time and time again!
Have a go! and let me know what you think?
Thanks Clare
Ingredients
12oz/340g Self Raising Flour
6oz/ 170g Sugar
6oz/170g Butter or margarine
12oz/340g Mixed Dried Fruit (whatever you like)
2-3 tbs Milk
1/2 pt of Softened Apple Pulp
Preparation Method
Apple Pulp
When there's a glut of apples or the ones that have gone off in the fruit bowl, peel, core and chop.
Place in a heavy bottomed pan with a splash of water, bring to a boil, stir and cover with a lid and turn down heat a little.
Simmer for approx. 20 minutes until soft.
You can do this anytime and pop in the freezer
Pre-heat oven Gas 4 / 180°c
Melt the butter/marge in a large saucepan
Add all the other ingredients and stir well
Pop into a greased and lined large loaf tin and bake for 1h 30 minutes
Ta Dah – That's it!!
Slice, butter and enjoy! Especially with a piece of cheese! Yes cheese   Cx