Lincolnshire Plum Bread
Actually my Mums Lincolnshire Plum loaf cake is sometimes referred to as bread, not sure it is to be honest!
However that's what we've always called it and we've been eating it for years!
It's so delicious, moist and packed with fruit
Plum Bread or Plum Loaf
So Lincolnshire plum bread or loaf cake – it doesn't really matter!
You can use tea in the recipe however we have always just used water, so whatever you fancy.
This one's more cake than bread!
It's so quick and easy to make and it's such a great loaf cake to wrap in foil and keep in the cupboard.
Mum always has one in her kitchen, ready for us lot!
How to serve your Lincolnshire Plum Bread / cake
In the north we butter it and serve it with cheese.
I know it sound strange BUT it is delicious! It's not an overly sweet cake so it works so well.
It's almost like malt loaf really – we have that with cheese too.
It's the perfect teatime treat.
Really rather good if you like fruit cake but don't want all the marzipan and icing shenanigans.
It's an everyday version of a complex fruit cake, but easier and lighter, delicious!
To Make your plum bread…
This cake mix is made in a pan on the hob!!
Yes it is then popped into Loaf tins then baked in the oven.
This mix makes two 2 llb loaf cakes, so if you only want one (why?) then half the mix.
We prefer the smaller cakes (and you get 2!!)
Loaf Liners?
Also before I forget, have you discovered loaf liners yet?
Oh they are fantastic, you can say 'bye' to trying to line a loaf tin!
I love them, so easy and you can find them in most supermarkets and they are not expensive either
So why not have a go at my Mums Lincolnshire Plum loaf / cake – and try it with cheese.
I'd love to know what you think. Please leave me a comment, I love your comments
Other Loaf Cakes
If you love loaf cake then I have loads however a VERY popular one is Freda's Apple & Fruit Loaf why not have a look.
It's such an easy recipes and you can use up all of those fallen apples in the Autumn
Big love Cx
Other Loaf Cakes 🙂
You might like these great loaf cake recipes too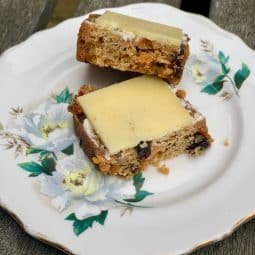 Print
Pin
Rate
A moist easy fruit tea bread
Ingredients
225

g

Margarine or butter

340

g

Caster Sugar

450

g

Dried Fruit

mixed or what ever you fancy

1

cup

Water or Tea

450

g

Self-Raising Flour

2

medium sized Eggs
Instructions
Grease & Line 2 x 21b loaf tins (I use loaf liners  - they are ace!)

Preheat the oven 140C/275F/Gas 1

In a large pan warm the Butter, Caster Sugar, Dried Fruit and tea - melt

Tip the Self-raising flour into a large bowl, with the eggs and mix Add the melted mixture to the flour mix, a little at a time and stir until totally combined

Bake for approx 60 minutes. Insert a fine knitting needle and if it comes out clean you're done. If not bake for an additional 10 minutes until baked

Leave to cool - then add that butter and cheese and away you go!

Enjoy the delights of my Mums Lincolnshire Plum loaf / cake
Notes
***All nutritional information is approximate and intended as a guide 
Nutrition
Nutrition Facts
Lincolnshire Plum Bread
Amount per Serving
% Daily Value*
* Percent Daily Values are based on a 2000 calorie diet.