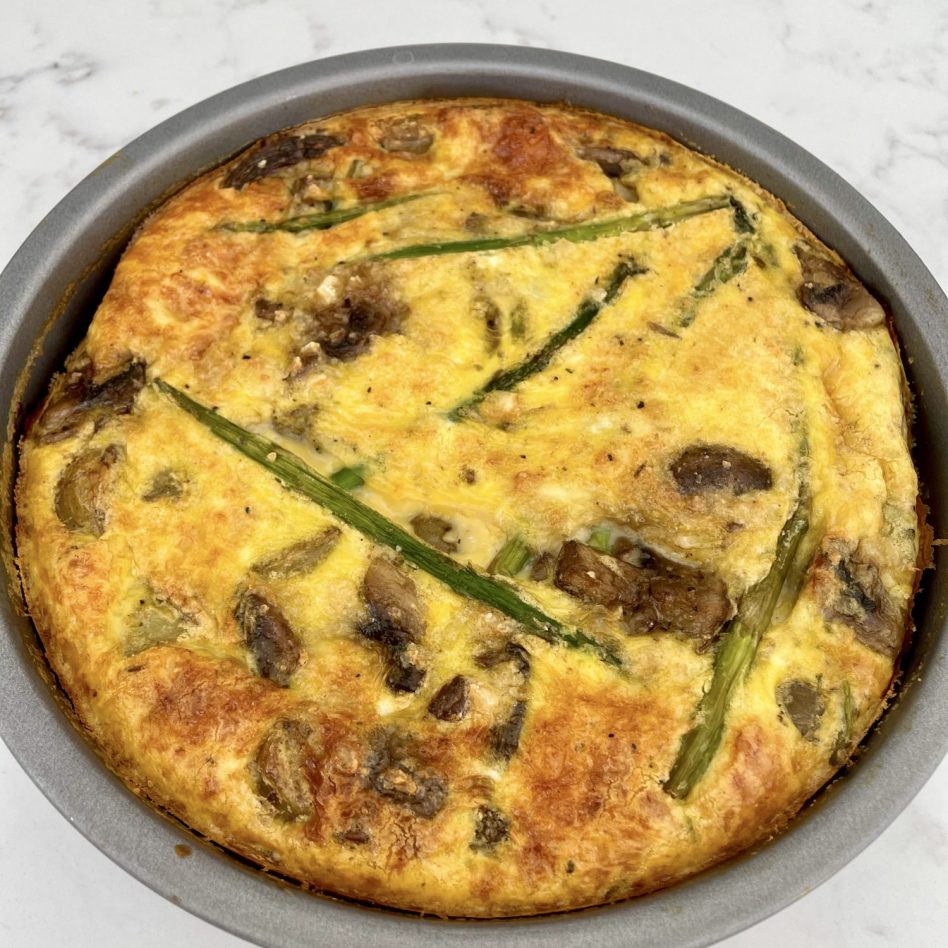 Asparagus Crustless Quiche with New Potatoes
I make a crustless quiche slimming style very often however this one is my Crustless Asparagus Quiche with New Potatoes
My standard Crustless quiche is really popular on my blog so I I thought why not change it up a little and make this one more seasonal ? It's very easy and very useful and I really hope you like it
A Crustless Quiche recipe is a really useful thing, trust me, soft, flavour packed, protein packed and so tasty. It's also super versatile. Almost a frittata
It's really great for lunch served with a big salad, for supper warm with beans and my healthy chips maybe?
Warm if I'm home and I sometimes take a slice with me to work cold, a delicious, filling and tasty 'desk' lunch
I'm a savoury girl – so I love this
This time with Asparagus and Jersey Royal new potatoes – yum, with some mushrooms thrown in!

So is asparagus good for you?
Simply answered – yes! It's an excellent source of vitamin K, antioxidants, and thiamine.
And you don't have to spend a lot of calories to get these benefits.
Three spears of asparagus are very very low in calories, they add up to 9 calories and hardly need to be counted. In those three spears, you'll also get nearly 1 gram of fiber, and that's a win-win situation.
Check out more of the benefit if you like, there's a really comprehensive article on the BBC website
How do you make a Crustless Quiche, with Asparagus, new potatoes & Mushrooms ?
Well let me tell you it's really very easy
And you can make your quiche look really fancy pants in a beautiful white fluted flan dish.
However more often that not I make it in a sandwich cake tin – keeping it real
Step – by – step to your Crustless Quiche
Full recipe is at the bottom of this post, however let me show you step by step
Fry off your cooked new potatoes, asparagus & mushroom using fry light and maybe a touch of garlic and pop it in your flan dish or tin
2. Next add your eggs and cheese mix over the top and pop a few cherry tomatoes on top if you fancy it
3. Bake in the oven and voila – it really is that easy
Perfect and delicious healthy quiche
Crustless Quiche slimming style – flavour variants
I usually use bacon medallions and mushroom ( I love mushrooms) and I always add a little garlic and top with a few cherry tomato halves
But there are so so many other ingredients you can add, such as
Peppers
courgettes
onions
peas
sweetcorn
ham
Bacon
whatever you fancy to be honest
Boiled potato pieces (Spanish omelet style I guess
Broccoli
So have a go and enjoy!
The Deets regarding your crustless Asparagus Quiche
I reckon this feeds 4 – decent portions
So with reference Syns:
60g Low fat cheddar cheese – 2 Healthy Extra's or approx 8 Syns (please check yourself too)
60ml Skimmed Milk – 1 Syn (you can use quark (free) but I don't or part of your milk allowance )
So it's either FREE is you're using your healthy A's or just over 2 Syns per quarter if you are not using your Healthy A's
Please NOTE – I am not a Slimming World consultant – or affiliated at all with them.
Please check yourself 🙂
Can you freeze your Crustless Quiche Slimming?
Yes yes yes you can
Let it cool first. I tend to freeze mine in slices, so I can just grab a single portion
Wrap in cling film tightly, or cling film and foil and pop in the freezer – make sure you use a permentant marker pen to date and label your quiche
Quiche can be frozen for up to 3 months
The Easy Slimming Group
I also have a Facebook Closed Group called Easy Peasy Slimming Style Recipes .
Come over and join this great honest community Facebook for Easy Peasy Slimming Recipes if you're interested
Just use the join button if you like real home cooked tasty easy food!!
We support encourage and laugh!!Loads of tips and tricks – I promise
Oh and why not join me on Instagram – I'd love to see you there 🙂
Big Love Clare x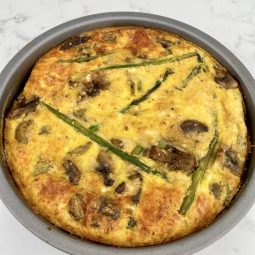 Crustless Asparagus Quiche with New Potatoes
Print
Pin
Rate
A delicious light crustless asparagus quiche, with new potatoes and mushrooms
Ingredients
Fry Light Spray

1

Clove

Garlic

peeled and very finely chopped

125

g

Asparagus spears

200

g

New Potatoes

cooked and halved

100

g

Mushrooms

quartered

6

Medium Eggs

60

ml

Slimmed Milk

60

g

Low fat Cheddar Cheese

grated

Salt & Black pepper
Instructions
Preheat your oven 180C/350F/Gas4

In a frying pan, using fry light, fry your asparagus, halved new potatoes, garlic and mushrooms for approx 10 minutes until lightly golden

Spray your flan dish or sandwich tin with Fry Light and tip in your cooked asparagus, new potatoes & mushrooms

Next crack your eggs in to a bowl, add your milk, salt & pepper and mix with a fork or whisk

Add your grated cheese to your egg mix and stir

Tip your egg mix over your mushrooms, new potatoes and asparagus into the flan dish or tin

Bake in your preheated oven for 35-40 minutes until cooked (firm to the touch) and golden in colour

Serve, delicious!
Notes
** All nutritional information is approximate and intended only as a guide 
Nutrition
Nutrition Facts
Crustless Asparagus Quiche with New Potatoes
Amount per Serving
% Daily Value*
* Percent Daily Values are based on a 2000 calorie diet.