Crushed New Potatoes with garlic
Gosh I love potatoes – in any form? You? I really am a carbs girl! So when I saw this idea somewhere (can't remember where – Maybe TikTok – maybe) it gave me an idea for Slimming Style Crushed New Potatoes. Or as some people are calling them – SMASHED new potatoes
So I've adapted the idea I saw and they are free!!
Bring it on
So what new potatoes are best for crushing?
Well I adore Jersey Royals myself and they are always my first choice – I simply love them
But I've also tried with many varieties and they all work, crushed / flattered or squashed – whatever you'd like to call them!
New potatoes start to appear in about April and traditionally are around until about July.
These days however, you are able to get hold of them all year round
How to make your crushed roasted new potatoes
Full details below on the recipe card
Cook your new potatoes (ALWAYS leave the skin on!!) until tender (do not over cook) and drain ALWAYS leave the skin on!!
Simply line a baking sheet with foil. Spray with fry light, sprinkle with salt, black pepper and garlic granules
Then spread your potatoes out and using a glass squash gently, ensuring you keep your potato pretty whole – push down on the glass gently
Spray the top with fry light
Bake and turn half way through
Just look at them!

Potato Nutrition
I love potatoes, in any shape or form – chips, mash, roasties
Here's a little info on the nutrition of the lovely specimins
Potatoes are a great source of fibre with their skins on as well as being naturally fat-free and Gluten free.
If you want more info of the nutritions then check out the information on Love Potatoes
How to serve your Crushed New Potatoes
Well with anything really, any meal and everyone loves them
They are the perfect side dish to so many meals
Recently I've been eating a lot out side at the moment (like all of us) so I like to do easy picky stuff that's simply and tasty! And easy to eat
The other day, I made tomato bruschetta with salads and a side of these tasty potatoes – delicious and super easy
They would also be lovely with my Crustless, free, quiche and a big salad! Yum
Soft and creamy on the inside and crispy on the outside 🙂
The Deets
If you're watching the fat then using fry light means they are free
If you're not then use olive oil (they will go really crispy and maybe a sprinkling of parmesan – yum!!)
The Slimming Group
I also have a Facebook Closed Group called Easy Peasy Slimming Style Recipes .
Come over and join this great honest community Facebook for Easy Peasy Slimming Recipes if you're interested
Just use the join button if you like real home cooked tasty easy food!!
We support encourage and laugh!!
Loads of tips and tricks – I promise
Big Love Clare x
Another great Potato Recipe
And if you love these then I think you'll also love my Slimming Home made Chips
I spent a whole day writing a Step-By-Step to the perfect chip!!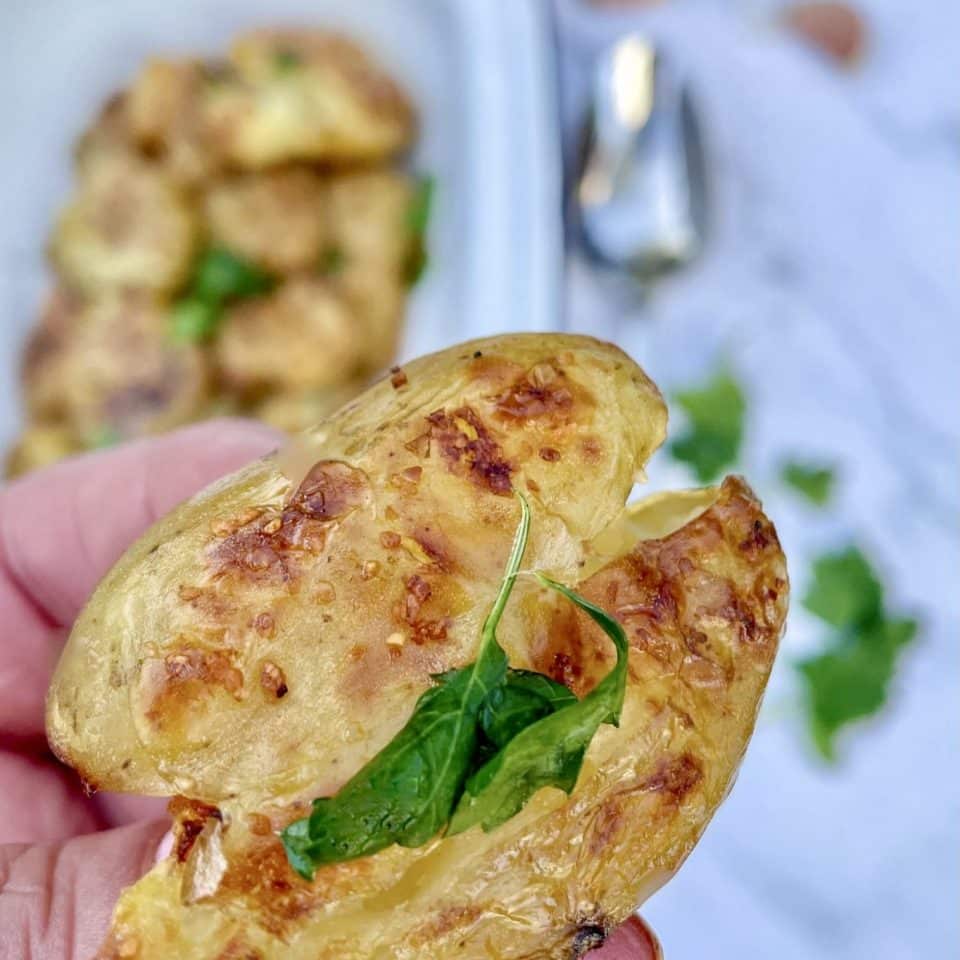 Crushed New Potatoes with garlic - slimming style
Print
Pin
Rate
Flatterned crushed new potatoes with garlic - delicious
Ingredients
200

g

New Potatoes

Fry Light

10

g

Garlic Granules

Salt

Black pepper

Fresh parsley for garnish
Instructions
First boil your new potatoes in salted water for 20-25 minutes until tender

Preheat the oven - hot 220C / 425F / Gas 7

Drain your potatoes and leave on one side

Line a baking tray with foil and spray with fry light, sprinkle with garlic granules, salt and black pepper

Then pop your new potatoes on the tray with space around then

Then using the base of a drinking glass, gently squash your potatoes

Spray potatoes with fry light and pop in the hot oven for 15 minutes

After 15 minutes remove from the oven and using a spatular turn them over, spray agin and bake for a further 10 minutes until crispy and golden brown

Transfer to a serving dish, garnish with your parsly and dig in
Notes
*** All nutritional information is approximate and intended as a guide 
Nutrition
Nutrition Facts
Crushed New Potatoes with garlic - slimming style
Amount per Serving
% Daily Value*
* Percent Daily Values are based on a 2000 calorie diet.