Hi and welcome to
Easy Peasy Lemon Squeezy
A place to inspire, share and talk everything kitchen with a side order of lifestyle and social ;)
Healthy Chicken & Broccoli Pasta, slimming style
Healthy Chicken & Broccoli Pasta, slimming style
So here's my recipe for Healthy Chicken & Broccoli Pasta! It a good one – promise and it's slimming styleeeee
I keep trying to add other recipes to my collection. I have so many slimming style recipes already, have you seen them?
But I know we need more so we don't get bored! I think that's the secret of consistent weight loss or maintain.
Variety is the spice of life they say!
This time I wanted a quick easy and healthy dish to add for a little variety, another string to my bow on a busy weeknight. And I found it with this dish.
Its very simple and easy (as always) but also very tasty! I'm sure the whole family will like it….
I love a super simple recipes for midweek and my go to to be honest is normally pasta – yours?
So more about my Healthy Chicken & Broccoli Pasta
It really is simply, literally just garlic, slice chicken breast fillet with broccoli florets in a frying pan with fry light!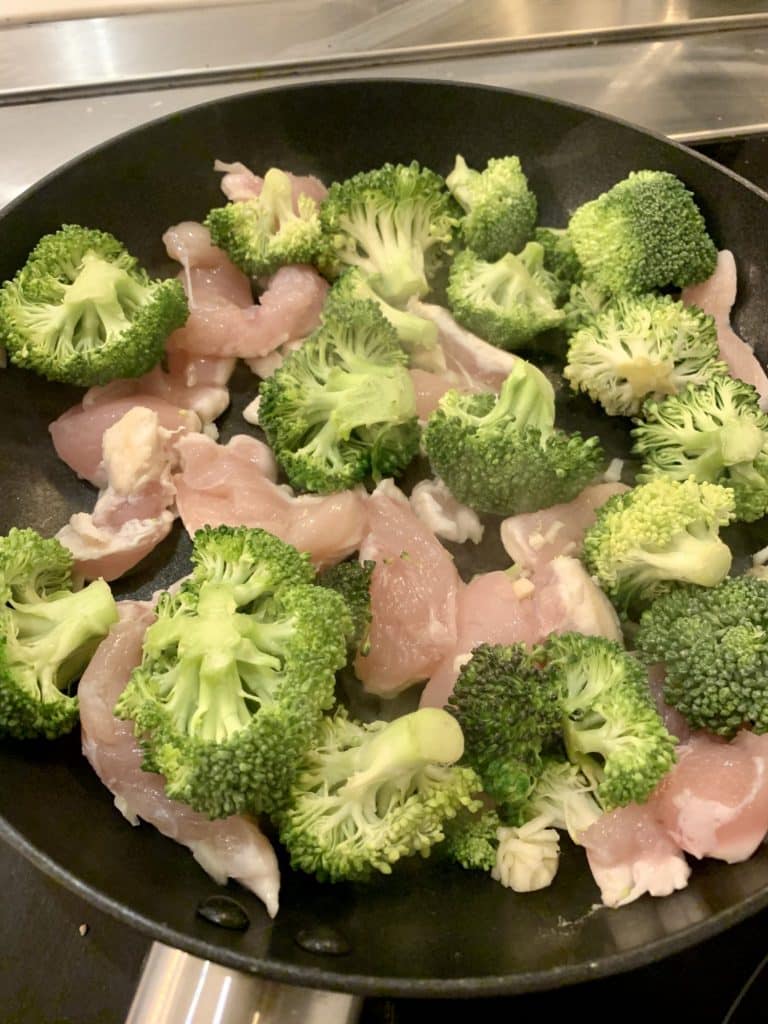 Mushrooms are then added and fried a little more, until the chicken is cooked and turning a lovely golden colour!
The pasta water and Cheese Triangles are added together with the chicken stock and finally the Parmesan.
Then all that's left to do is to add the pasta and give it a good stir and serve!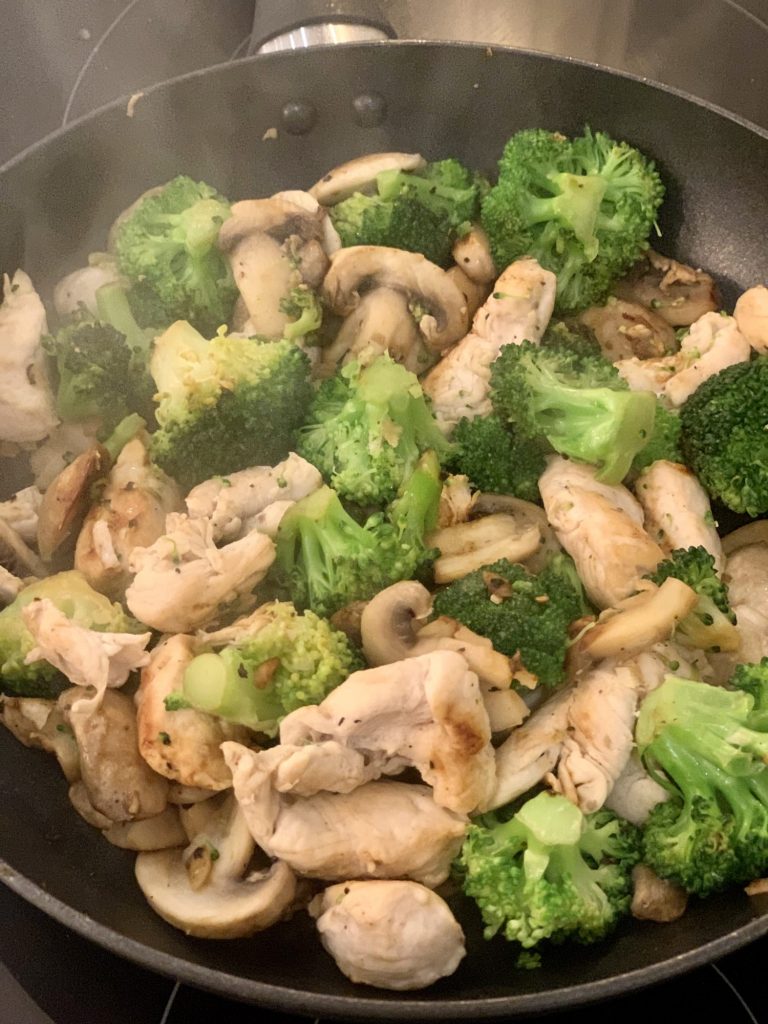 Pasta Choice
I used the extra small Fusilli here, but there is no reason why you couldn't use and pasta shape. I think it would work well with penne too
Broccoli nutrition
Broccoli is often touted as one of the healthiest vegetables. Its rich in vitamins K and C, a good source of folate (folic acid) and also provides potassium. And not forgetting of course a great source of fibre.
Vitamin C – builds collagen, which forms body tissue and bone, and helps cuts and wounds heal
So eat your broccoli guys
To Serve
I served mine on its own with a side of cherry tomatoes. Would also be nice with sweetcorn or a salad? Or a portion of low Garlic Bread?
Interestingly I had the other portion cold for lunch the next day and it was delicious – perfect for a pack up for a desk lunch!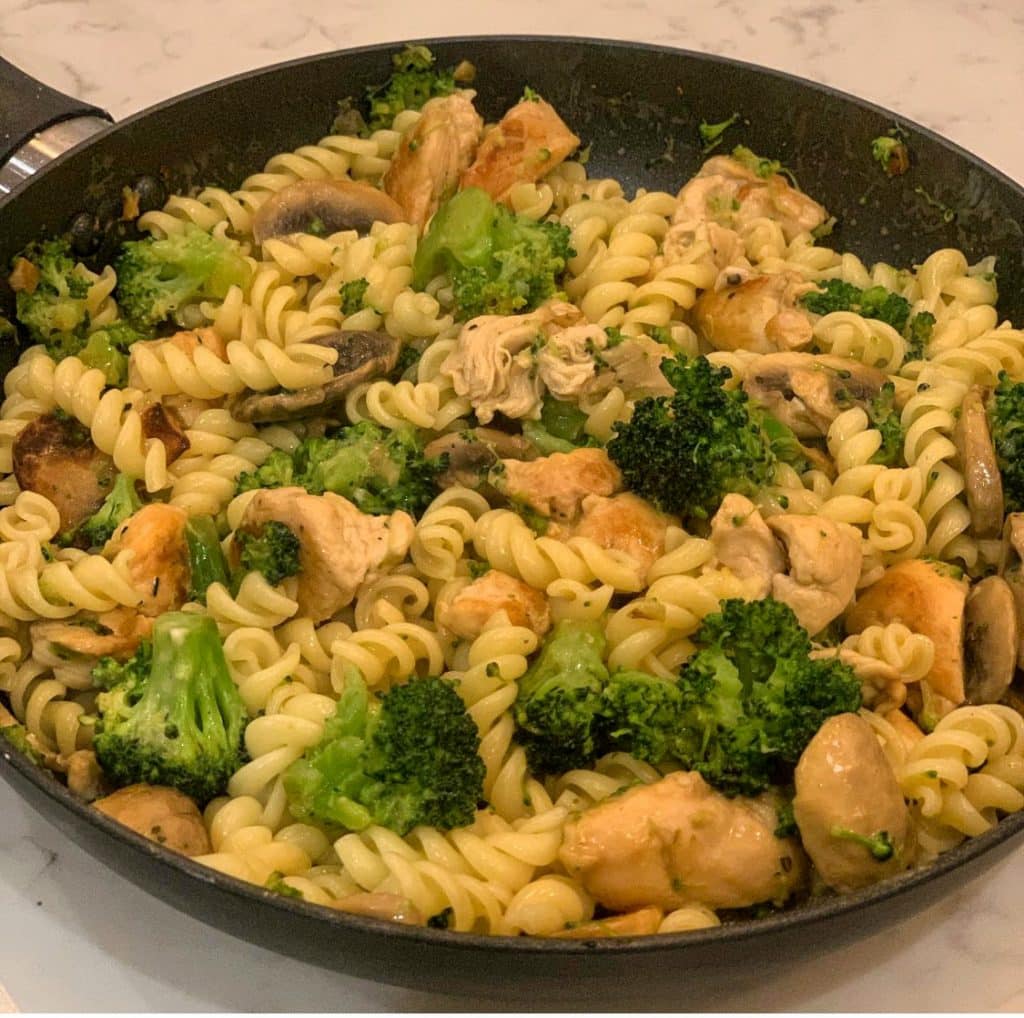 The Deets for Healthy Chicken & Broccoli Pasta
So all free apart from:
4 light Cheese Triangles (HA)
10g Parmesan – 1/2
It feeds 2 so I'd say 1/2 Healthy A and 1/2 Syn per portion – Ta Dah!!
So I really hope you enjoy this quick tasty dinner!
Lets me know Cx
Other Ideas
And if you like this dish I have many other Healthy Chicken Dinners – one of my faves is my Easy Peasy Slimming Chicken Curry, a family fave.
Go have a look!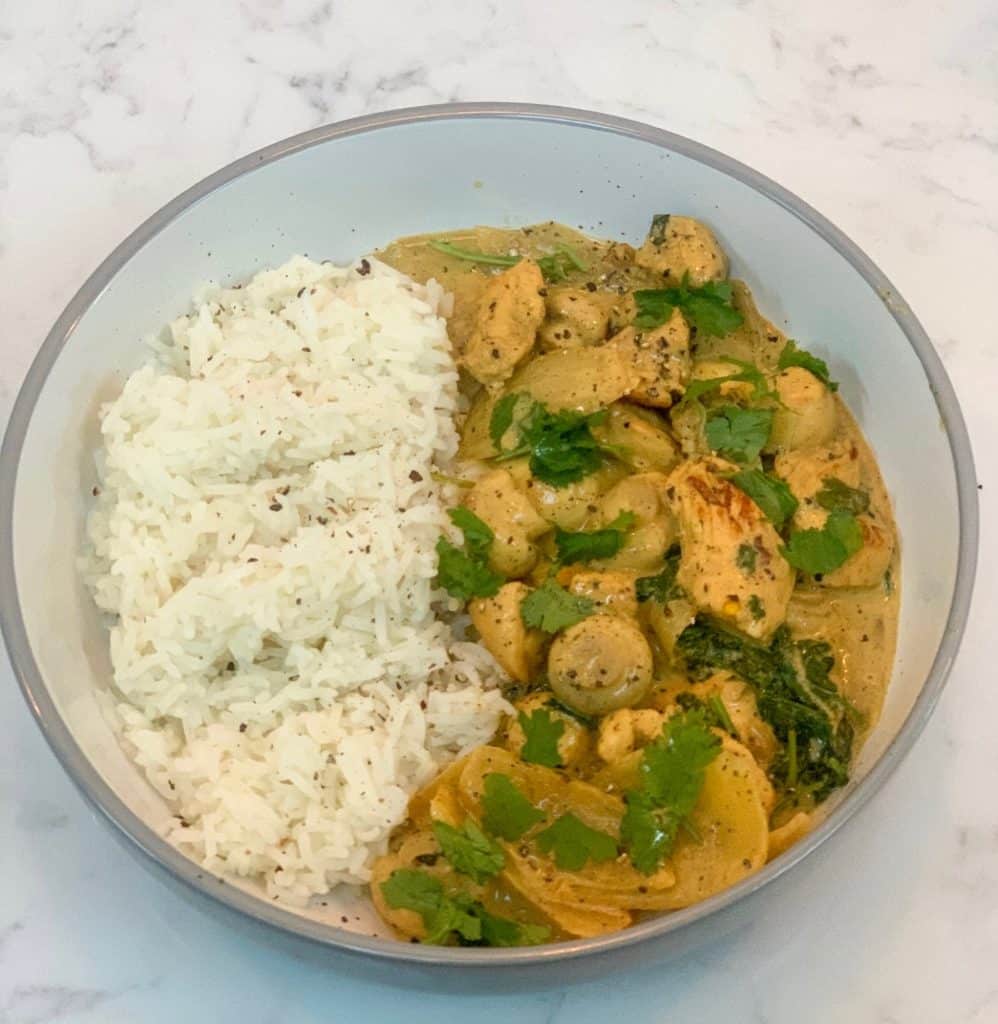 Oh and This One!!
And this Easy Hunters Chicken is great too! When you're looking for a recipe packed with flavour!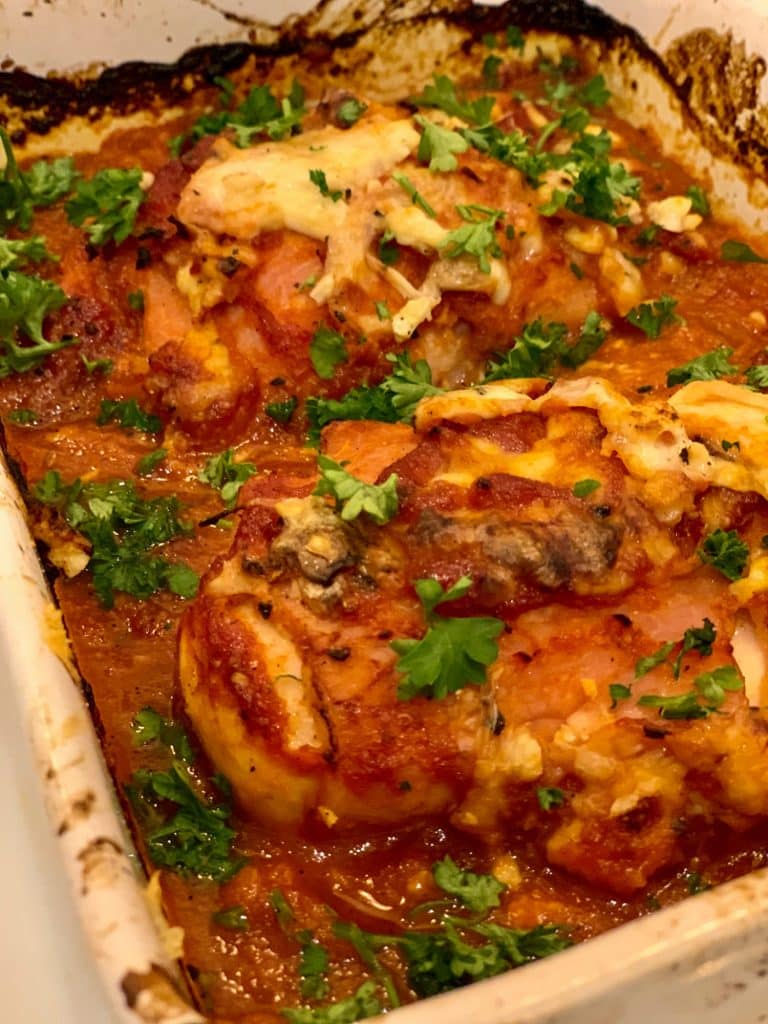 Group
I also have a Facebook Closed Group called Easy Peasy Slimming Style Recipes .
Come over and join this great honest community Facebook for Easy Peasy Slimming Style Recipes if you're interested
Just use the join button if you like real home cooked tasty easy food!!
We support encourage and laugh!!
Loads of tips and tricks – I promise
Thanks
Big Love Clare x
Sweetness!
Oh and if you fancy a sweet hit – here's my latest!!
Healthy Chocolate Brownies – Slimming Style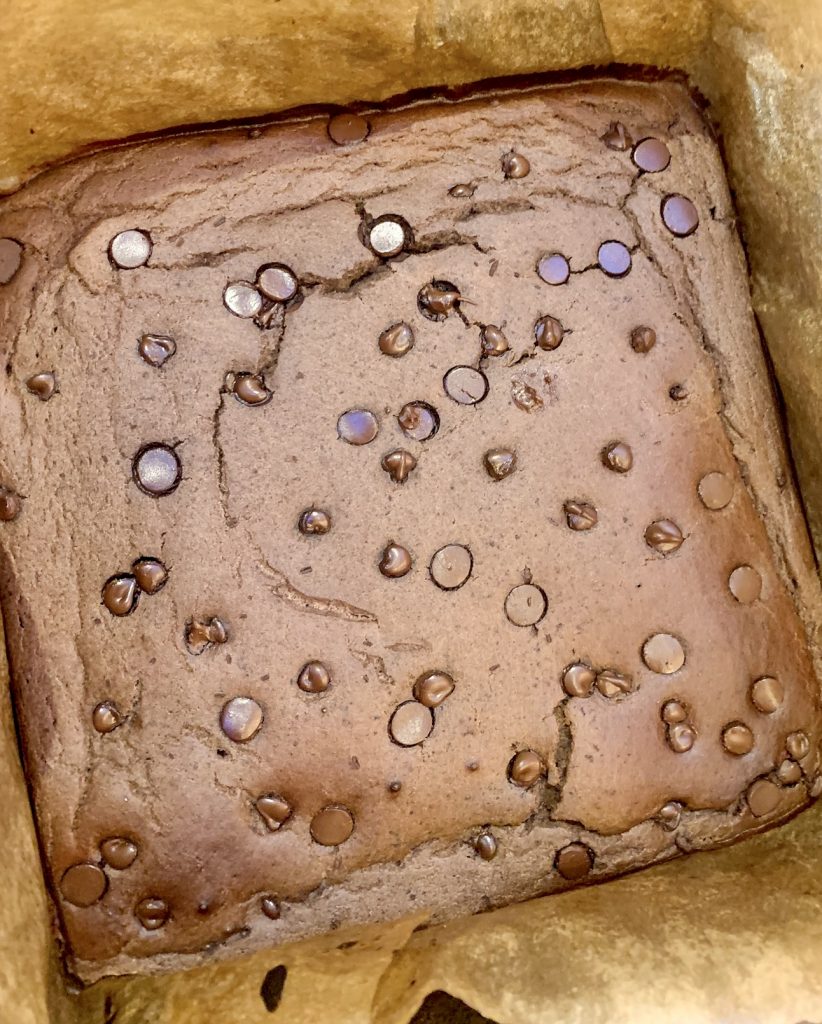 Ingredients
Serves 2
Fry Light
1 Clove Garlic, peeled and finely chopped
2 Skinless Chicken Breast fillets, cut into 2cm x 4cm strips
200g Broccoli forests
6-8 Mushrooms, washed & sliced
100g Dried Pasta (I used small fusilli)
4 Tablespoons Pasta cooking water
1 Knorr Chicken Stock Pot
4 Light Cheese Triangles
10g Grated Parmesan Cheese
Salt & Pepper
Preparation Method
Spray a large frying pan with Fry Light spray and place over a medium high heat
Add your garlic, chicken breast pieces, broccoli florets and fry for 5 minutes, stirring often
After 5 minutes add your sliced mushrooms and fry for a further 10 minus. Your chicken should be cooked through and should be starting to turn a pale golden brown
(In the meantime cook your pasta according to on pack instructions)
Add 4 tablespoons of your pasta water to the fried chicken and vegetables mix over the heat
Next add your chicken stockpot and your cheese triangles. Using the back of your wooden spoon stir until blended throughly
Drain your pasta and add to the frying pan mix
Finally add your grated Parmesan stirring until well combined
Taste and season with Salt and pepper if needed
Then simply serve in warm bowls