Hi and welcome to
Easy Peasy Lemon Squeezy
A place to inspire, share and talk everything kitchen with a side order of lifestyle and social ;)
Easy Christmas Ham, with Black treacle
Easy Christmas Ham, with Black treacle
Oh my I realised I hadn't got one of my favourite things to eat at Christmas on the website. So I spent this afternoon developing my perfect Easy Christmas Ham recipe, poached in cider and finished with black treacle and brown sugar – oh my!!
Totally tender, so easy and packed with delicious flavour
You get an apple sweetness and a rich sticky sweet from the fat – and it's not too salty
I use an unsalted joint
If you have a salted ham you can always soak your ham before you cook it to remove the salt too (couple of hours or overnight)
Christmas Ham Recipe (Or Christmas Gammon Recipe)
There are so so many Christmas Ham recipes out there.
Do you have a favourite?
They all sort of follow the same theme
slow cooked in a slow cooker
Baked / Roasted
Boiled
Poached and roasted
Well mine is poached in cider in the oven, then removed and smothered in black treacle and soft brown sugar – and roasted for 30 minutes – delightful
There are so many things you can do and so many different ways – cider, coke, mulled wine, apple juice, orange juice – whatever
Anyway here's mine…… I hope you like it!
What the difference between Gammon and Ham
Gammon is sold in the supermarket or by your local butcher raw, and requires cooking before you can eat it.
Whereas ham is cooked and ready to eat immediately, but both are made in a very similar way.
Both gammon and ham are actually cuts from the hind legs of a pig, and are either salted, brined, or smoked.
How to make the perfect Christmas Ham or Christmas Gammon
Full recipe on the recipe card below
However I pop mine in a large ovenproof casserole
You can use a deep baking tray and foil too if you like)
I cover it in cider (really doesn't matter what type) and top it up with apple juice, it doesn't need to be totally submerged but it can be
I then poach in the oven for however long it needs
How long should I cook my Ham for?
Well they say 20 minutes per pound (or 450g) Plus an additional 20 on top
My joint was reasonably small (1Kg) and I did 20 minutes per pound and then an extra 20 minutes on top – I actually left my 1Kg joint in for 2 hours in the oven, in the cider
Remove the rind and score the fat layer
Then remove the Ham and place in a roasting tin.
I lined the tin with foil as it's very messy (and who wants to wash that up?)
Then remove the netting and the rind – be careful as it's hot.
The rind should come off perfectly easily
Then score the fat with a sharp knife into diamond shapes
Then I added a couple of tablespoons black treacle and topped with a couple of tablespoons soft brown sugar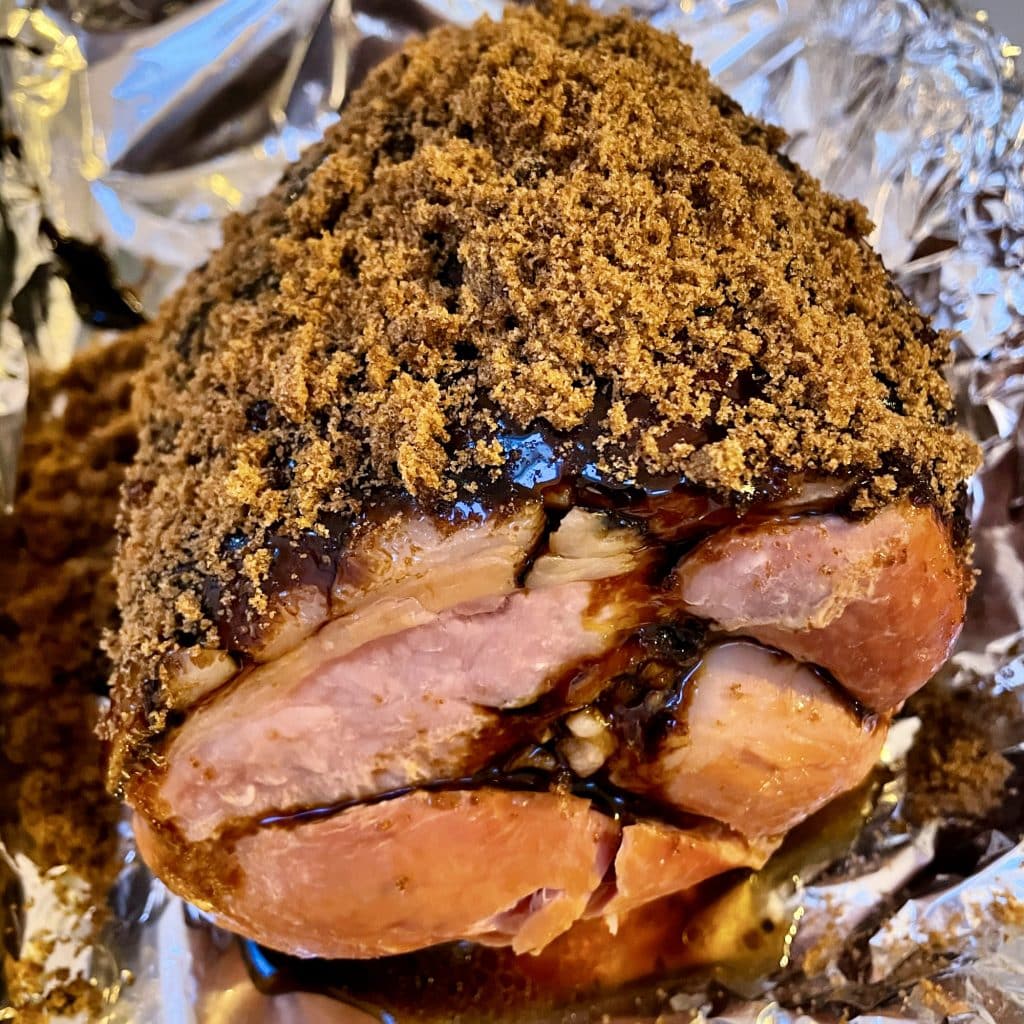 All that's left to do is roast it for 30 minutes and hey presto it's ready
Delicious roasted Christmas Ham – super special
Your house will smell amazing too – trust me
Christmas ham – ideas how to serve
So many ideas – so so many
Warm in a sandwich
Cold in a sandwich
Warm with bubble & squeak or just buttery mash
Warm with jacket potato and pickles – or indeed cold
Full on roast dinner too – especially great with cauliflower cheese 🙂 Yum
The list is endless – and it'll keep for 3-4 days in the fridge
However I'm not sure it'll last that long
Enjoy
I'd love to know how you get on if you try it, please let me know
Clare x
Other tasty ideas
How about serving with these delicious Easy Roast Potatoes, they are simple the best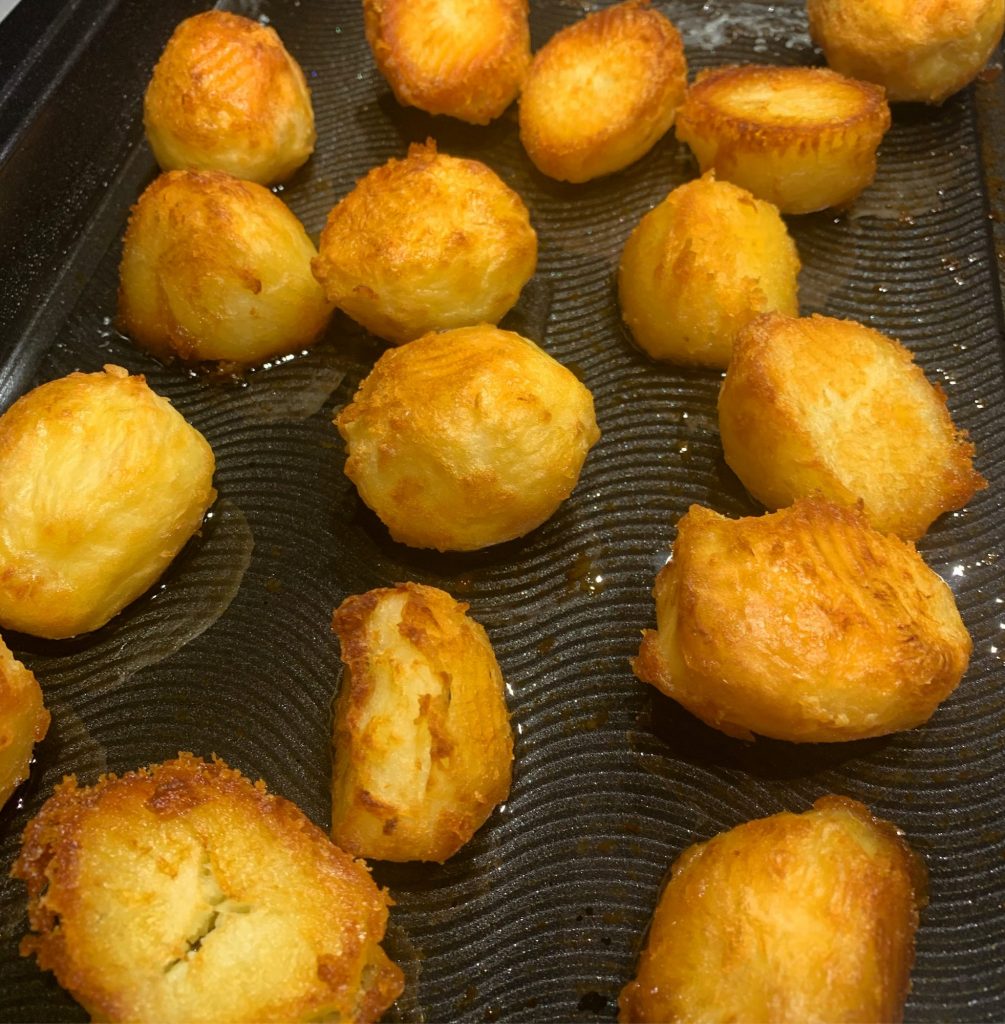 Ingredients
1 Kg Ham/Gammon  joint
2 carrots, roughly chopped
1 stick celery, roughly chopped
Black pepper
2 Bay leaves
500ml bottle cider
1/2 – 1 carton apple juice
2 Tablespoons Black Treacle
2 Tablespoons Soft brown sugar
Preparation Method
Pre-heat the oven to 160C/ 325F/ Gas
In a large casserole dish pop in your chopped carrots, black pepper, chopped celery, bay leaves
Then pop your unwrapped ham joint on top
Next pour your cider and part of your apple juice over the ham and put the lid on
Pop in the centre of the oven and cook for approx 2 hours (adjust according to weight of joint)
Prepare a foiled lined roasting tin
Once cooked, carefully remove from the oven and carefully lift your joint out and pop into your lined roasting tin. Discard the liquid and veggies – great stock, however very sweet with cider and apple
Turn your oven up to 200C / 400F / Gas 6
Remove the netting with scissors (it will be hot – careful) and remove the rind with a knife, this should come off very easily – discard
Next score the fat layer with a knife into diamond shapes
Then add your 2 tablespoons black treacle and using a spoon spread and cover the fat
Finally pop  your brown sugar on top of the treacle and bake in the centre of the oven for approx 25-30 minutes until dark and golden
Remove, rest for 15 minutes and then carve – delicious