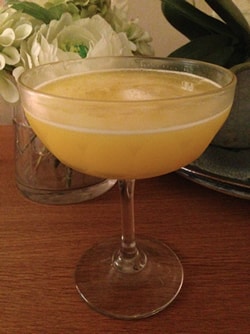 Clementine Martini
A.K.A 3 2 1 It's Gone

Clementine Martini Twist
So a little twist is in order! This Clementine Martini is so good and so very easy peasy lemon squeezy!
The 'martini' is a cocktail made with gin and vermouth normally, and garnished with an olive or a lemon twist.
Over the years, the martini has become one of the best-known mixed alcoholic beverages.
Here is a twist on the classic and trust me it's goooood!
I love clementines do you?
So super sweet!
Preparation of your Clementine Martini
I tend to mix the ingredients together and pop in a jar in. the fridge
Then when the party starts I shake it over the ice!
Time saving and also the alcohol is controlled – and the balance is right
Just so delicious
Here are some other Martini twists:
Dirty: A little splash of olive juice in the martini. …
Gibson: Can be made either with gin or vodka, but "instead of a classic garnish like a twist or an olive, you get a pearl onion," Katz said. …
Vesper: For those wanting to order a martini like James Bond, this is the drink for you.
Let me know what you think?
If you can remember, they slip down very easily!
I love these at Christmas time 🙂
So what is a Clementine?
Well Clementines are the smallest type of mandarin orange.
They are super sweet, seedless, and have red-orange skins that are smooth and shiny.
Clementines are easier to peel than tangerines, but not as easy to peel as Satsumas.
I just love them 🙂
Other tasty morsals
Oh and if you love Clementine dishes, I do a lovely individual Clementine Upside-down pudding! It's so good!
Perfect for a dinner party – the syrup you put over is dreamy!
Also if you love Martinis
Why not try my Vodka Espresso one – yum, just remember to try not to drink too many before bed!
The caffeine hit may well keep you up all night – possibly!
Big Love
Cx