Smoked Salmon Canapés on Rye Bread
These Smoked Salmon Rye bread Canapés are little beauties, a perfect starter for any meal.
Or simply a lovely drinks canapé! New Years Eve? or Christmas Day or any party really
I love Smoked Salmon especially on Rye Bread
You could also buy Bellini's in the supermarket too
So why not make your canapés?
I can never understand why you would buy them?
And everyone needs a smoked salmon Canapé in their repatoire – obvs!!
And not only does it taste amazing it's also a lovely get ahead snack!
This means you can enjoy the party as well as your guests. Bonus is they also look so pretty and really classy!
Winner winner! Smoked Salmon Canapé
I serve them in the lounge with champagne on Christmas Day on a huge white platter, while we open some presents (as they are served cold you don't need the oven).
Drinkies & Canapés – Smoked Salmon Canapés
You could try them with my Bubbly Bellini, so nice!
Get Ahead Nibbles – Christmas, drinks?
with these get That way you can dedicate your oven space for all the important stuff like the turkey and roast potatoes.
This way the starter is out the way and I just seat my guests then for the main event – so easy and so much less complicated than doing starters at the table.
I also tend to make these Roquefort Bruchetta with peach and honey too…. so good!
And they work perfectly with the Salmon ones.
Party Food & Canapés
I also serve them at summer drinks parties too – that way you can enjoy the good times!
They look stunning on a large white platter…. simply handed round (get the kids to do it)
Or why not makes these Pate Whirls.
Make them ahead and pop them in the freezer and chick them in the oven and bake from frozen?!
Let me know what nibbles you'll be making? These Canapés are so lovely and homemade – what's not to love?
I hate all that frozen party stuff , like really hate it.
Why would you buy all that frozen brown food?
When it's so easy to make your own, so much cheaper and way more tasty.
Start with these lovely Smoked Salmon Canapés, don't buy them, make them!
Foe those trying to be a tad healthier – Use Philly Extra Light!!
Have fun
Cx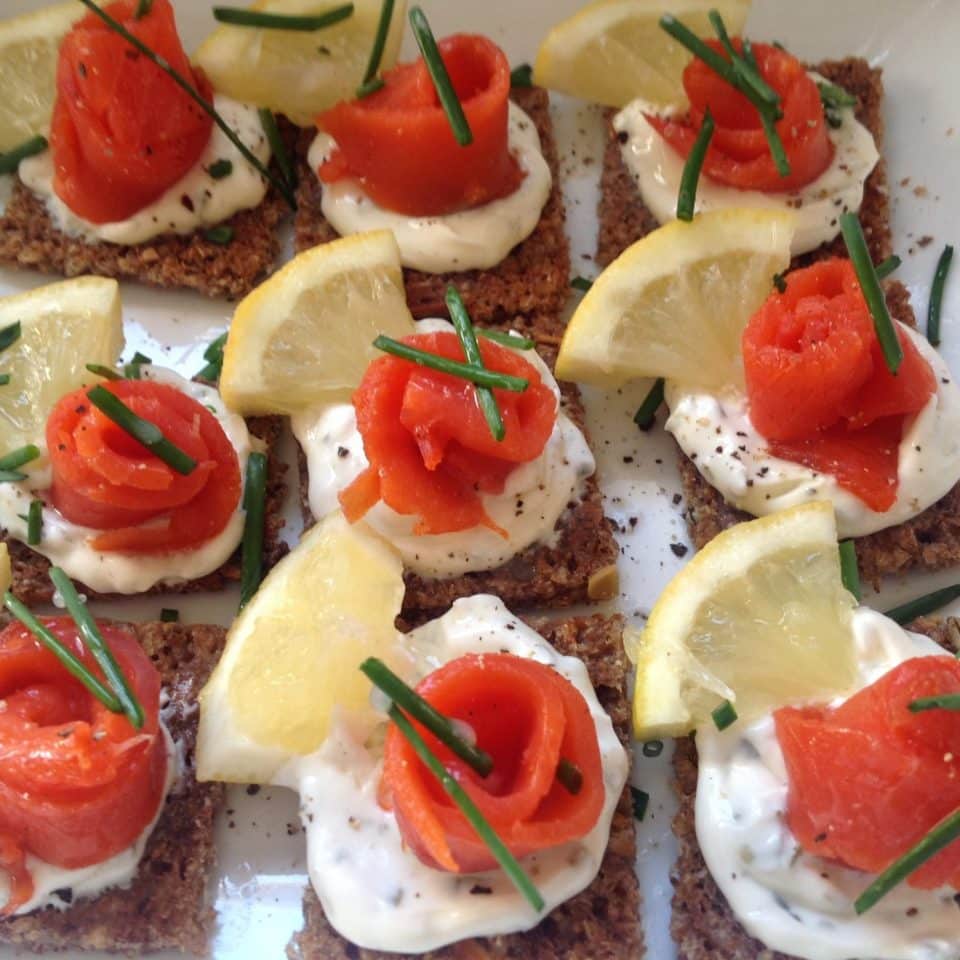 Smoked Salmon Canapés on Rye bread
Print
Pin
Rate
Smoked Salmon Canapés on Rye bread the perfect marriage
Ingredients
3

slices

Rye-bread

100

g

Philadelphia cream cheese

Light

Juice 1/2 lemon

100

g

pack smoked salmon

1

lemon - sliced thinly and quartered

Dill or chives - to garnish

Salt & black pepper
Instructions
Toast Rye Bread - cut into 3cm squares

Mix Phili with S&P and lemon juice - place a teaspoon full on top of Rye-bread

Slice smoked salmon into 1 cm wide long 'ish' strips and roll into roses, place on top of cream cheese, season add dill or chives.

Pop a lemon piece on the side, squeeze - EAT!
Nutrition
Nutrition Facts
Smoked Salmon Canapés on Rye bread
Amount per Serving
% Daily Value*
* Percent Daily Values are based on a 2000 calorie diet.