Hi and welcome to
Easy Peasy Lemon Squeezy
A place to inspire, share and talk everything kitchen with a side order of lifestyle and social ;)
Wok on baby Pad Thai
 Wok on baby Pad Thai 
I'm approached these days to do so much stuff.  You know for one reason or another I don't do it all! BUT when I was approached by Nourish. They wanted me to look  at a new book which will be launched 17th August  and I got a little excited. You know the easypeasylemonsqueezy ethos is quick, from scratch, easy recipes? Well we all have a Wok lurking somewhere I'm sure. So why not use it? The wok has been an essential piece of equipment in Asian homes for centuries, yet despite this accent linage, the wok fits perfectly into today's western style kitchens.  So lets do this!
So I have received a few copies of Nicola Graimes new book 'I Love My Wok' and I have reviewed. I have to say I really do like it, you know me honest! And if I didn't like it I wouldn't blog it – it's that simple.This book showcases simple, beautiful, delicious recipes that can all be made in the Wok. And let's be careful here, let's not just think about tasty healthy suppers! The wok is a tremendous tool in the kitchen, we are talking soups, salads and sides too. So check this book out (or have a go at winning one – see under) and rediscover how you can use just one pan to make lots of dishes.
The book is really great and offers over 100 recipes – some of my faves that I'll be trying are Yakisoda Noodles, Aromatic Chilli Bean Lamb & Sunshine Chicken Stir-Fry – gosh there are so many nice ones.
I tested this Pad Thai – easy and tasty!! Wok on Baby Pad Thai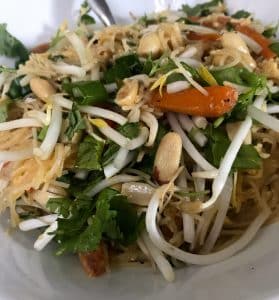 GIVEAWAY
So I have 3 books to #Giveaway and to be in with a chance of winning one all you have to do is simply comment on this post (underneath) – telling me if you have a wok and if you do, do you use it?  – That's all you have to do!
Then on 16th August I'll film my assistant (ha ha) pulling 3 names out a hat – so much easier than Rafflecopter – so jump to it!!
Competition  Closes: 16th August 2017 at Midnight!
Open to UK residents only – sorry – postage and all that
So Wok on baby Pad Thai & a #GIVEAWAY – Ta Dah
C L O S E D 
Thanks Clare x
WINNERS
Not Sponsored – I was sent 4 books – one for review and 3 to host a giveaway!
Ingredients
Preparation Time 15 minutes
Cooking Tine 8 minutes
SERVES 4
250g dried rice noodles
1 tablespoon sunflower oil
3 cloves garlic, finely chopped
1 large carrot, cut into thin strips
4 spring onions / scallions, white and green parts separated , sliced diagonally
1 long red chilli, finely sliced
juice of 1 lime
3 tablespoons soy sauce
2 tablespoons rice vinegar
2 tablespoons sweey chilli sauce
2 free range eggs, lightly beaten
handful bean-sprouts
handful roasted peanuts, crushed
large handful fresh coriander / cilantro, finely chopped
salt and fresh ground black pepper
Preparation Method
Cook the noodles following the packet  instructions
Drain, refresh under cold running water and set on one side
Heat a wok until hot, add the oil then the garlic, carrot, white part of the spring onions / scallions and chilli and stir fry for 1 minute
Stir in the lime juice, soy sauce, rice vinegar and chilli sauce
Add the cooked noodles and stir gently to avoid breaking up the noodles until mixed with the other ingredients
Push the noodles to one side and add the eggs. stir gently until the eggs are incorporated into the noodles and lightly set.
Season to taste with salt and pepper
Sprinkle over the bean sprouts, peanuts, coriander/cilantro and the green part of the spring onions / scallions and serve