Hi and welcome to
Easy Peasy Lemon Squeezy
A place to inspire, share and talk everything kitchen with a side order of lifestyle and social ;)
Easy Coffee Loaf Cake mmmmmm
Easy Coffee Loaf Cake
I realised recently I was missing anything coffee on my website. (Except my Vodka Espresso Martini)! So here's my lovely recipe for an Easy Coffee Loaf Cake 🙂
It took me a month to perfect it, so sorry it took ages.
But I think it's worth it for a great coffee cake!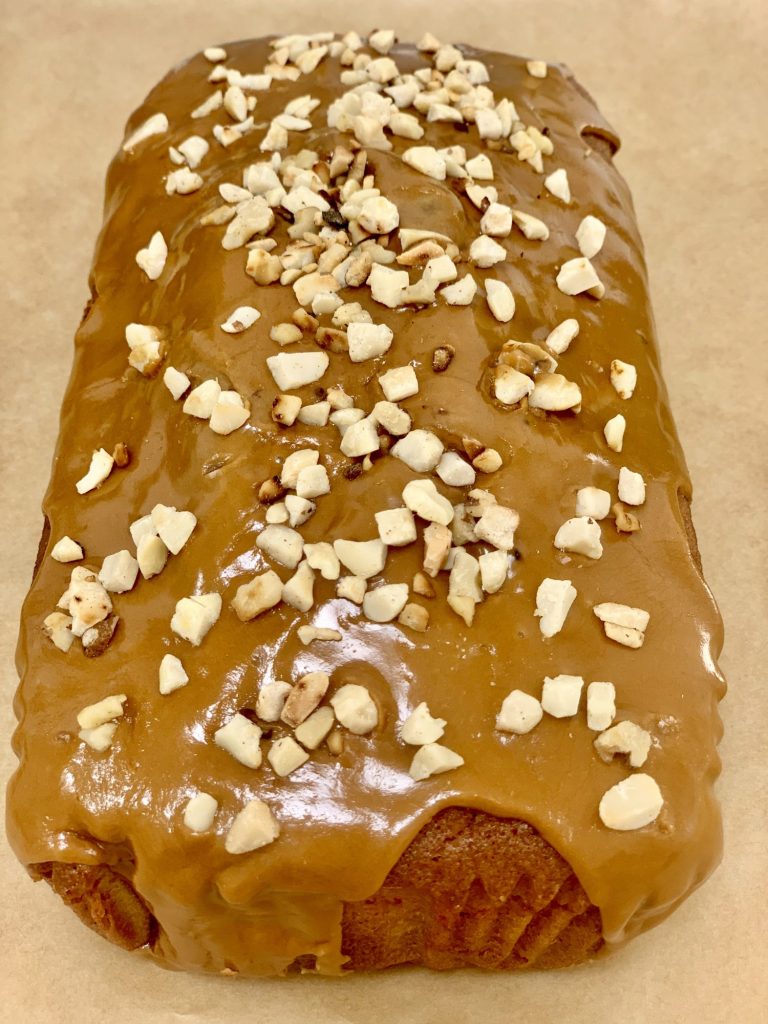 Moist Coffee Cake Recipe
I wanted this loaf cake to be really moist and so I did a huge amount of research.
I decided I'd try adding some soured cream into the mix.
It is supposed to keep it moist and I'm really happy to say it certainly flipping does.
Moist Coffee Cake Texture
It also gives it a nice dense texture, perfect to have cold with a brew!
This lovely cake is sturdy enough for a lunch box too!
I'd call it a tin cake, you know one to always have in the tin incase anyone pops round (not sure how long it would stay in the tin as it's so good!).
It's delicious but not too 'fancy.'
Do you know what I mean?
A good basic staple – a cuppa tea cake or a cup of coffee cake!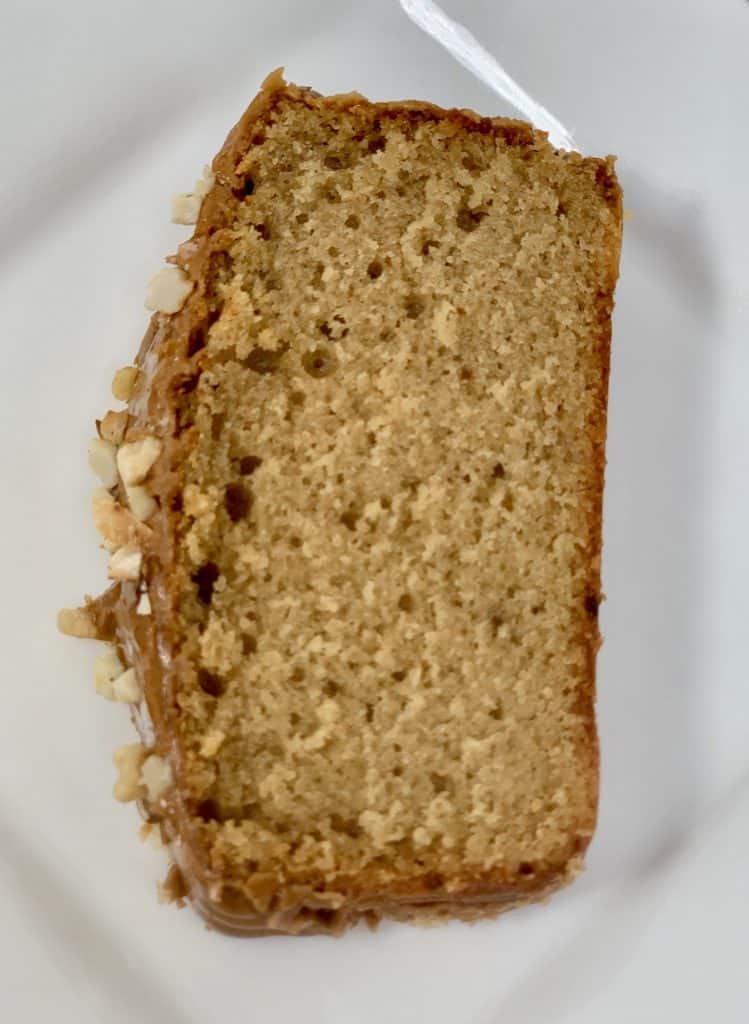 Easy Coffee Cake Glaze
I really didn't want to have a buttercream icing on this loaf, but I'm sure it would be lovely too
(Actually if you split the cake lengthways and added vanilla buttercream and use the same coffee glaze on the top, this cake would become a seriously fancy cake!!)
Yum I'm going to do that next time
However this time I fancied a sort of coffee flavour icing and boy it's good!
It adds an intense coffee punch with a sweet kick (but not too much)
This icing is also really easy and would work perfectly on cupcakes too!


Loaf Liners for loaf Cakes?
Also before I forget, have you discovered loaf liners yet?
Oh they are fantastic, you can say 'bye' to trying to line a loaf tin!
I love them, so easy and you can find them in most supermarkets and they are not expensive either

Just a note, I always use my trusted stand mixer however there is no reason you can mix by hand.
Just make sure you cream your butter and sugar until light and creamy
So why not have a go and please let me know what you think!
I hope you enjoy – just look at it 🙂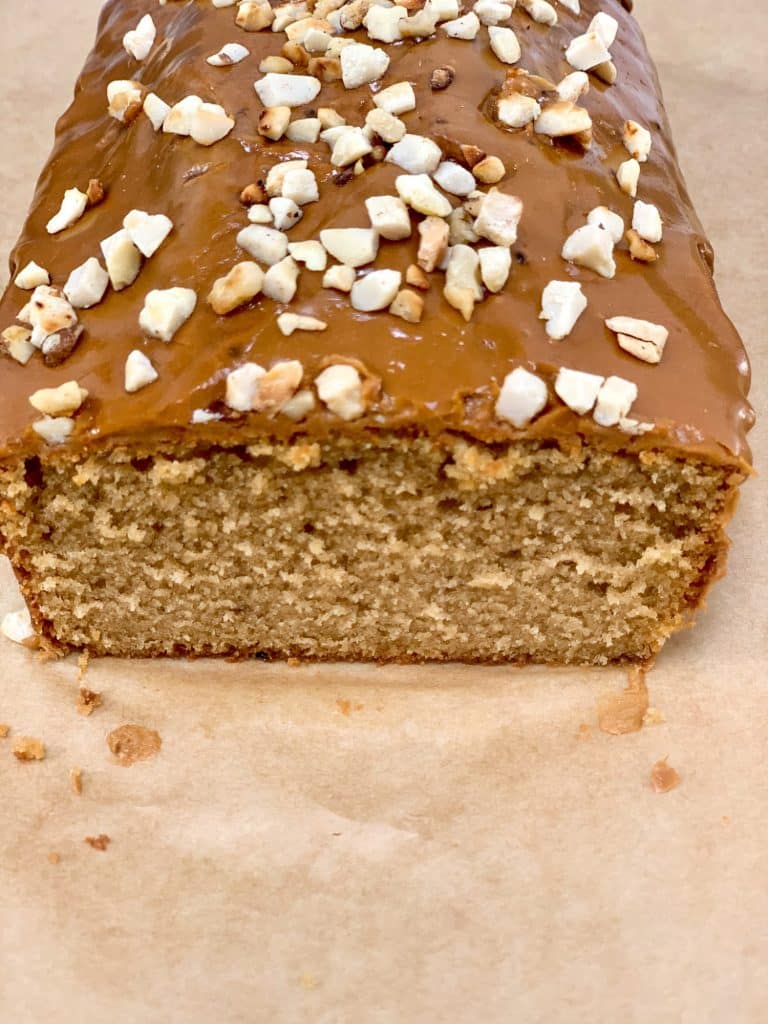 Coffee & Walnut Cake
Oh and if you want a coffee & walnut loaf cake – chuck some in – simple
Enjoy guys!
Clare X

Ingredients
Serves 10 slices  / 2 llb loaf tin
110g Softened Butter
170g Caster Sugar
3 Free-Range Medium Eggs
125g Self Raising Flour
75g Soured Cream
3 level  teaspoons Instant Coffee – splash water
Coffee Glaze
3 teaspoons coffee granules
3 teaspoon hot water
100g Icing Sugar
Preparation Method
Preheat the oven to 170C/340F/Gas 3
Cream the butter and caster sugar until light and fluffy, I use a stand mixer but you can mix by hand
Next add 1 egg at a time, beating well in between
Next add the coffee and water mix, the soured cream and the flour and combined with a spoon until smooth
Pop it in your lined loaf tin and bake in the centre of a preheated oven
Bake for 45 Minutes in the centre of the over, check after 40 minutes and see how it's doing
Once baked , leave to cool
In a small mixing bowl or a cup, add your coffee granules
Add the hot water and stir until the coffee is dissolved
Add the icing sugar and mic until smooth, no lumps
Once the cake is cooled top the icing on top of the cake and it should drip a little down the sides of the cake
Finish with toasted mixed nuts (optional)