Hi and welcome to
Easy Peasy Lemon Squeezy
A place to inspire, share and talk everything kitchen with a side order of lifestyle and social ;)
Strawberries & Cream Scones
Strawberries & Cream Scones
There are not many things more English than a warm scone smothered with jam and cream! Mmmm Strawberries & Cream scones
Whether you're whipping up a batch for a picnic, celebrating St George's Day or simply looking for a delicious snack at a garden party, these tasty scones are perfect with clotted cream and jam.
Or simply munched in a stolen moment of solitude, fresh out of the oven.

Sweet Scones
These lovely scones have granola and strawberries included in the scone mix. Now that's a bit different isn't it.
And let me tell you they are flipping stunning!
The lovely peeps at Lizi's have offered us a bit of a #Giveaway too
For a chance to win 3 lovely packets of Granola simply comment on this post.
That's all you have to do!
Then you too can make, Lizi's Granola Strawberries & Cream Scones for St George's Day
So how do you enter? ***Competition closed May 2018
All you have to do is answer the question – "What's your favourite time to eat Granola?"
Leave a comment answering the question in the comments section below this blog post.
We will select a winner at random – we'll post a vid live!
T & C's – The boring stuff!
The prizes can be delivered to mainland UK only – sorry!
Draw Closes Midnight 29th April 2018
The winner will be notified by email within 24 hours of the closing date
The winner will have 28 days to claim their prize otherwise an alternative winner will be selected.
Open to 18+
Where to buy Lizi's Granola
Lizi's Granola Range is available from Waitrose, Sainsbury's, Tesco, Asda, Whole Foods, Co-op, Booths and all good health stores.
Flavours include: Organic, Original, Belgian Chocolate, Treacle and Pecan, Passionfruit & Pistachio, Mango & Macadamia, Low Sugar and On The Go which is available in Original, Belgian Chocolate, Treacle and Pecan.
WINNER pulled May 2018
Tips for making Scones, cheese or sweet
So people are often scared of making scones? This I don't really get?
They are so Easy Peasy Lemon Squeezy 🙂
But there a a few tips:
Use very cold butter
Do not overwork – meaning just pull the dough together
Roll once – again don't overwork
Brush only the tops with milk (not the sides)
And for these make sure you use some good strong Cheese
So lastly how do you pronounce scone?
Oh so many views!
There are two possible pronunciations of the word scone:
the first rhymes with gone and the second rhymes with tone.
In US English the pronunciation rhyming with tone is more common.
In British English the two pronunciations traditionally have different regional and class associations, with the first pronunciation associated with the north of England and the northern working class, while the second is associated with the south and the middle class….
So which are you? 🙂
Savoury scones
So if you love sweet scones you may also lovely savoury ones?
My Cheese & Bacon Scones are so good – so good in fact you can eat them for breakfast!
Why not have a try?
Look at them!!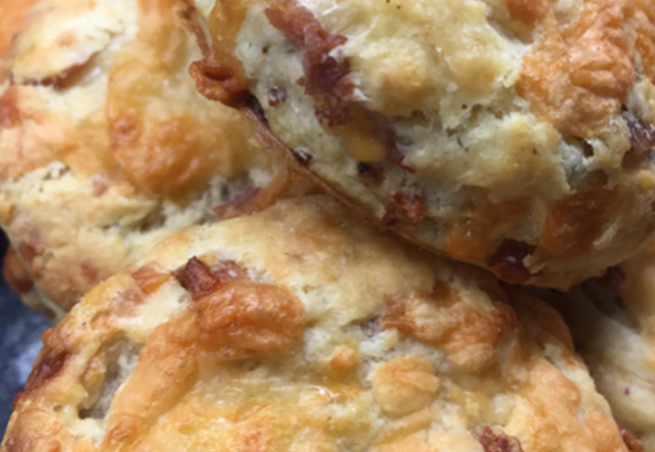 Big Love Cx
Ingredients
Makes: 8 scones
280g plain flour
1 tsp baking powder
pinch of salt
50g caster sugar
115g fridge-cold butter
1 large egg
120ml double cream
2 tbsp honey
Three quarter cup of strawberries cut into eighths
Half cup of granola for ingredients and sprinkling.
Preparation Method
Preheat the oven to 200 degrees, 180 fan.
Line a baking sheet with baking paper and put to one side.
Put the flour, baking powder, salt and sugar in a large bowl.
Cut the butter into small pieces and rub in using your fingers or a food processor until it resembles breadcrumbs.
Add handful of granola.
Stir in cut strawberries until covered in flour.
In another bowl whisk the egg, double cream, honey and vanilla extract.
Pour into the flour mixture and stir until dough begins to form.
Place the dough onto a floured surface and knead gently until a ball forms but don't over-knead or stir. Pat the dough into a round until it's about 1.5cm thick and cut into 8 even wedges.
Place on the baking sheet and sprinkle with the granola.
Bake for 20 minutes, although check a bit before, just in case; you want them golden brown.
Once baked, place on wire rack to cool.
Best enjoyed fresh out of the oven, these yummy scones bring a taste of summer to even the drizzliest April afternoon!