Hi and welcome to
Easy Peasy Lemon Squeezy
A place to inspire, share and talk everything kitchen with a side order of lifestyle and social ;)
Slow Roasted Lamb Shoulder, easy!
Easy Slow Roasted Lamb Shoulder, lovely Sunday roast
Gosh I love lamb – like really. I don't often have it as I save it for special occasions normally, but this easy Slow Roasted Lamb Shoulder recipe means I can do it more often.
I can also use the left overs to make another delicious meal!
Usually people tend to have a roast on a Sunday, it's tradition right? Or especially at Easter!
Well this is perfect for a Sunday!
This simple recipe really brings out the gorgeous flavours and texture of lamb shoulder.
Cooked with plenty of garlic and rosemary. So don't be tempted to skip them – so delicious
The recipe is so low effort, just a little input from the chef at the beginning and then you let the oven do all the work, whilst you go off and enjoy your day!
Perfect
My brother & sister-in-law make the best slow roasted shoulder of lamb (I normally do leg).
So I asked if they'd share their recipe and voila here it is!! Delicious roast lamb shoulder!
Thanks so much guys 🙂
So what's the best part of the Lamb to slow roast?
Normally Lamb shoulder is the most economical cut and a little cheaper than other cuts and it's perfect for slow roasting
This means it needs a long, slow and moist cooking to tenderise it, so it falls apart and is super tender – yum.
Like leg, the shoulder works hard on the animal, so in turn it's full of flavour.
However as it's worked so hard it means it can be tough if undercooked or cooked too quickly.
The shoulder is typically marbled with fat which makes it great for slow cooking as it has fat and therefore tends not to dry out
Preparation of your lamb Shoulder
You need to grab yourself a large roasting dish
Next layer some of your rosemary stalks and a few garlic cloves, then pop your lamb on top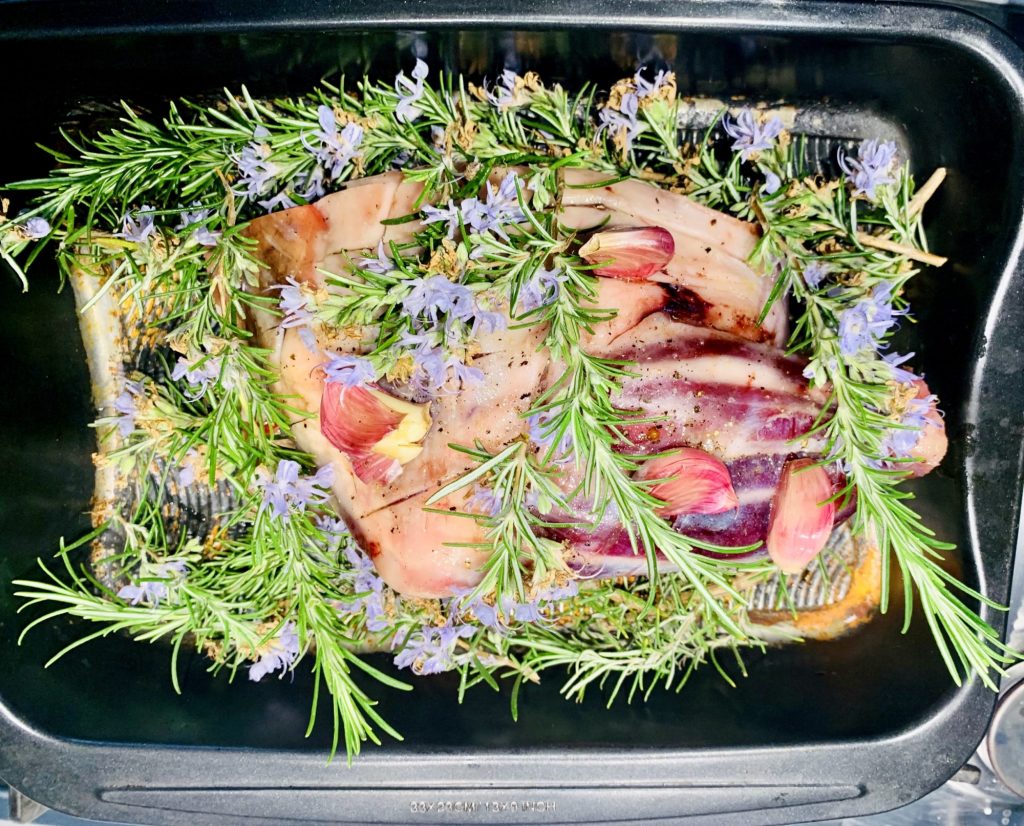 Add some herbs and garlic on top too!
How pretty does that look? All ready for the oven!
Tender Lamb
Ta-dah – 4 hours later – falling apart delicious soft lamb mmmmmm
Look how that slow roasted lamb shoulder falls off the bone – so tender!!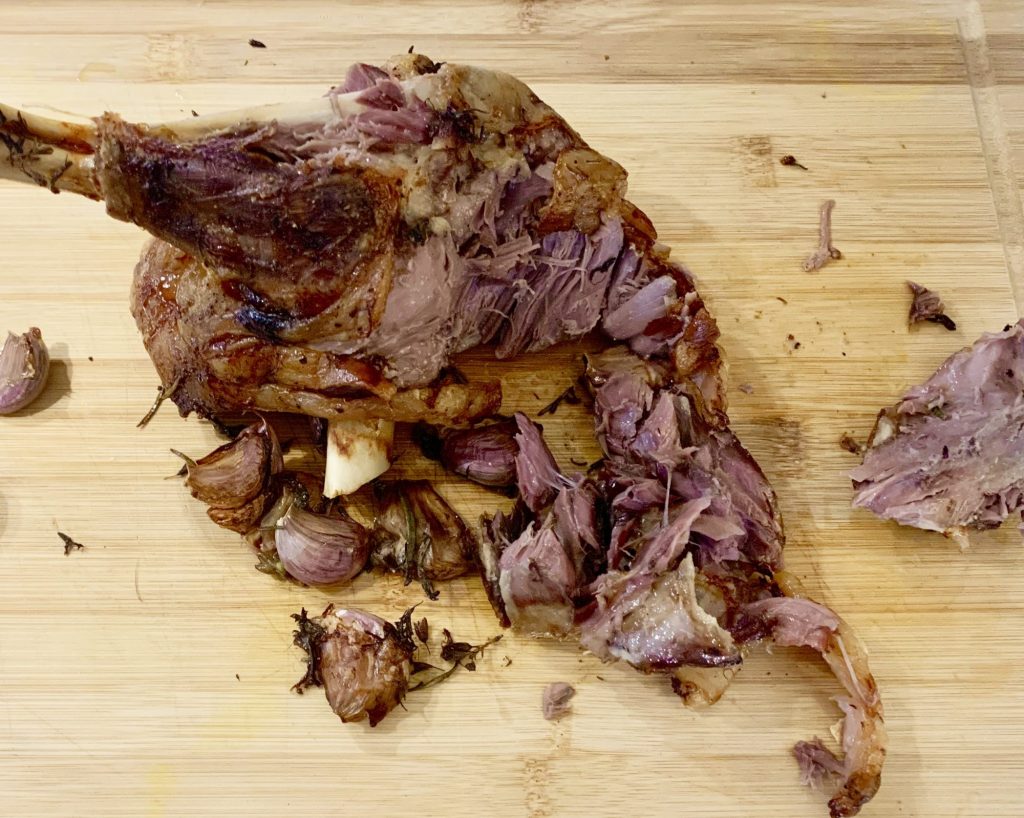 See below for full instructions
What to serve with your Roast Lamb
Roast Potatoes
Well for me it needs to be served with perfect roast potatoes and here's a recipe for THE most perfect ones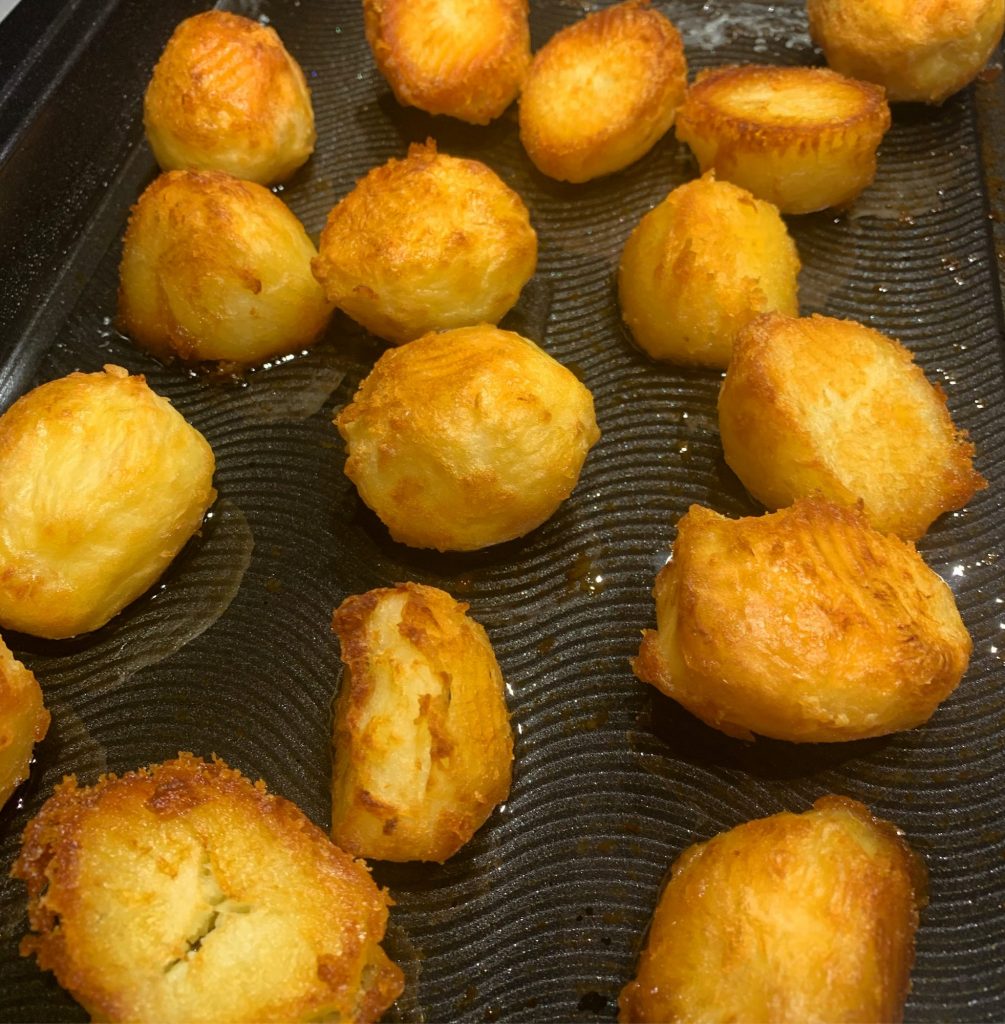 Then simply serve with vegetables, mint sauce and trust me lamb delivers the best meat juices fro form the base for your gravy – be sure to save those juices!
Left Over Roast Lamb Recipe
So the next day or the day after that you usually have some lamb left? Yes?
My Lamb Biryani recipe is the best I promise! And the perfect way to get another meal out of your lamb roast
It's easy and I guess you can call it a one-pot wonder!!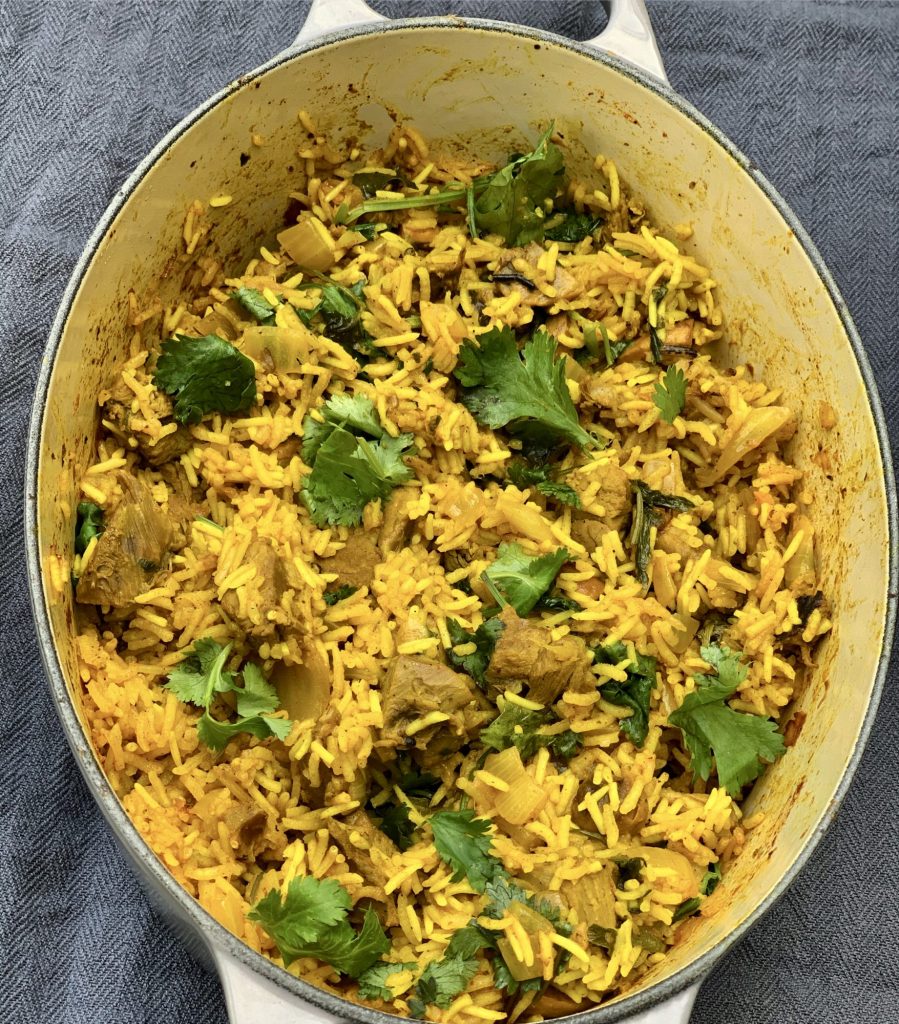 So let us know how you get on and if you enjoy this Slow Roasted Lamb Shoulder recipe
Much love Cx
Other tasty joints
If you love a joint of meat why not try my lovely Ham joint
Smothered in black treacle and brown sugar
It's super easy and totally delicious
Ingredients
SLOW ROAST LAMB SHOULDER
Serves 3-4
1 1/2-2 kilo shoulder of lamb
Handful Rosemary stalks
1 Garlic bulb ( cloves removed, unpeeled)
Drizzle of Olive oil
Sea salt
Ground black pepper
Preparation Method
Pre-heat the oven (max temp)

Lay most of the rosemary in a roasting tin with most of the garlic cloves.

Lay the lamb shoulder on top slash the fat several times then rub over some olive oil, salt & pepper

Top with the remaining rosemary & garlic cloves.

Cover tightly with foil & put into the oven, immediately lower the temperature to 170 c.

Roast for 4 hours or until the meat pulls apart with a fork.

To crisp up remove foil & roast for a further 30-40mins

Remove from the oven, transfer the meat to a board & cover with foil to rest for at least 30 mins.