Hi and welcome to
Easy Peasy Lemon Squeezy
A place to inspire, share and talk everything kitchen with a side order of lifestyle and social ;)
1
2
3
Philly Chicken – easy dinner!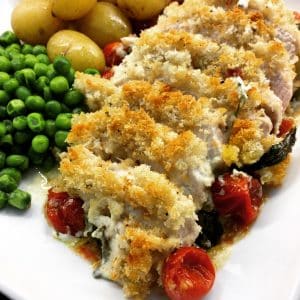 Philly Chicken
Philly Chicken is the perfect go to recipe! You know those evenings when you think, oh what should I do for dinner? Well this is it! Chicken is my go to, is it yours? You'll see so many recipes on Easy Peasy that are chicken based, it's just so versatile! This is a cracker of a recipe, trust me.
So easy, so simple, please just have a go! I'm hoping you've probably got most of the ingredients in the fridge, freezer and cupboard. In this house it's such a favourite – and you simply just bang it in the oven! It's sort of self saucing. The creaminess of the philly and the crunch of the breadcrumbs is yummy! It also has a sweetness to it from the cherry tomatoes and garlicky yumminess, plus the chicken stays super moist…. Philly Chicken a firm crowd pleaser and so simple
As they say Winner Winner Chicken Dinner. I have loads of great chicken recipes on here, just use the search box. One i really love is my Lime Chicken with avocado salsa  go have a look! Tasty and so fresh!
🙂
And if you do try this Philly Chicken please drop me a comment below the recipe I do love to receive your comment
Thanks Clare X
Ingredients
You know those evenings when you think, oh what should I do for dinner? Well this is it! Hopefully you'll have most of the stuff in the fridge / freezer and cupboard – Its super tasty and easy….
Serves 2
2 Chicken Breasts
Olive oil
Salt & Freshly ground Black pepper
Philadelphia Cream Cheese – 1 Tablespoon per chicken breast – any sort but I use the light  herb and garlic one (if you do not use the garlic one, you will need to add a bit of garlic to cream cheese)
Cherry Tomatoes – box or however many you have
Handful Spinach
Breadcrumbs – old bread just crumbled (for 2 breasts I use 3 slices bread)
1 tablespoon grated Parmesan (or any cheese)
2 Slices Bacon, cut into small pieces
Preparation Method
Pre-heat oven 200C/400F/Gas 6
Cut open the chicken breasts and lay flat (do not cut THROUGH the breasts)
Drizzle with Olive Oil and season well
Add the tablespoon of Phili down the centre then fold over and place in an oven proof dish, fold side down
Scatter the spinich around the chicken and chuck on the Cherry Tomatoes – drizzle in Olive oil
Mix the breadcrumbs with the Parmesan and salt & pepper. Sprinkle over the chicken breasts, pressing the breadcrumbs down
Finally scatter over bacon pieces
Bake in the oven for 35-40 minutes
It's yum- the sweetness of the tomatoes with the garlic and cream cheese – self saucing – yummy!!!!