Hi and welcome to
Easy Peasy Lemon Squeezy
A place to inspire, share and talk everything kitchen with a side order of lifestyle and social ;)
No Knead Bread – Easy!
No need to knead bread recipe
I've been looking for a bread recipe for Easy Peasy Lemon Squeezy for a while. I wanted to take all the faff out of it and create a delicious but EASY loaf to throw together. This 'no knead bread recipe' is the answer.
With tweaks here and there from my friend Jane – I we think we've finally got it!
Gosh I love fresh bread – do you? The problem I have is I just love it warm slathered with butter – oh my!
This loaf has a wonderful thick crust – mmmmm
I don't make it that often as I'd eat it all, I can't resist homemade bread .
However I do love to make it when I have people here to dig in
It also makes amazing toast – just saying
Simple & Easy Bread
This bread recipe doesn't need a bread maker or any experience at all in bread making
In fact no skill is required at all – EXCEPT a little planning
You basically make it in two goes , mix everything up and leave overnight then stick it in the oven the next day – that's it
I think one of the best times to make it is is early Friday evening or Saturday evening – then it's ready for weekend brunch
It looks like it's come straight form the Farmers Market – but it didn't you made it!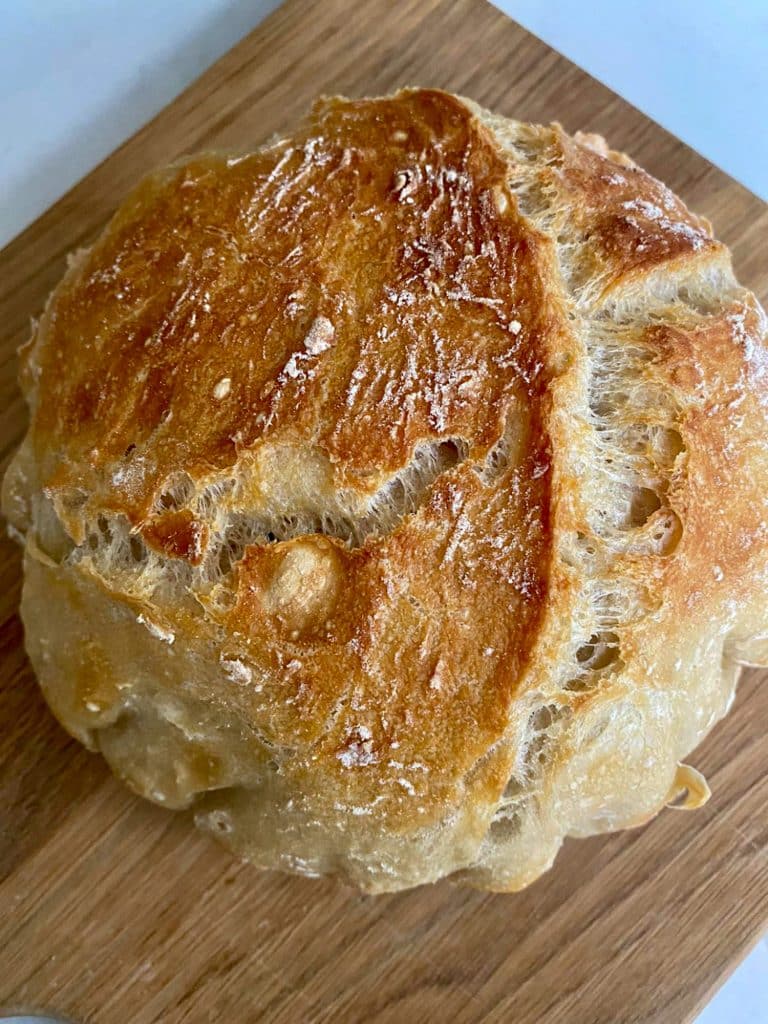 No Knead Bread
So what am I talking about? Kneading?
Well this loaf needs no kneading at all you simply shape it and bake it in a casserole style dish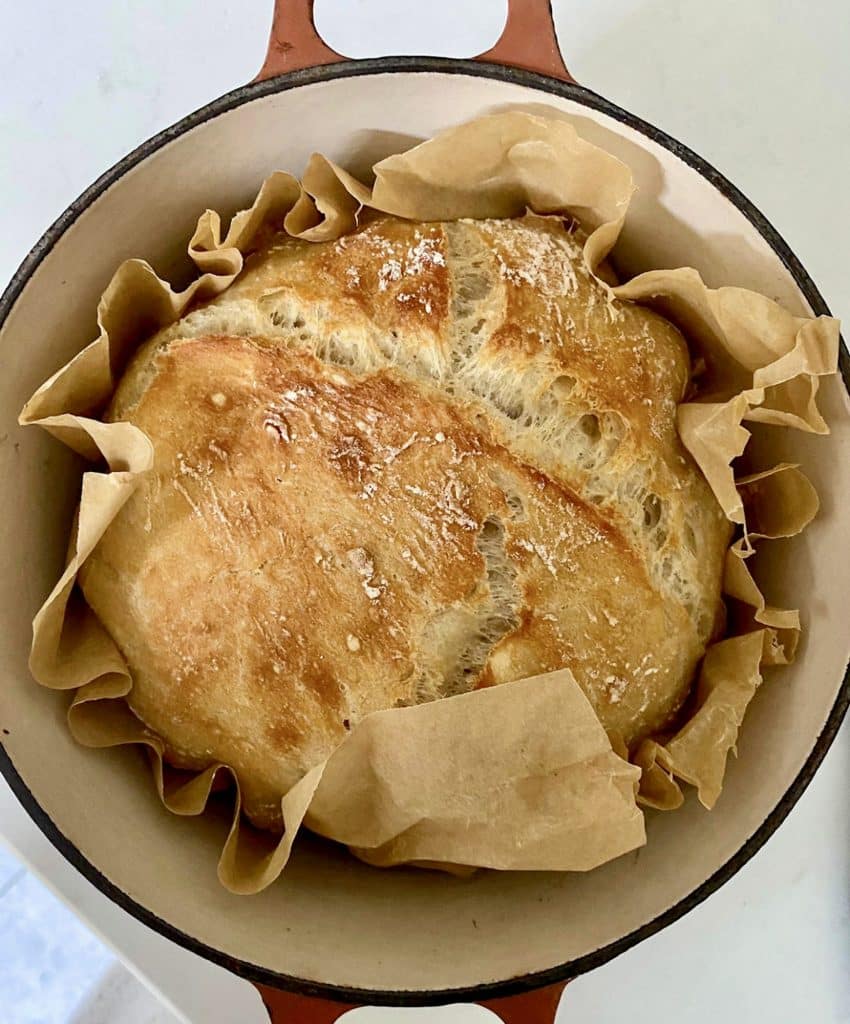 Step by Step to your homemade no need bread loaf
Step 1
Dry and wets and leave overnight somewhere warm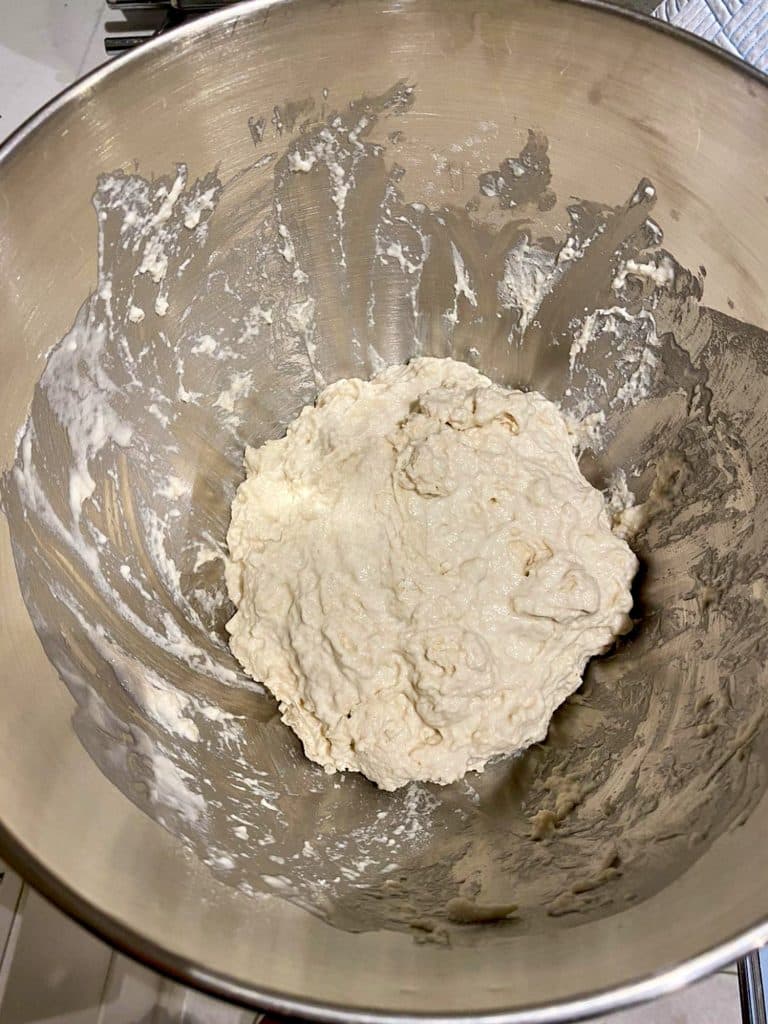 Step 2
Tip it out and shape into a ball – you'll need loads of flour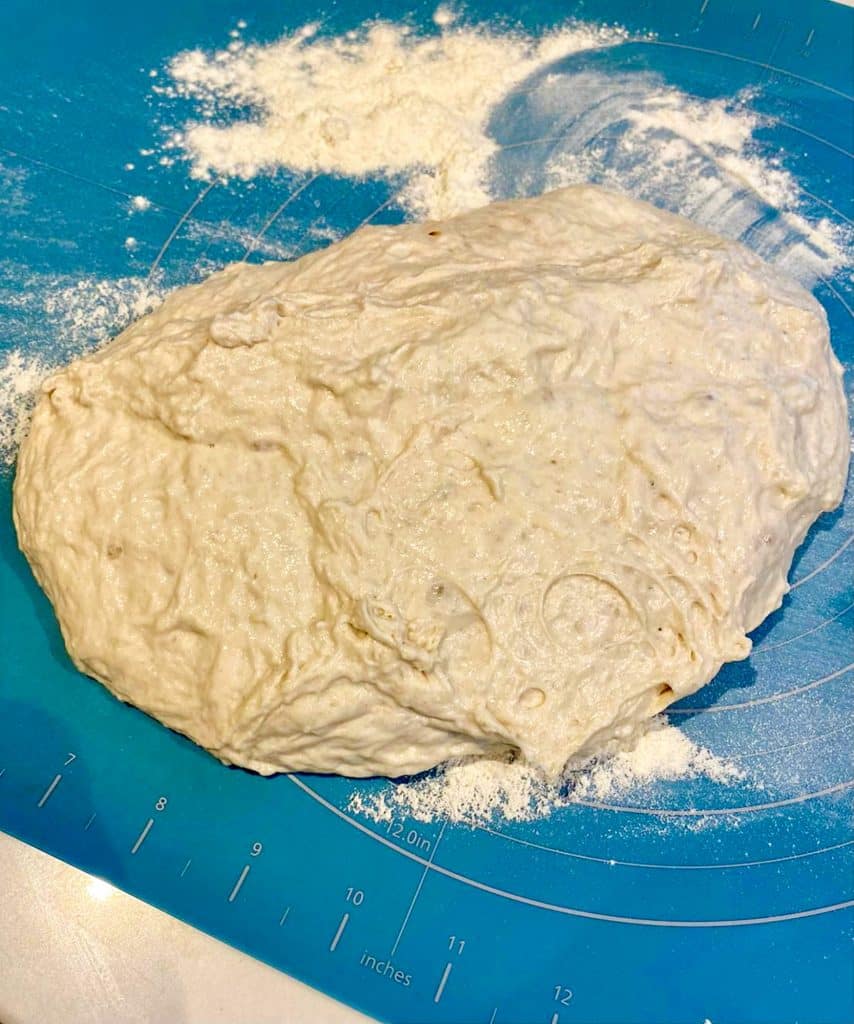 Step 3
Prove again for 30 minutes then using the baking paper lift it into your pot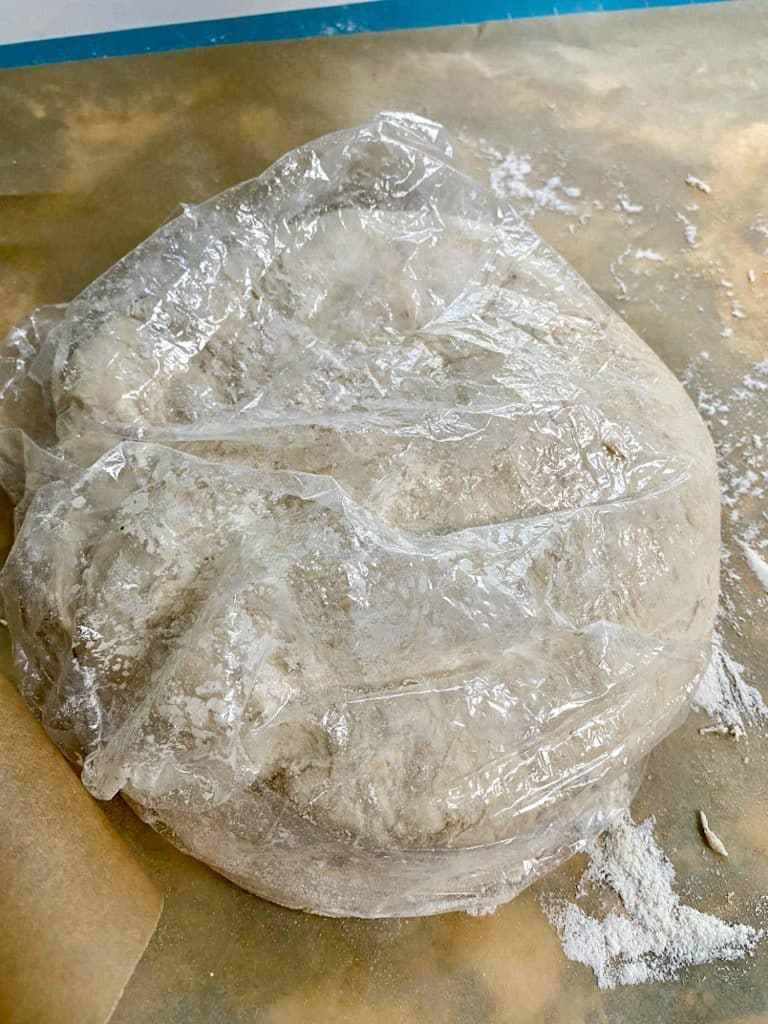 Just look at that bread loaf
Baked, cooled and sliced – now where is that butter?!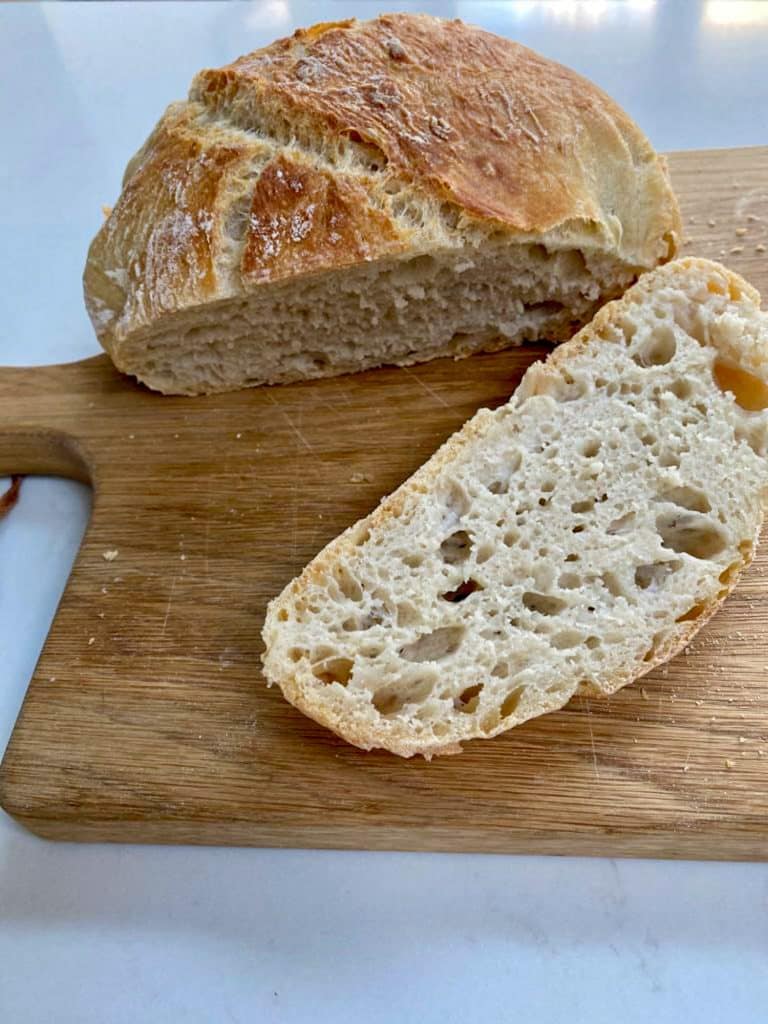 Top Tips for your no knead bread
Use a shower cap for coving your dish for the proof – it's perfect and so much better than cling film
Why not jazz it up sometimes with herbs, seeds on the top etc and look proper posh
It also makes the best gift!! Dropping a loaf of homemade bread on someones doorstep will give you brownie points forever
Microwave your cold water for 30 seconds – it works perfectly
For you AGA people – the pot should be placed on the grid shelf on the lowest set of runners
Have a go and let us know how you get on
Cx & Jx
Another tasty breakfast
Why not try my healthy breakfast cups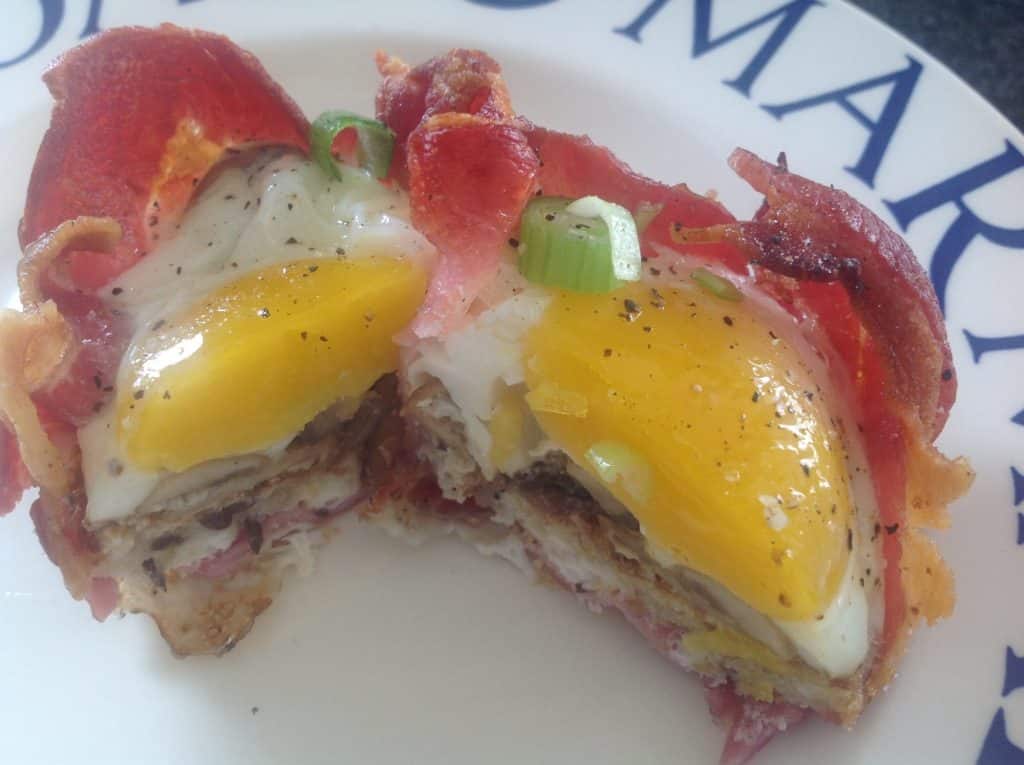 Ingredients
400g Plain or Strong Plain Flour
1/2 Teaspoon Instant / Fast action dried yeast
2 Teaspoons Salt
300ml Tepid Water
Preparation Method
Put all your dry ingredients in a bowl and stir
Next add your tepid water and stir using a wooden spoon or your hands
Cover the bowl with Clingfilm or a shower cap
Leave somewhere warm for 12-18 hours (overnight)
After prooving your dough will be covering in pin prick air holes
Flour the work surface and tip your dough out – it will be stringy and wet and use more flour
Cover your hands in flour and shape into a ball – it will be very soft and a dough scraper might help
Pop the dough ball on some baking paper, cover loosely with cling film and leave for 30 minutes – it won't get much bigger
Whilst it's proving preheat your oven 230C/450F – when the oven is hot pop your casserole / le Cruset dish in the oven to heat up
Once the dough is proved and the pot is hot remove the pot from the oven
Lift your dough on the baking paper and pop it into your hot pot – make sure your paper is not sticking out but under your lid
Pop the lid on your pot and bake in the centre of the oven for 30 minutes
After 30 minutes remove the lid and bake for a further 10- 15 minutes until golden
Leave to cool on a wire rack