Hi and welcome to
Easy Peasy Lemon Squeezy
A place to inspire, share and talk everything kitchen with a side order of lifestyle and social ;)
Kedgeree – slimming style
Kedgeree slimming style
Good old kedgeree slimming style – it'll become a winner – promise!
Have you ever tried it? They say it's a breakfast/brunch dish – but trust me you can eat it anytime you like, it's good.
It also happens to be very good for your slimming programme – in fact if you are following the Slimming World Programme – it's syn free!
So what exactly is Kedgeree?
The dish is considered a traditional British food however to apparently originates from India.
It's basically curried rice, eggs, and smoked fish, it is easy to see the Indian influence running through it.
And another thing Kedgeree began its life as khichari, a dish of rice and lentils in India.
However mine has no lentils!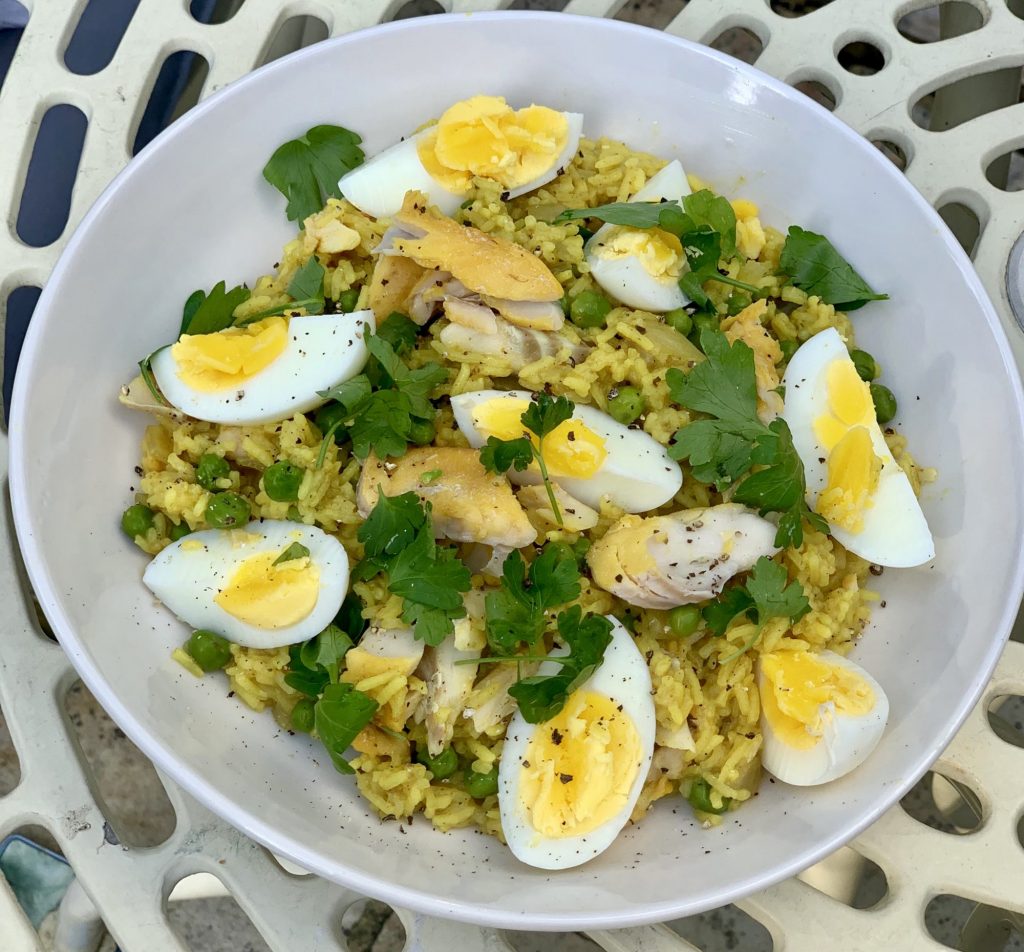 How do you poach Smoked Haddock for your Kedgeree?
You can poach your haddock in milk or water – this recipe uses water
Pour the water or milk into to a wide-bottomed saucepan and season with salt & pepper and a teaspoon mixed herbs
Bring to a simmer over a low heat and add the haddock fillet, skin-side down, poach for 6–8 minutes depending on the thickness of the fish.
Remove from the water – hey presto Poached Smoked Haddock
And a little bit more about Smoked Haddock….
The haddock is a saltwater fish from the family Gadidae, the true cods, it is the only species in the monotypic genus Melanogrammus, oh yes it is!
It is found in the North Atlantic Ocean and associated seas where it is an important species for fisheries, especially in northern Europe. Source Wikipedia
Nutrition, Smoked Haddock….
It's a brilliant source of protein, with every 100g serving up 19g of the stuff—almost 40% of your daily recommended intake!
Protein is good if you're trying to gain some muscle, but it's also useful for the prevention of diseases such as cancer, diabetes and cardiovascular disease, so they say.
My advice for what it's worth is to up the fish in you diet, I'm really trying to.
Another Smoked Haddock Recipe
Smoked Haddock & Mash you can't beat it!
This recipe isn't slimming but looking at it it could so easily be adapted – why not give it a go!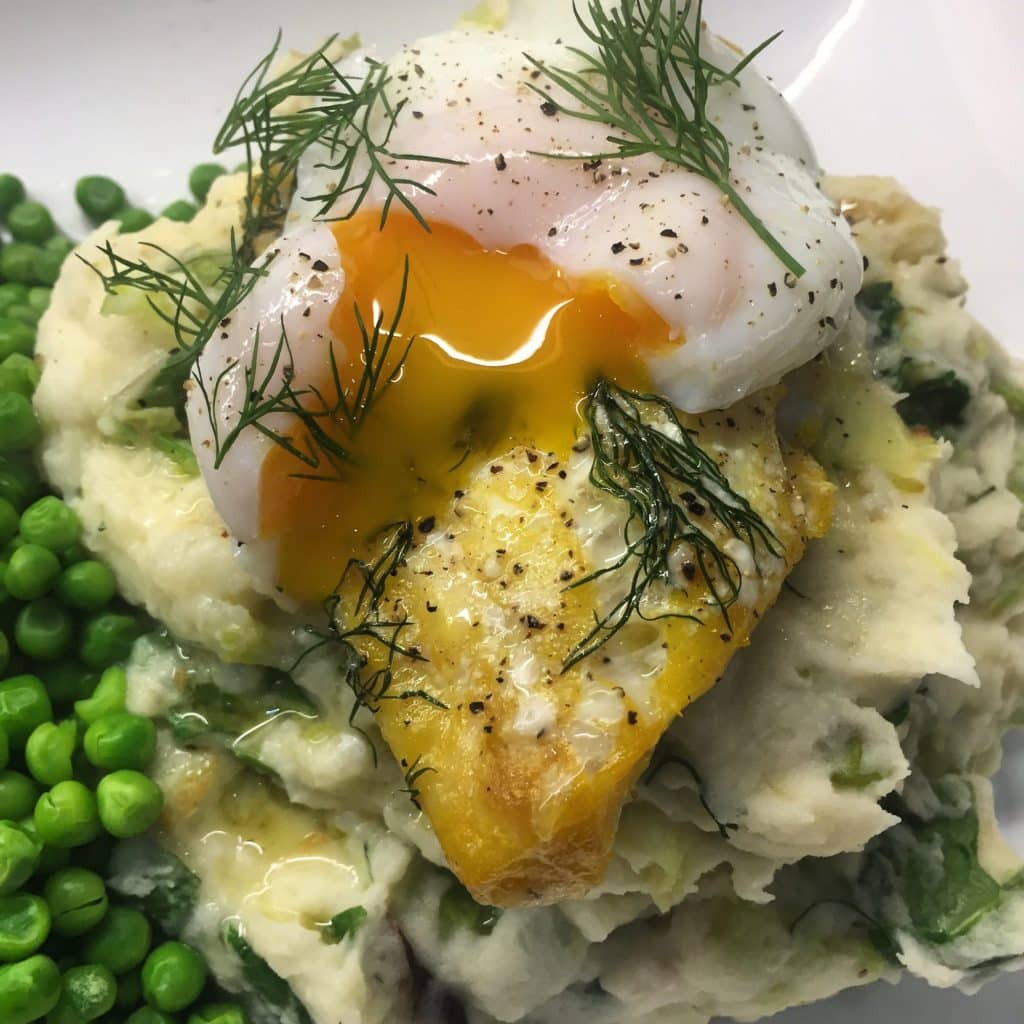 The Slimming Group
I also have a Facebook Closed Group called Easy Peasy Slimming Style Recipes
Come over and join this great honest community Facebook for Slimming Style Recipes if you're interested
Just use the join button if you like real home cooked tasty easy food!!
We support encourage and laugh!!
Loads of tips and tricks – I promise
Big Love Clare x
Ingredients
Serves 4
280g Smoked Haddock (I bought 2 fillets)
700g Water
Salt & black Pepper
1 Teaspoon mixed herbs
Fry Light
1 large onion or 2 small onions, peeled and finely chopped
1 Teaspoon Medium Curry Powder
1 Teaspoon Turmeric
I Teaspoon ground coriander
1 Vegetable Stock Cube
300g Basmati Rice
4 Boiled Eggs
Preparation Method
Pour the water  into to a wide-bottomed saucepan and season with salt & pepper and a teaspoon mixed herbs
Bring to a simmer over a low heat and add the haddock fillets, skin-side down, poach for 6–8 minutes depending on the thickness of the fish.
Remove from the water – pop on one side to cool a little, then remove the skin and break into large flakes
Keep the water as you will need it
In a large frying pan, spray with fry light and gently cook your onion for 5 minutes to soften
Next add the curry powder, turmeric and ground coriander, stir and coat the onions
Gently fry for a further 2 minutes, stirring
Next add the rice and combine to coat it in the onion mix
Next pour the fish water on top and add your stock cube
Gently simmer over the heat, stirring occasionally for approx 15-20 minutes or until all the water has gone and your rice is tender, you can always add a little further water if you need it
Whilst your kedgeree is cooking,  boil your egg in a separate pan for 5 minutes. Once cooked remove from the heat and run under cold water , then gently remove the shells – cut each boiled egg into quarters
When your rice mix is cooked pop your smoked haddock on top (reserve a few flakes for decoration) and pop a lid on the pan and leave off the heat for 5 minutes
To serve, pile the kedgeree into warmed bowls, pop your boiled eggs on top and garnish with chopped parsley