Hi and welcome to
Easy Peasy Lemon Squeezy
A place to inspire, share and talk everything kitchen with a side order of lifestyle and social ;)
Easy Tuna Nicoise Salad
Easy Tuna Nicoise – Light Fresh and totally delicious!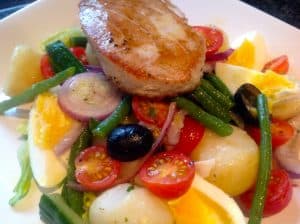 This lovely Easy Tuna Nicoise Salad is a favourite in my house. It's light (but really filling), fresh and totally delicious!
It really feels like a good nutritious filling meal. Beautiful  warm new potatoes, fresh or tinned tuna, boiled eggs and so much more and – oh so delicious. The lemon juice really does finish it off and it has such a fresh feel!  Have you tried it? I really think you should. So flipping tasty I promise you. My whole family loves it, if fact I don't even call it a salad – it's fish and potatoes 🙂
Salade niçoise (French pronunciation: ​[niˈswaz])  is a salad that originated in the French city of Nice. It's traditionally made of tomatoes, hard-boiled eggs, Niçoise olives  and dressed with olive oil. It's  been popular worldwide since the early 20th century, and has been prepared and discussed by many famous chefs.
Whatever the rules about this salad, most recipes have green beans and potatoes – mine certainly does! Just love this mega Easy Tuna Nicoise Salad
Let me know what you think, I love your comments
And if you love this salad then maybe try another lovely one I have – All Hail the Halloumi – have a look!
Thanks Cx
Ingredients
Tuna, either 2 tins or 4 fresh pieces, any size
4 eggs Soft boiled
150g Green beans
200g Cherry Tomatoes
300g Jersey Royals new Potatoes (more if you like)
1 Red Onion – thinly sliced
1/4 Cucumber sliced long ways into pieces
16 Pitted Black Olives, halved
A few Cos or baby Gem Lettuce leaves
2 tbsp Olive Oil
Juice of 2 Lemons
Salt & Black Pepper
Preparation Method
Boil new potatoes until soft approx. 25 minutes.
In the meantime half cherry tomatoes. Wash and dry and roughly chop lettuce leaves. Half pitted Olives.
Chop cucumber. Slice red onion.
Mix lemon juice, olive oil and salt and freshly ground black pepper in a small bowl
Lightly boil green beans approx. 10 minutes, remove and drain (if using fresh tuna sear in a frying pan with a touch of olive oil for 3 minutes each side)
Peel soft boiled Eggs and cut into 1/4's
Once potatoes are soft, drain and leave in pan. Tip in the olive oil & lemon dressing, stir.
Now its salad construction time! On each plate start with lettuce and mix with all ingredients in Pt 2.
Add green beans and potatoes (dripping in olive oil and lemon, there will be some left in the pan – you will need this)
Finally if using fresh tuna place on top, or break tinned tuna into chunks and mix in the salad!
Finally drizzle with remaining lemon juice and olive oil left in the pan.
Now Dig in and enjoy, its fresh and simple…