Hi and welcome to
Easy Peasy Lemon Squeezy
A place to inspire, share and talk everything kitchen with a side order of lifestyle and social ;)
Easy Christmas Cake Recipe – my mums
Easy Christmas Cake Recipe – my mums
Ooo I love a good fruit cake and that includes an Easy Christmas Cake Recipe – here it is!
There's nothing like a traditional Christmas Cake recipe, a homemade delight! It's Christmas 🙂
Christmas cakes are so easy to make, but they do have a lot of ingredients.
However it is only once a year, so I think it's worth making a little effort.
And it takes a bit of stirring to, think of those 'bingo wings.'
I really do think it should be a family occasion and everyone should have a stir.
Do you do that?
In our family we often eat it with a slice of cheddar and totally forget the marzipan and icing!
I'm from the north originally and I've managed to convert numerous southerners!! (see below)
But obviously it's perfect for a traditional layer of marzipan and icing, if that's what you're after.
Go on give it a try! Nothing dry and crumbly about this cake!
So easy so moist
Moist Christmas Fruit Cake Recipe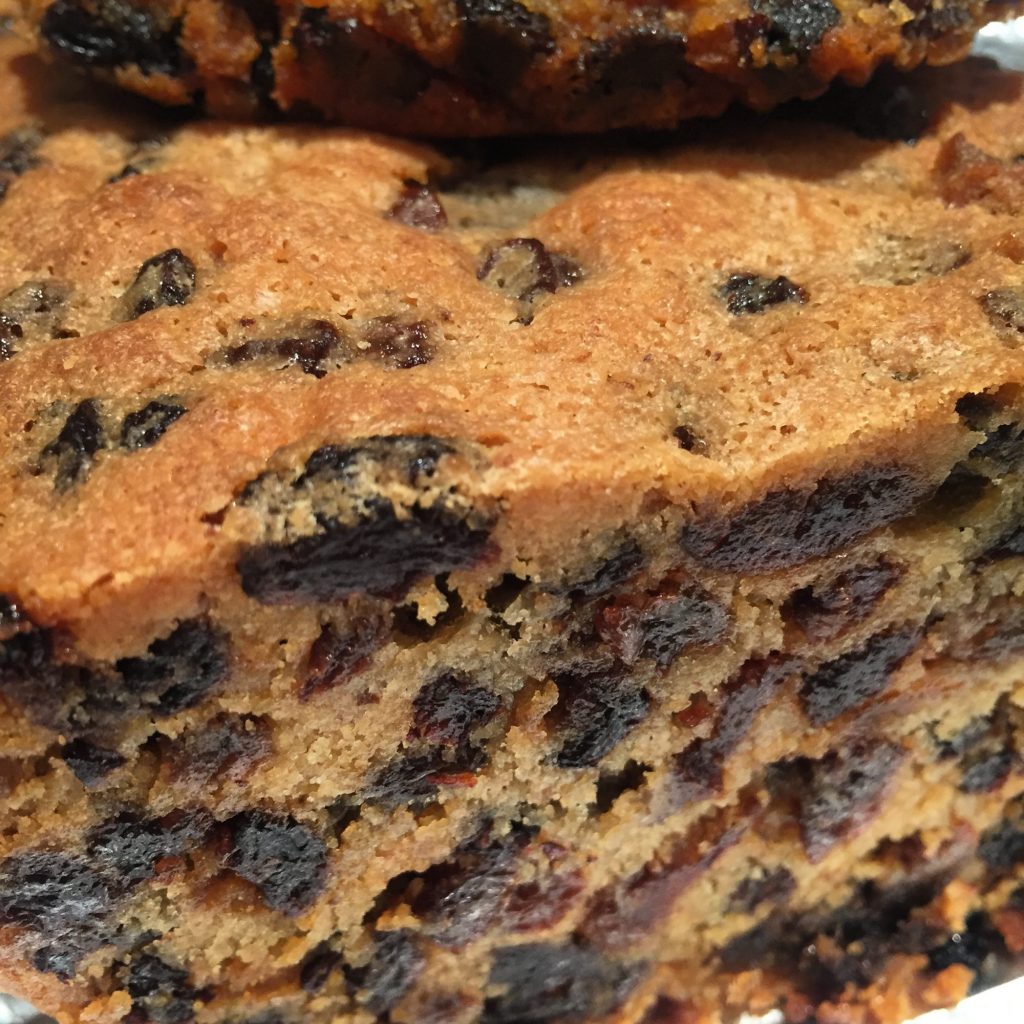 My Mums simple Christmas Cake is fab and the good old fashioned type.
Her recipe has been handed down over the years, via many members of our past family!
I love it and it has a special place in my heart.
My mum's my hero, love her to bits.
So to share her recipe with you guys means a lot.
I really hope you like it! It's a proper traditional recipe!
So make it, feed it with booze, marzipan it and ice it!
And then all that's left to do is to eat it and enjoy it, yassssss result!!!
How to feed your homemade Xmas Cake?
I think it's best to feed your cake, every fortnight at least every month from when it has been baked.
I simply use a skewer to prick several holes into the top of your cake.
Then spoon over 1-2 tablespoons of brandy or whatever you choose (could be fruit juice) ensuring that the whole cake is evenly covered.
Then simply let it absorb and tightly cover with baking paper and then I tend to wrap it in foil and pop it in a dry cupboard until the next 'feeding' time.
Keep your eye on it though. You don't want a soggy cake as much as you don't want a dry one.
Or maybe forget the marzipan and icing as I've said? Why not have it with a slice of cheese? (as i've said)
Alternative way to serve your Fruit Cake
Yes that's what we do in the north, really! And don't knock it until you've tried it!
Buttered with Cheeeeeese 🙂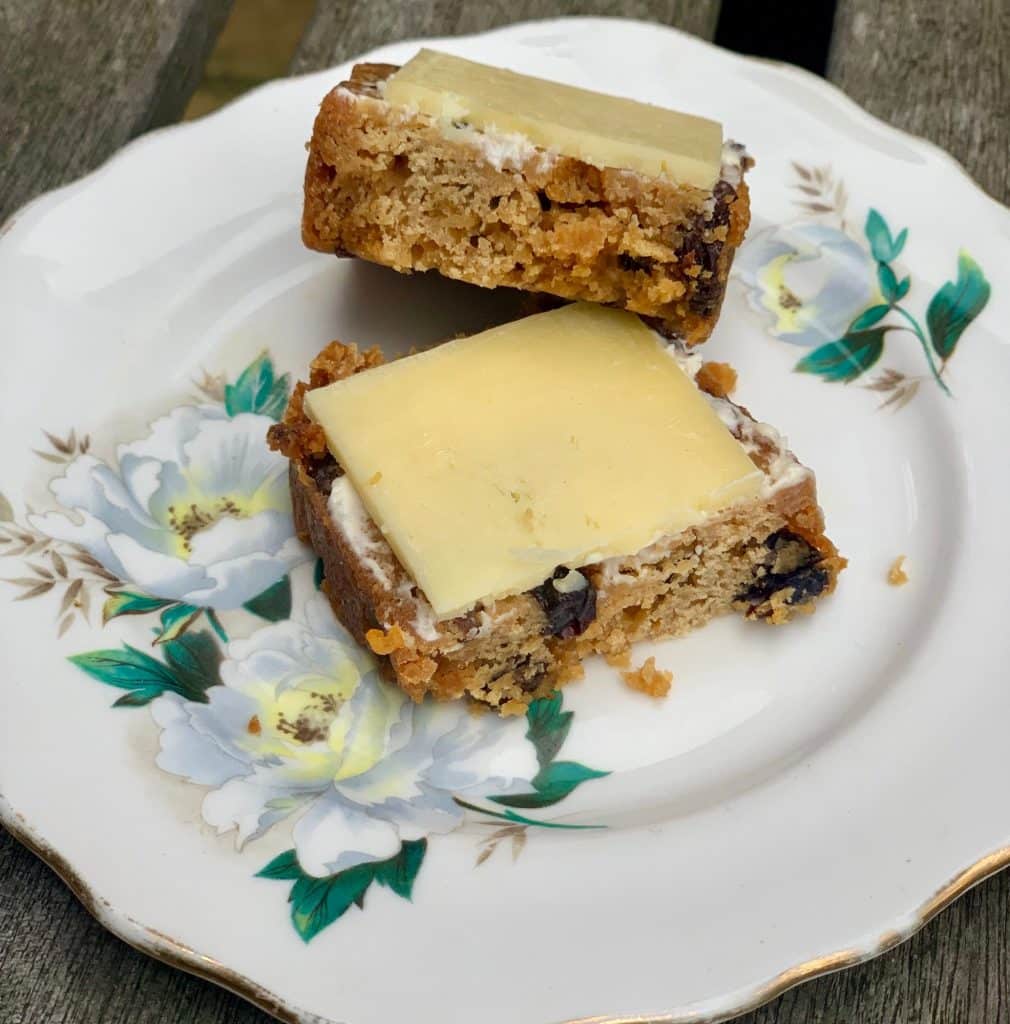 Tradition
There's a lot of history and traditions with regard to Christmas Cakes but according to Wikipedia
'A Christmas cake may be light or dark, crumbly-moist to sticky-wet, spongy to heavy, leavened or unleavened, shaped round, square or oblong as whole cakes, cupcake, or petit fours, with marzipan, icing, glazing, dusting with icing sugar, or plain.
When a Christmas cake is covered in icing, it is quite common for it to be decorated.
Models of houses, of fir trees or of Santa Claus may be in the array of decorations'.
Make it and enjoy, it's such an easy recipe and remember to let me know how you get on by leaving me a comment below the recipe for this Easy Fruit Cake
More importantly if you're not keen on a piece of the old traditional Christmas Cake, then why not make something else?
Really it's not compulsory to eat fruit cake, trust me. ha ha!
Just search 'cakes' in the search box and you'll find lots of lovely recipes.
Alternative Christmas Ice-cream Cake
A favourite for us at Christmas is my Ice Cream Chocolate Bombe – have a look
(why not make one anyway, an ice-cream cake is so good to have in the freezer just incase you have those unexpected guests!?)
Or my No Bake Chocolate Tart – delicious and decedent – yum!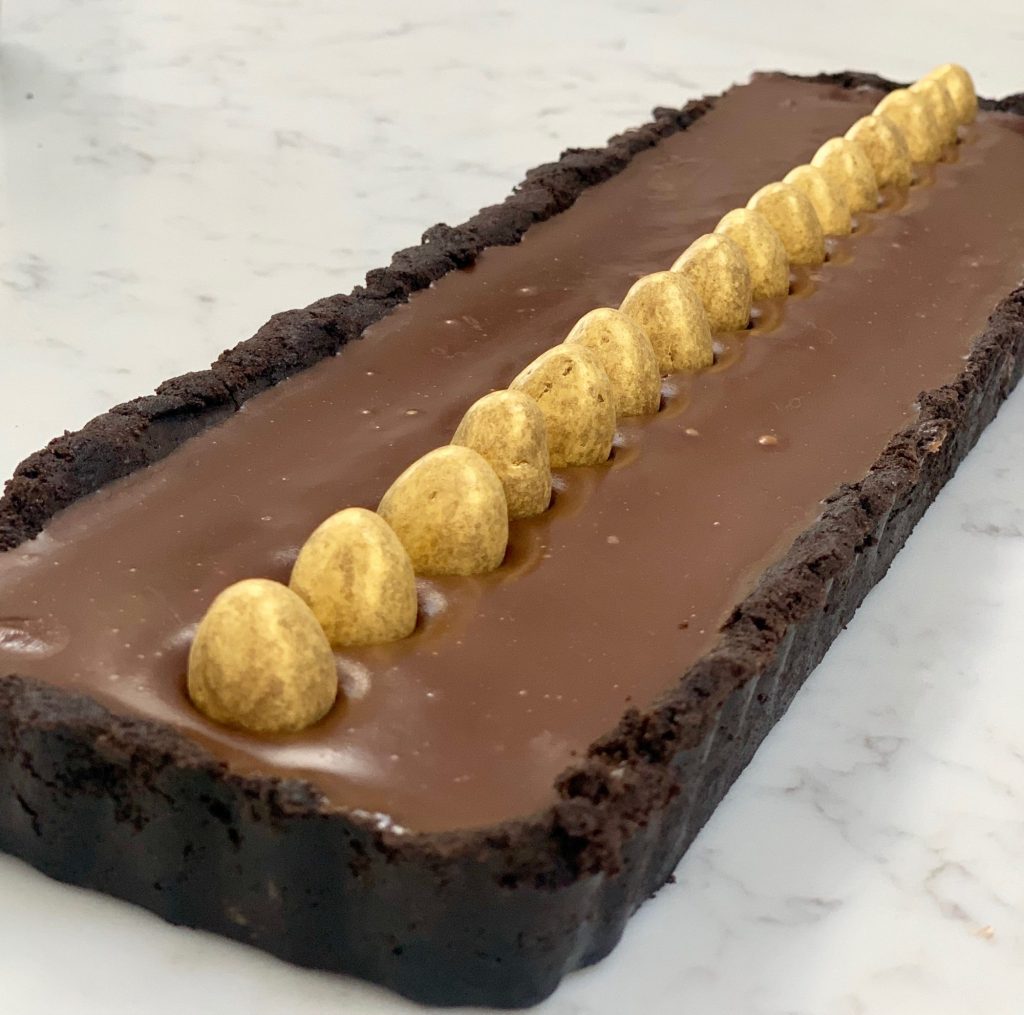 Cx
Ingredients
225g Currants
225g Sultanas
225g Raisins
4 Tablespoons Brandy
125g Self-raising Flour
200g Plain Flour
Pinch of salt
5ml (1 teaspoon) Ground Mixed Spice
2,5ml (1/2 teaspoon) Ground Cinnamon
2.5ml (1/2 teaspoon) Grated Nutmeg
225g Butter, softened
225g Dark soft Brown Sugar
1 Tablespoon Golden Syrup
100g Ground Almonds
5 Free-Range Eggs
1 Tablespoon Marmalade
100g Glace Cherries, washed & dried and halved
Grated Lemon zest from 1 lemon
Preparation Method
Day 1
Place your currants, sultanas and raisins in a large bowl – add 3 tablespoons Brandy and stir, cover and leave overnight – give it a quick stir occasionally when you walk past
Day 2
Preheat oven 140C/275F/Gas 1
Grease and line a 23cm (9in) round tin or 20cm (8in) square cake tin – line with double paper (it's in the oven a long time) Line the outside with several layers of brown paper, coming at least 5cm above the tin, secure with string
Next sift together the flour and spices
In a large bowl cream the butter and sugar until light and fluffy
One by one add the eggs and beat well, adding the occasional spoon of the flour,  to ensure it doesn't curdle
Add the vanilla
Then fold in the remaining flour mix and mix
Then add all the remaining ingredients – stir well –  you will end up with a big fruity cake mix and it will be quite firm
Tip into the prepared tin and smooth the top
Bake in the pre-heated oven for 4-4.5 hours in the centre of the oven (if it starts to brown pop a double piece of greaseproof on top)
Cake should be golden brown and firm to touch.
Remove from the oven and leave to cool in the tin
Once cooled tip out and remove paper – prick all over with a skewer and pour over the remaining tablespoon of brandy
Then wrap in greaseproof and place in an airtight container for about a month.
Once or twice feed it with a little brandy 🙂 – YES DO IT!
Near christmas cover the cake with marzipan and icing and tuck in
Enjoy and Happy Christmas