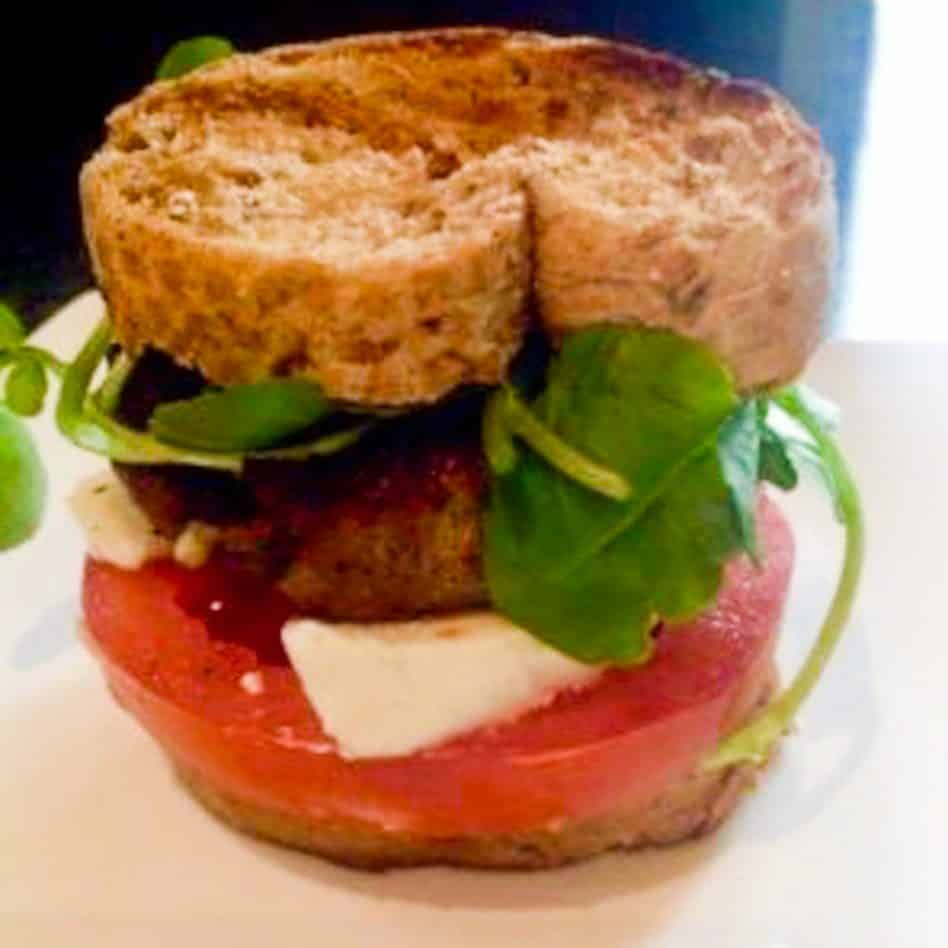 Easy Turkey Burgers
These mega Easy Turkey Burgers or patties with pesto (whatever you want to call them) are so tasty and are such a refreshing change from beef and so much healthier
Easy Turkey Burgers
These burgers are given an added twist of pesto which makes them full of flavour!
Simply delicious!
I love turkey mince and it's so good to utilise it and make a tasty quick supper.
I also find the kids love them too
Winner Winner turkey dinner
Turkey mince is low fat and relatively low cost – so winner winner turkey dinner :-).
And they are so easy to mould!!
I really do love these babies.
They are such a refreshing change from beef burgers, somehow lighter and so good.
Turkey Nutrition
Turkey is high in zinc, B vitamins, phosphorus, tryptophan, selenium and protein.
It is low in saturated fat, cholesterol, provided that you do not eat the skin.
It can be a part of a healthy eating plan, especially since it is a good source of protein. … Turkey is loaded with trytophan, a sleep-inducing amino acid. (I need to eat more turkey!!)
Pesto makes them for me, but you could add some chilli flakes too or some chopped fresh chilli if you're looking for a kick of spice?
I know many of you that have added chilli and love them.
To Serve your turkey burgers
You can whack them under the grill, in the oven or even on the BBQ, just make sure they are cooked well through (no pink bits).
As they have pesto they work really well in a bun with a massive slice of tomato, mozzarella and basil leaves.
You could also not have the bun and go naked!
Can I freeze Turkey Burgers ?
Yes you can
My advise is to make them and freeze them raw – open on a tray
Once frozen then wrap them in plastic bags, label and pop in a container
They will be ok for a couple of months
Simply defrost on a baking tray before you bake or BBQ them, ensuring they are cooked all the way through
Another Turkey Mince recipe
Turkey mince is so underated I have another great recipe here for Turkey Pepper Boat Melts which also happens to be really low carb.
Have a gander!
So have a try at these alternative Turkey Burgers, just look how delicious and colourful they are.
Please let me know how you go by dropping me a comment below the post, I love your comments
Thanks Clare x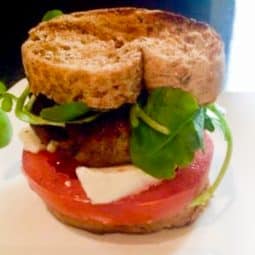 Easy Turkey Burgers - with Pesto!
Print
Pin
Rate
Tasty juicy Turkey burgers a refreshing change to beef
Ingredients
500

g

British Turkey Mince

2

tablespoons

Basil pesto

6

Salad Onions / Spring Onions - what is the difference? - thinly sliced

1

clove

garlic crushed / or squirt of chilled garlic

Salt and Black pepper

6

bread rolls / or ciabatta Rolls / I use a baton sliced

2

Large Beef steak tomatoes

1

'half fat' fresh mozzarella

A few Basil leaves Hand full watercress or slices of Avocado
Instructions
In a large bowl mix together turkey mince, chopped spring onion, garlic, pesto and salt and pepper. If you have time - chill for for a few hours

Using damp hands shape into 6 patties (burgers) or if you want larger ones just 4.

In a large non stick frying pan - spray with fry light (or olive oil), fry the patties for 10-15 minutes ensuring you have lots of colour on outside and the patties are cooked through (NO PINK MEAT - CHECK!!!)

Cut the rolls in half, grill on one side or the bread, spread small amount of Pesto on top

Place the patties on the bun or bread, add a slice of mozzarella, a slice of beef steak tomato and a nice handful watercress and a few basil leaves, season (you could add slices avocado). Alternatively ditch the bun and serve with a nice big green fresh salad.

Now that's Easypeasylemonsqueezy! Cx
Notes
*** All nutritional information is approximate and intended as a guide 
Nutrition
Nutrition Facts
Easy Turkey Burgers - with Pesto!
Amount per Serving
% Daily Value*
* Percent Daily Values are based on a 2000 calorie diet.