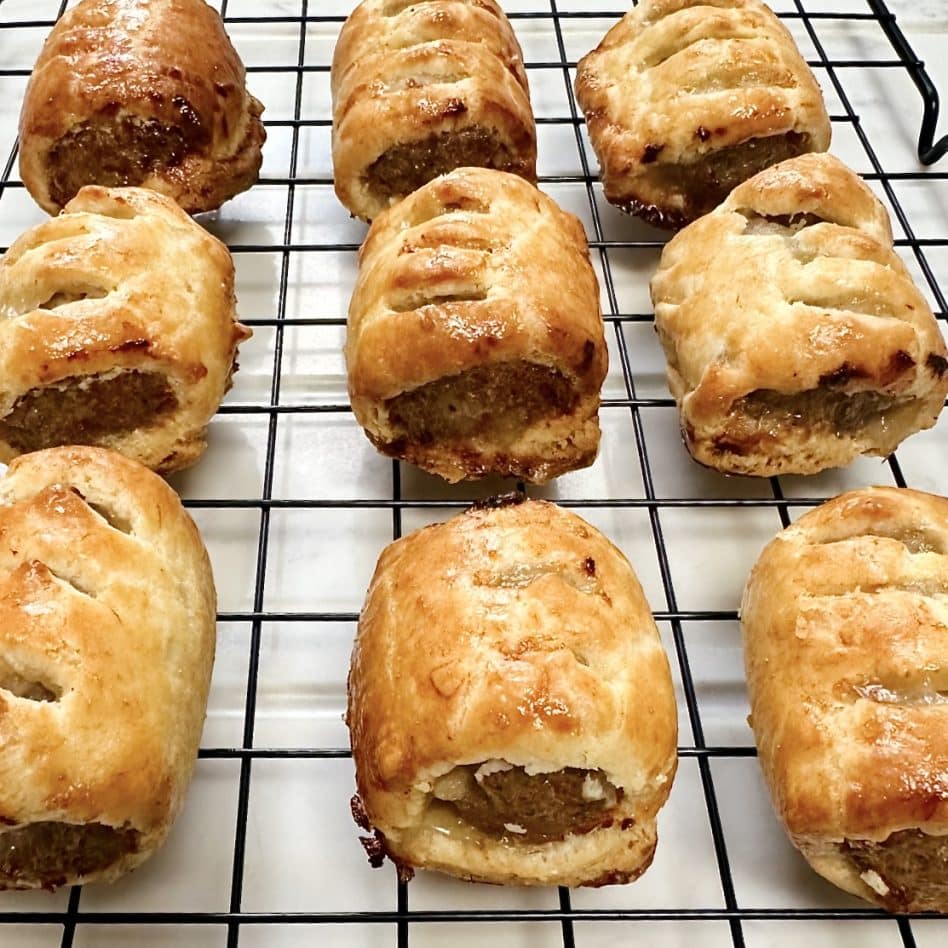 Easy Sausage Rolls Recipe
Gosh I love a sausage roll, (I can't even tell you how much) so I thought I'd share my MUCH perfected easy sausage rolls recipe.
(I've used this recipe for years 🙂 ) It's an epic sausage roll recipe!!
Homemade English Sausage Rolls
There is nothing like a homemade sausage roll trust me (these win hands down against anything I have ever tried that's shop bought!)
HOWEVER here's a very important fact:
I like them straight form the oven, resting for 10 minutes then straight in. the. gob. – when I believe they are at their very BEST!
I love them so much I can easily eat five, one after the other. Piggy I know – I just cannot resist
I really do think they are one of my most favourite things 🙂
So what is the best pastry for your Easy Sausage Rolls?
This, I think, is totally and purely personal preference
I really don't mind which – both have their pluses. And I love them both
So basically I'm saying try both 🙂
Can I use bought puff pastry or shortcrust pastry for my sausage rolls?
You can of course make your own pastry, but in reality who has time for that. But I'm impressed if you do
I ALWAYS use ready made chilled Puff Pastry / or ready made chilled Shortcrust pastry. I also but the ready rolled – super lazy made, but it's the perfect rectangular shape and it's simply delicious!
I promise you the bought stuff is fantastic, I use it all the time
Puff Pastry Sausage Rolls
Using puff pastry will give you a light flakey and buttery texture
Shortcrust Pastry Sausage Rolls
Using Shortcrust pastry will give you a more crumbly, savoury, shorter eat
Just try both – why not? I love both 🙂
So what's the best Sausage meat for sausage rolls?
So what's the best Sausage Meat for your sausage rolls?
I think this is really important
I personally use the best sausages I can buy and my favourite for sausage rolls is PORK sausage meat.
You can of course use chicken sausages, or beef or whatever, however my fave is certainly pork
I particularly love the Pork and Leek sausages, or the Pork and Caramelised Onion ones – it really is personal preference though
The great thing about using actual sausages is that once you've skinned (removed the casings) them then they are the perfect shape to just use.
Avoids a lot of messy hands
However if you prefer buying normal traditional sausage meat, then you'll need to roll it into a sausage shape, with some flour
How to make quick & easy sausage rolls – Step by Step
Step 1 – to the best sausage roll
Grab yourself some bought chilled pastry and unroll (Puff or Shortcrust whatever you prefer), skin your sausages and place 2 rows on your pastry
Step 2 – to your quick and easy sausage rolls
Next slice the pastry down the middle, egg wash each side of the sausage meat and turn the pastry over the sausage meat tightly, roll over so the join is at the bottom.
Using a fork, gently push down on the seal to join (you don't want them springing up when. you bake them)
Step 3 – sausages rolls incoming ….. yum
Chop each long sausage into 6 sausage rolls with a sharp knife – or more if you'd like smaller ones
Pop on a lined baking sheet, glaze with beaten egg and pop a couple of cuts/ slits in each roll
Bake as per below instructions

How long to bake your sausage Rolls?
Well make sure your oven is pre-heated and at the correct temperature
For chilled sausage rolls then approx 20-25 minutes until the pastry is golden and the sausage meat cooked
From Frozen – allow another 5-10 minutes – so that's 25-30 minutes
Please remember all ovens vary a little so your eye will tell you, however it will never be less than 20 minutes
Ta- Dah! Yummy – my advice – eat warm from the oven!
Other ingredients you could add for gourmet sausage rolls
There are no real rules
I like mine simple – just a great quality sausage, however you could add a layer of:
sautéed onion
onion chutney
Chilli Jam,
Cheese,
herbs – whatever you fancy
You can elevate your sausage rolls to gourmet easily!!
Can I freeze my Sausage Rolls?
Yes Yes Yes – and I encourage you to, especially at Christmas when you have lots to do
They really are ready in a flash – especially if you use bought pastry and sausages – but even so it's good to get ahead on prep!
What I tend to do is make them and freeze them unbaked (massive time saver especially for your Christmas Sausage Rolls)
Simply freeze them unbaked for a hour on so on a baking sheet, then bag them up in 6's – ready to grab and bake – yum
baking from frozen is simple. Remove from the freezer, egg glaze and bake for 30- 35 minutes until golden brown – keep your eye on them!
Large Homemade Sausage Rolls
If you want larger more substantial sausage rolls, for say a meal simply just cut each length into 3 not 6 – ta Dah
You may need to increase the baking time by 5 minutes – apart from that everything is the same
Mini Sausage Rolls / party bite sized Sausage Rolls
So instead if cutting each length into 6 – cut them into 12
Here you might need to reduce baking time by 5 Minutes or so – keep your eye on them
Quick Sausage Rolls
These little babies take 10 minutes to make and approx 25 minutes to bake – so yes quick
And if you freeze unable – then just grabbing the from the freezer and baking saves all the prep time
Easy Vegetarian or Gluten Free Sausage Rolls, or both?
It's really easy to make these vegetarian or gluten free – or maybe both if that's what you need and like
Simply choose the vegetarian pastry out the chiller cabinet (or Gluten Free – it is available) and choose some lovely vegetarian sausages. There are plenty available these days
Simple 🙂
What to serve with your quick sausage rolls?
I have to be honest and say a nice glass of something fizzy! Or a mulled wine. But they do work perfectly with a cuppa too
Maybe as an appetiser, as part of a picnic?
You can make a meal out of these with mash and gravy etc, if that's what you fancy I suggest you look at my Sausage Plait recipe below.
Kids also love them with ketchup as part of a dinner
They are also delicious dipped in pickle or sweet chilli sauce – Yum
The history of sausage rolls
When I was researching this post I got to thinking about the roots of the humble delicious sausage roll
Apparently it can be linked back to Classic Greek or Roman eras
I also learnt that Greggs sell almost 2.5 million sausage rolls a week!!!! Who knew!
Anyway if you're a sausage roll geek like me check out Wiki
Another fabulous Sausage & Pastry Recipe
I feel I must draw your attention to another sausage and pastry delight.
This time a my Sausage Plait Recipe – it's so popular on my website and it's magic too
Great served as a dinner and also for parties and picnics – it's basically a humongouse Sausage Roll
You can also add lovely toppings too and use puff pastry or shortcrust, which ever you prefer
Savoury Christmas Sausage Roll Wreath?
How about a savoury Sausage Roll Wreath – it's so good and just look at it
Other Festive things
And if you like traditional then I think you might like my Shortbread Mincemeat Slice – so good and way better than a mince pie!
Another Party Food Idea
If you're looking for some easy and cool ideas for your party, why not make a load of grazing platters!
Such fun and you can theme as you like
Here are some of my ideas and tip and tricks
Oh and why not join me on Instagram – I'd love to see you there 🙂
Big Love Clare x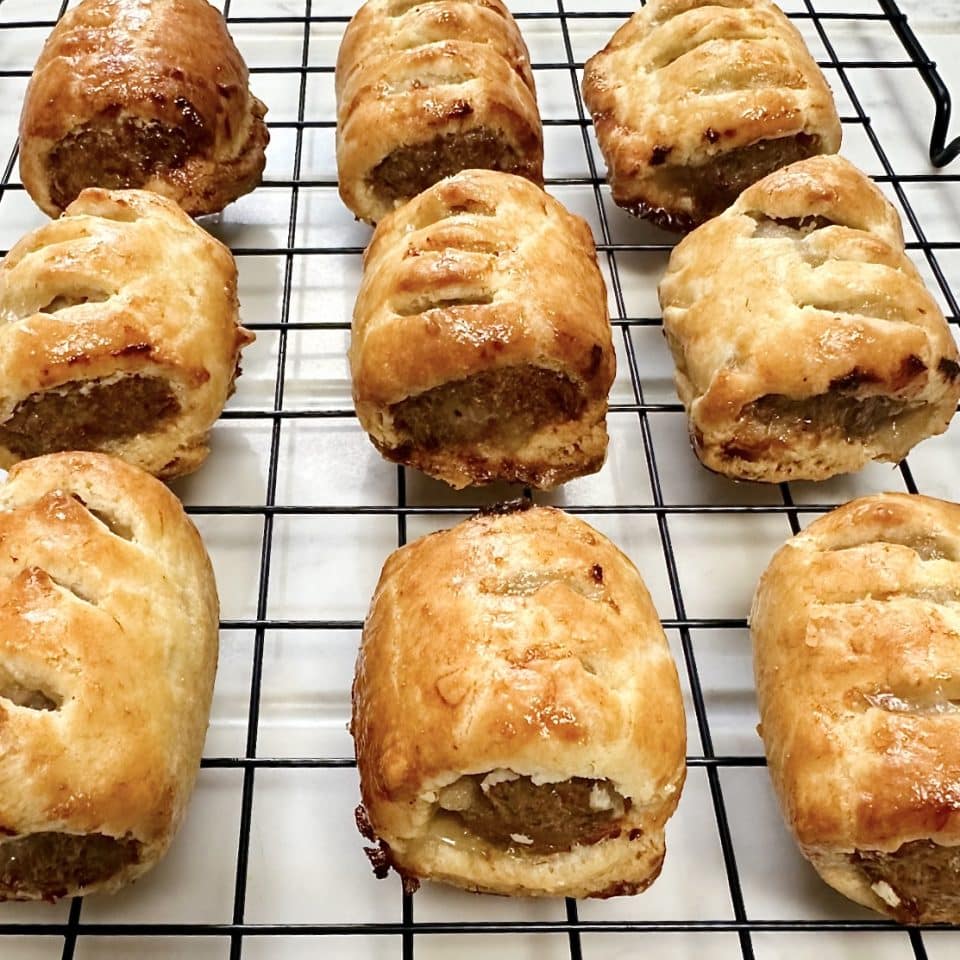 Easy Sausage Rolls - Perfection
Print
Pin
Rate
Perfect Sausage Rolls - Deliciously meaty & flaky
Ingredients
320

grams

Chilled Puff Pastry

Or chilled shortcrust Pastry

400

grams

Pork and Leek Sausages (6 sausages)

or whatever you fancy

1

Egg

beaten
Instructions
Preheat oven to 220C (200C Fan) 425F, Gas 7

Remove your Pastry from the fridge and unroll

Skin your sausages, using a knife and discard the casings

Pop 3 sausages rolls down one side of the pastry and 3 the other side. Using a knife cut the pastry down the middle

Use the beaten egg and glaze either side of the sausagemeat - this will help the pastry to stick together

Roll the pastry over the top of the sausagemeat, tightly, ensuring the fold is at the bottom. Use a fork to press down and seal the join.

If you have time pop these long rolls in the freezer for 30 minutes to firm up. That way you get a nice clean cut. If not use a sharp knife to cut each long roll into 6 smaller sausage rolls

Pop on a baking sheet, using a pastry brush egg wash the top and side of each sausage roll.

Bake in your preheated oven for 20 -25 minutes until golden brown

Leave to stand for 10 minures, then tuck in and enjoy!
Notes
If you are baking from frozen bake for 25-30 minutes (Puff Pastry) until golden brown and piping hot! 
*** All nutritional information is approximate and intended as a guide 
Nutrition
Nutrition Facts
Easy Sausage Rolls - Perfection
Amount per Serving
% Daily Value*
* Percent Daily Values are based on a 2000 calorie diet.