Hi and welcome to
Easy Peasy Lemon Squeezy
A place to inspire, share and talk everything kitchen with a side order of lifestyle and social ;)
Sharon fruit smoothie…. sunshine
Sunshine Sharon fruit smoothie… and all things orange
With fruit smoothies I think I'd rather just eat the fruit but this Sharon fruit smoothie its a perfect way to enjoy a fruit that's bit different.
Add in some lovely vegetables and spice – then you've got a very delicious smoothie
Surely that's got to be good for us??
Come on!!
So what is Sharon Fruit?
Sharon fruit is the trade name of a variety of persimmon grown in Israel.
It is shaped like a tomato with thin, orange skin, a green stalk and orange flesh.
It is a 'non-astringent' variety of persimmon but still has a tannic taste.
Nutritious Sharon fruit
Sharon fruit are a fantastic source of fibre and vitamin C!
I didn't know a huge amount about them but now I've just discovered they contain Betulin acid which is an anti cancer agent- what's not to love.
I have Sharon fruit in lots of smoothies ( delicious with dark frozen cherries) and even better is most of the supermarkets do a pack of 3 for 99p…..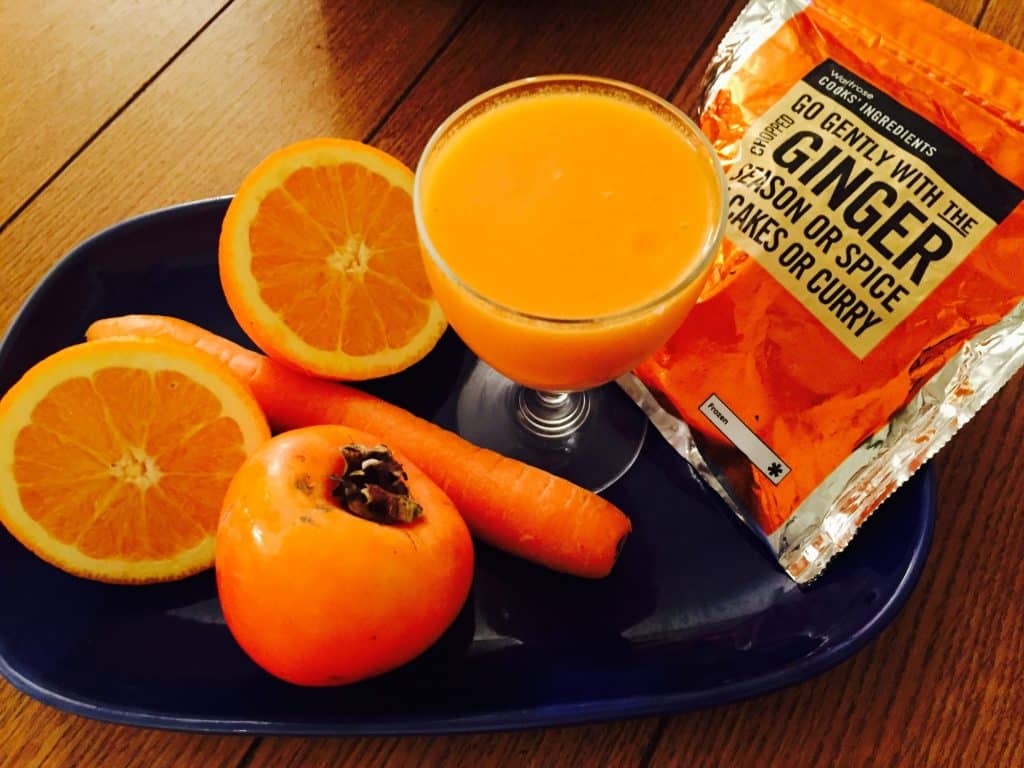 So why not mix it up a bit and start trying some new fruits.
This Sharon fruit smoothie is so so delicious with carrot, orange and ginger too! Try it – devine
Other fruit and vegetable Smoothies
If you love this then I'm sure you'll also like my Get Over the Greens?
Have a look at this too
Have fun with these lovely smoothies and juices!
Big Love Cx
Ingredients
Serves 1
1 large Carrot
1 large Orange, freshly squeezed
1/2 a Persimmon (Sharon Fruit)
1/2 teaspoon of ginger, either frozen or fresh.
150ml Water (approx.)
Handful of ice
Preparation Method
Put a handful of ice onto the blender.
Wash the carrot and chop the end off but don't bother peeling the carrot. Cut into small rounds and put into the blender/ smoothie maker / Nutribullet
Add 1/2 a Sharon fruit cut into a couple of pieces and the Juice from 1 squeezed Orange.
Add about 1/2 teaspoon of ginger, the ready chopped frozen ginger is brilliant. If using fresh, cut off a small piece, peel it and then either chop or grate.
Add about 150ml of water but it's really down to personal preference how creamy or not you want this. I like it more "juice" than "smoothie" so always start with at least 150ml.
Blitz, Pour and Enjoy