Hi and welcome to
Easy Peasy Lemon Squeezy
A place to inspire, share and talk everything kitchen with a side order of lifestyle and social ;)
Ginger Ninja Cocktail
Ginger Ninja Cocktail
Oh I love a cocktail and this one is so nice and warming, it's so warm and spicy I think you'll love it and I Calle it the Ginger Ninja Cocktail.
In fact it really is the most perfect Autumn & Winter cocktails – it warms you up and adds a little glow to those cheeks!
So go on give the Ginger Ninja Cocktail a whirl I'm sure you'll like it and it's positively medicinal 😉
It's so Gorgeous and spicy with it's vodka, ginger beer, lime, Triple Sec and a splash of orange. Lovely!
Side note!
I'm not sure about you but I'm always confused about what ginger beer actually is or is it just me?
Is it or is it not alcoholic – so here you go according to Wiki – The official definition:
Traditional ginger beer is a naturally sweetened and carbonated, usually non-alcoholic beverage.
It is produced by the natural fermentation of prepared ginger spice, yeast and sugar.
Its origins date from the colonial spice trade with the Orient and the sugar-producing islands of the Caribbean.
Sounds good doesn't it! Well it is I promise you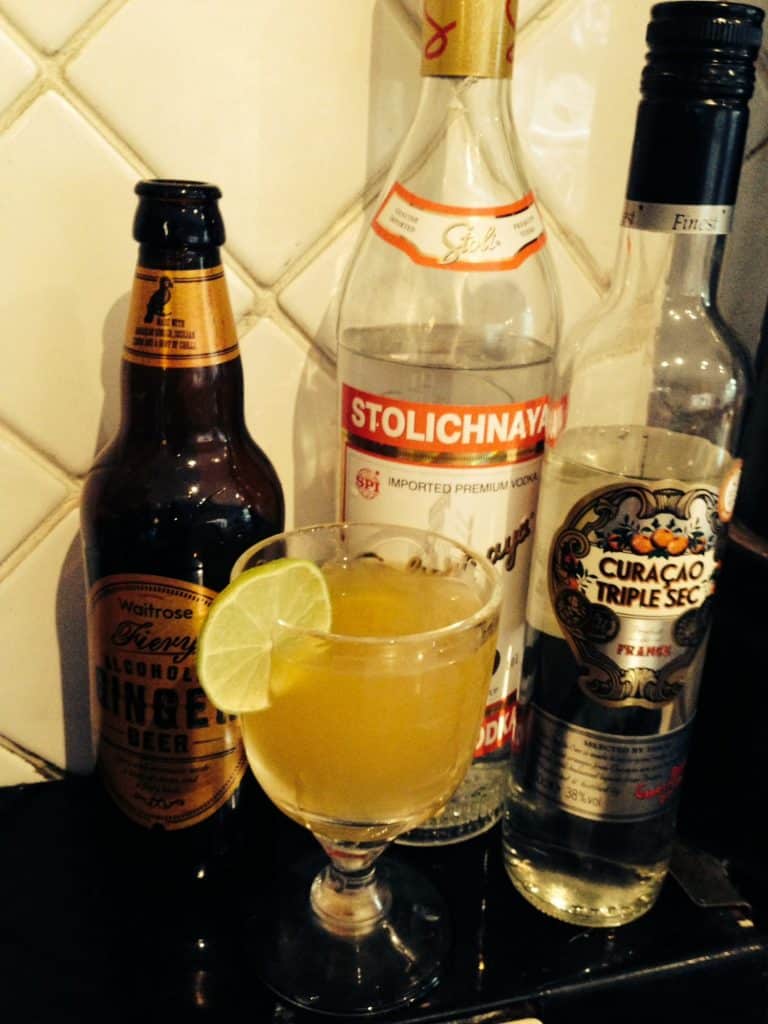 Why not make it your new rule to drink it whilst watching X Factor and right there you have the perfect autumn, winter evening!
It's very popular on the blog. Ginger is such a great flavour if you get the balance right!
Do you like ginger?
What actually is it? Well according to Wikipedia –
Ginger is a flowering plant whose rhizome, ginger root or simply ginger, it is widely used as a spice or as a folk medicine.
It is also a herbaceous perennial which grows annual pseudo stems. These grow to about a meter tall and bear narrow leaf blades.
So will you give it a try? It's really good!
Also there are a huge amount of Health Benefits associated with having Ginger – google it, it's fascinating!
I have so many other cocktail recipes.
Have you had a look under 6pm drinkies?
Maybe you should
Let me know what you think I'd love to hear
Thanks Clare & Jane x
Ingredients
Serves 1
Ice
40ml vodka
80ml ginger beer (not ale)
Juice of half a lime
Splash of triple sec
Splash of orange juice
Preparation Method
Put ice in glass, pour everything in and stir.
Pop a lime wheel on the side.
Gorgeous and spicy.