Hi and welcome to
Easy Peasy Lemon Squeezy
A place to inspire, share and talk everything kitchen with a side order of lifestyle and social ;)
1
2
Valentine Raspberry Nipple (Oooo Err)
Valentine Raspberry Nipple (Oooo Err)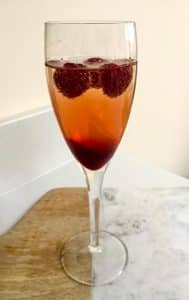 So Valentines Day approaches….. Eeeeek!
Whether  you're happily 'coupled up' or celebrating solo (high Five)- just get this made! A classic from our lovely Cocktail Queen – Valentine Raspberry Nipple! Too funny 😉
Enjoy guys
Love Cx & Jx
Ingredients
Raspberry Nipple (Oooo Err)
Champagne/ Prosecco/ Cava
Chambord (or any fruit liqueur)
Raspberry or Forest Fruit Coulis
Fresh Raspberries
Preparation Method
Pour your fizz
Tilt on one side and SLOWLY pour in about 1 tablespoon of Coulis. Its very sugary so will sink to the bottom
Then do the same with the Chambord
Drop in a few raspberries
Viola!