The Elegant Elder
The Elegant Elder – A wonderful pre dinner cocktail – The perfect Elderflower and champagne cocktail! (all my favourite things)
Beautiful power packed tipple – the elegant elderflower leaves its mark on this perfectly
Just needs a bowl of snacks and a group of mates to sip it with!
So What are Elderflowers
Well according to a piece I found on the internet – interesting!
The elder is an ancient hedgerow plant, native to Britain. Steeped in mystery and superstition, a number of powers and properties have been attributed to this plant, with its frothy, saucer-sized mass of white flowers and dark black berries.
The elder was long regarded as sacred, protected by the Elder Mother who lived in its trunk.
Many country folk would not cut or burn the wood for fear of upsetting her.
Moreover, the elder was thought of as a protective tree – it was believed to keep evil spirits from entering the house if grown outside the door.
Elders were also said to protect people from lightening when they sheltered under them from a storm, because legend has it that Christ's cross was made from elder wood.
And if you want see fairies, all you need to do is stand under an elder tree on Midsummer's Eve, but be careful not to fall asleep, because they'll carry you off!
Elders Medicinal properties
Of course, elders are thought to have medicinal properties too, and every part of the plant – bark, leaves, flowers and berries – have been used in domestic medicine since the days of Hippocrates (who used elderflowers to encourage vomiting and purging).
Medieval herbalists used the roots as a diuretic, the bark to hasten labour and the berries to soothe piles. Brewed elder bark also makes an excellent medicine for mothers after childbirth to soothe pain and replenish energy.
Enjoy Guys
Cx
Another champagne cocktail
White peach pureé, and Prosecco – possibly the simplest most deliciously charming cocktail around 🙂
Just look at it – sp pretty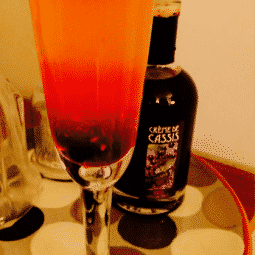 The Elegant Elder Cocktail
A delicious Elderflower & champagne cocktail
Ingredients
1/2

oz

sugar syrup

1

tbsp

Handful of mixed berries

1/2

Juice of Half a lemon

3

tbsp

vodka

3

tbsp

elderflower liqueur

Processo or Cava or Champagne

Splash of creme de cassisIce
Instructions
Mush up berries and sugar in a shaker or jug

Add lemon juice, vodka, elderflower and ice and shake

Strain and pour into champagne glass till just under 1/2 full

Top up with fizz of your choice

Tilt glass and gently pour in some cassis down the side, it will settle at the bottom