Hi and welcome to
Easy Peasy Lemon Squeezy
A place to inspire, share and talk everything kitchen with a side order of lifestyle and social ;)
1
2
Simple Spaghetti & Tomato sauce
Simple Spaghetti & Tomato sauce
From our Darling Sara
This is such a wonderfully simple, quick and amazingly tasty dinner, Simple Spaghetti & Tomato sauce! So flipping easy
I think it's the simplicity of this dish that makes it so special.
It's one of those quick suppers that you can make when you get home without even really thinking about it.
Thanks Sara for your AMAZINGLY simple & fabulous Spaghetti
Spagetti, tomatoes
Spaghetti, tomatoes – so beautiful and sweet as the sauce is made from cherry tomatoes and a kick of chilli!
Topped with fresh basil leaves and Parmesan if you like – it makes the perfect midweek supper!
It's that simple…. please trust me it's so very good.
I eat it often and it never fails to deliver on flavour! Somehow it seems to work best with spaghetti but you can substitute for penne, rigatoni – whatever you like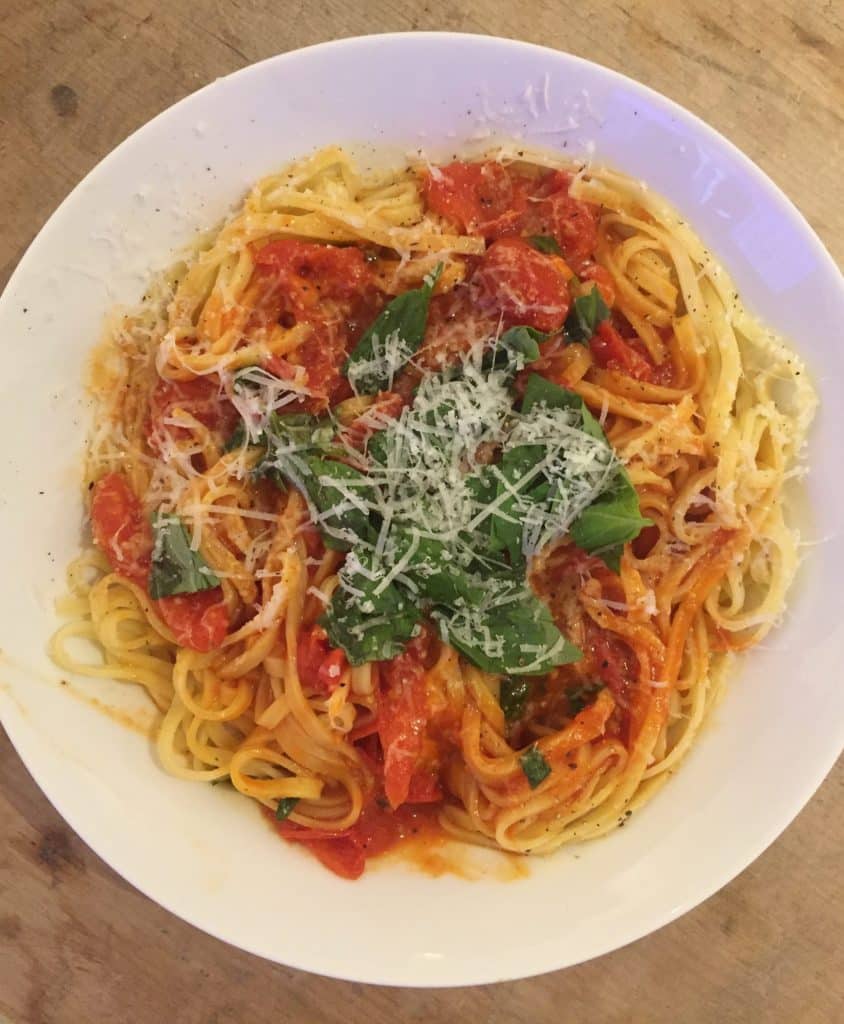 Another one from our Italian beauty
Another one of Italian Sara's recipes is Pennete with peas, pancetta and mascapone equally as delicious.
She's our Italian chick, how lucky are we to have these easy authentic recipes directly from Sara! Thank you
Spaghetti is a staple food of traditional Italian cuisine – yum yum
Have a go at this uber tasty Spaghetti and be sure to let me know what you think!
The Slimming Group
I also have a Facebook Closed Group called Easy Peasy Slimming Style Recipes
Come over and join this great honest community Facebook for Slimming Style Recipes if you're interested
Just use the join button if you like real home cooked tasty easy food!!
We support encourage and laugh!!
Loads of tips and tricks – I promise
Big Love Clare x
Ingredients
2 Tablespoons Olive Oil / or Fry Light for SW
2-3 Cloves garlic, chopped finely
1 1/2 Punnet's Cherry tomatoes, halved (baby plum best as they are sweeter)
chilli flakes or chilli oil
Squeeze Tomato purée
4 tablespoons water
300g – 400g Fresh or dried Spaghetti (cooked weight)
Fresh basil leaves – torn
Preparation Method
Cook your spaghetti according to on pack instructions
Fry the chopped garlic in the olive oil.
After a couple of minutes add the halved cherry tomatoes and continue cooking until the tomatoes begin to soften, season well.
Add chilli oil or dried chilli (anything works) and continue to cook.
At this point add 4 Tablespoons of the pasta boiling water and a squeeze of tomato purée, cook for another few minutes, have a taste, sometimes I add a pinch of sugar if tomatoes not sweet enough
Stir in some torn basil leaves
Add the spaghetti mix well and serve with Parmesan… deliciously simple