Hi and welcome to
Easy Peasy Lemon Squeezy
A place to inspire, share and talk everything kitchen with a side order of lifestyle and social ;)
1
2
3
Pizza Faces – go on!
'Pizza Faces'
Holiday cooking with the kids! These are the best fun and very simple the kids will so love to make these pizza faces. For the older kids  you can make it more interesting by making the pizza dough if you like.
Do your kids enjoy cooking? I really don't want to get on my 'soap-box' but I think it's so important that we teach our kids how to cook the basics? After all there not many thinks more important that knowing and having the skill to feed ourselves? I know that with every single child I've cooked with – they have loved it! And you know why not task them to cook one night a week for the family? Everyones a winner?
However these are mega easy, really tasty and bake super quickly in fact in 7-10 minutes. They are made on English Muffins, so go on show us your Pizza Faces! I think it's fun to get out all the ingredients and let the kids choose what they want to make, should it be a bear, a cat or just a little man with broccoli hair? Now come on who doesn't want broccoli hair? 🙂  I love them and I'm 50 🙂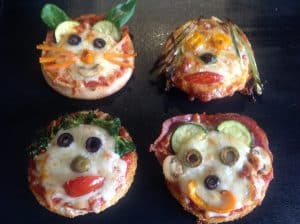 Please have a try and let me know in the comments under the recipe how you get on and please remember the photos  I'd love to see them – just show me your Pizza Faces
Thanks Cx
Ingredients
(Makes 8 Mini Pizzas)
4 English muffins – sliced into 2 (Adults do this)
1/2 jar Pizza sauce or simple Passata
2 good handfuls of Grated Mozzarella
Then anything you like – I suggest Broccoli (makes great hair!) Olives, Tomatoes, Carrot sticks, Spring onions, Courgettes, Peppers, Mushrooms, Salami or Ham, Basil leaves – anything
Preparation Method
Preheat oven to Gas 8 / 230 C / 440F
Give the kids the sliced muffins.
Spread 2 tablespoons sauce or Passata, then a sprinkling of Mozzarella.
They they can go for it with anything, faces or whatever……
When they are finished place them on a baking tray and bake in a very hot oven -top shelf for approx. 7-10 minutes.
Watch the cheese flipping hot
Enjoy Cx