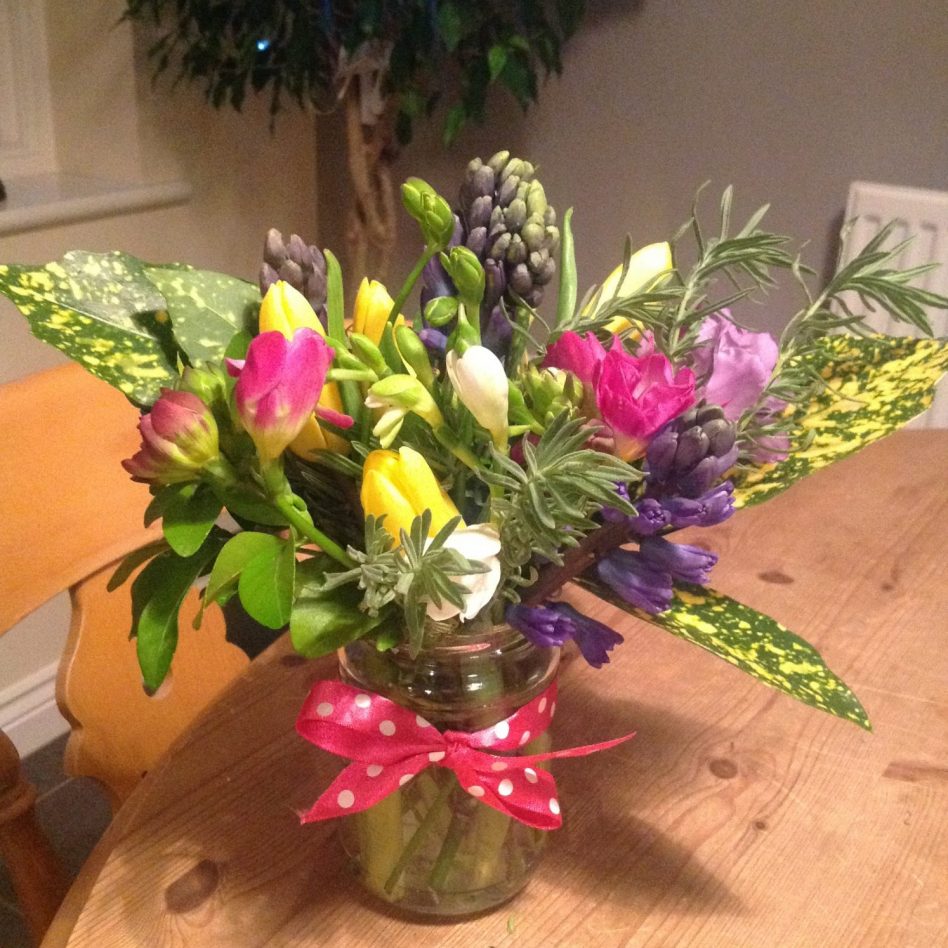 Jam Jar Flowers perfect for every occasion
Save your Jam Jars…..
So *Mothers Day* or any da, flowers can be VERY expensive, the answer my friends are Jam Jar flowers
It's so so naughty that shops put the prices up, in fact it really does me in!
I simply can't believe how much you have to pay for flowers these days.
But fear not Jam Jar Flowers are the answer, they are – you can prepare such beautiful displays at a fraction of the cost
So get your ribbons out, empty the jam out the jars, buy £10 ish worth of flowers and cut some green stuff out the garden, lavenders is so lovely in these….
Then in 10 minutes flat ….Ta Dah!
If I can do this anyone can – I'm not really a crafter … but I think they look amazing
Beautiful Jam Jar Flowers – perfect!
2 / 3 or 4 of these ….. Less than £10!
Flowers in a jar – perfect!
Doesn't have too be a jam one but any jar – maybe an empty coffee jar?
Now what mummy wouldn't want one of theses, mummy or not what female wouldn't want one!
So dads get the kids doing these for mothers Day.
They are so Easy Peasy Lemon Squeezy‬
(Please note a flower arranger I am not! cook maybe and if I can do it so can you).
Another Low Cost Mothers Day Idea
Lavender Table decoration
Here's another idea for a beautiful home made gift
It's so easy and my post has full step by step
Other ideas for Mothers Day
These are so delightful and thoughtful, make a batch of Bundles Brownies and you'll have huge amounts of Brownie points, I promise you.
I think is so so nice to give homemade gifts – so much nicer than bought stuff.
It really shows your care somehow 🙂
So go on have a go at these Jam Jar Flowers and the chocolate Brownies – why not?
The flowers, I did them as place settings last year – the table looked so pretty
Go on have a go at these lovely Jam Jar Flowers and remember to let me know how you get on!
Make mum very very happy!!
They are just too cute
Thanks Clare x