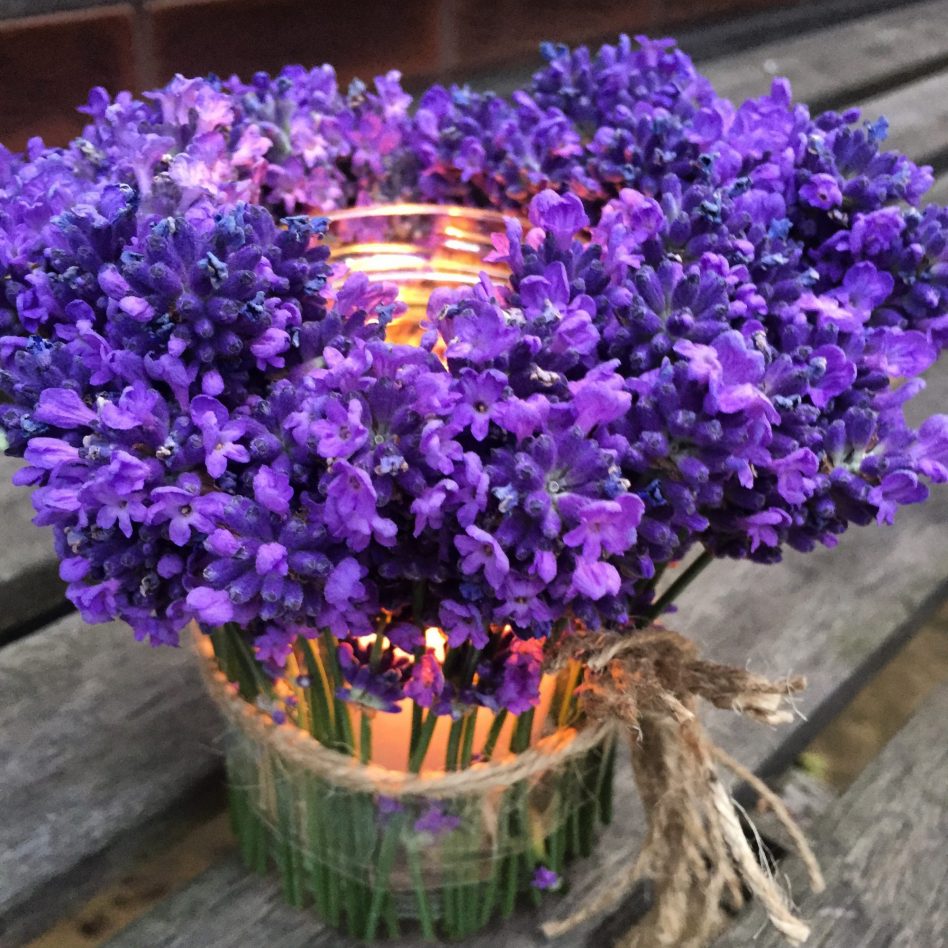 Lavender Table Decoration – so easy!
This Lavender Table Decoration, is so Easy Peasy Lemon Squeezy to make.
Look how beautiful it is 🙂
Crafting – it's so easy
You can use it for dinner, for weddings, for a garden party whatever!
I love a little crafting and it really is so beautiful and would cost a fortune to buy.
I love the idea of making something so pretty out of almost nothing! I know this isn't up cycling but I also like that too
What you need for your Lavender Table decoration
All you need is:
Jam Jar, Lavender
Sellotape
Scissors
Brown String or ribbons
Small candle
So here's a Step by Step to your Lavender decoration
First gather all your bits and pieces together
Start by cutting your lavender from the garden – make sure you cut long enough stake to be able to cover the whole of the jam jar
Gather together 7/8 stalks of lavender making sure they are level on the flower end

Using Selotape secure to the jam jar, carry on doing this until the jar is completely covered (at this point the stalks will be hanging over the bottom, see pic
When the jar is covered, take your scissors and cut off the stalks level with the bottom of the jam jar
Tie some nice brown string or ribbons around the jar
Pop a candle in and light – wonderful aroma and great outdoors
As with all candles do not leave unattended and make sure your lavender doesn't catch fire!
This beautiful decoration should last a few days as the lavender will simply dry out and bonus is it also lasts quite a long time… and makes your house smell amazing too
So beautiful, so fragrant and so low cost.
Easy Peasy Lemon Squeezy
Wedding Table Flower decoration? Easter Table Decoration? Or Garden Party Flowers?
I think they would look amazing don't you? And the smell – devine 🙂 calming ……
Perfect for Easter and weddings, in fact any party decorations
Yes for outside parties too –
How wonderful would they look ….
***** ENJOY xx and please do not leave unattended
And if your like this then I'm sure you'd like my Jam Jar Flowers – so pretty