Hi and welcome to
Easy Peasy Lemon Squeezy
A place to inspire, share and talk everything kitchen with a side order of lifestyle and social ;)
1
2
Friday French Fizz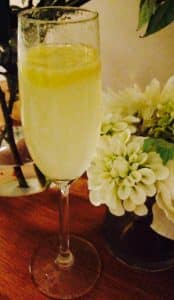 Friday French Fizz
A perfect light fizzy Cocktail! Perfect for any occasion or no occasion at all – Gin, Lemon juice, sugar syrup and champagne – what's not to love?
Try it! You'll love it 🙂 Promise
French 75 is a cocktail made from gin, Champagne, lemon juice, and sugar. It is also called a 75 Cocktail, or in French simply a Soixante Quinze. Or as I've named this one  a 'Friday French Fizz'
This is especially for the beautiful Paula Hart who introduced me to one of best cocktails bars around, Mokoko in Saint Albans where I had my first French 75
Enjoy!
Cx
Ingredients
Serves 1
Get everything really cold – put your champagne flute in the fridge or chill it by swirling ice around it
4 tablespoons Gin
1 tablespoon Lemon Juice (juice from half a lemon )
Lemon (for fancy peel)
1 teaspoon sugar syrup – or sprinkle of caster sugar
Fizz – choice is yours – cava, processo, champagne, sparkling wine
ICE
Preparation Method
Put some ice in a shaker, add the gin, sugar and lemon juice and shake.
Pour into flute and top up with fizz, finish  with twirl of peel
CHIN CHIN