Chicken & Chorizo Paella
Gosh I love a filling comforting bowl of rice stuffed full of flavour. This easy Chicken & chorizo paella recipe fits the bill perfectly!
It's rammed with delicious chorizo flavour, soft tender chicken, sweet paprika and super delicious rice
The peas and peppers add sweetness and lovely textures to the whole dish.
Once you make it once I promise you'll make it time again…
It also happens to be relatively healthy and VERY filling – so we are winning all round 🙂
So what actually is paella?
Paella is a rice dish originally from Valencia.
For this reason, many non-Spaniards view it as Spain's national dish, but Spaniards almost unanimously consider it to be a dish from the Valencian region.
Valencia's, in turn, regard paella as one of their identifying symbols. It is one of the best-known dishes in Spanish cuisine.
The dish takes its name from the wide, shallow traditional pan used to cook the dish on an open fire, paellabeing the word for a frying pan in Valencia's regional language.
As a dish, it may have ancient roots, but in its modern form it is traced back to the mid-19th century, in the rural area around the Albufera lagoon adjacent to the city of Valencia, on the east coast of Spain.
Traditionally people tend to think of paella as a seafood dish and some types are. However not this one
(I'm allergic to seafood however there is no reason you can't throw some prawns in the dish too!)
So what is paella rice?
Well it's a Spanish rice, actually called bomb rice which is perfect for paella as it's short grained
The key to the perfect paella is the rice. It is important that you use short grain rice. Medium grain is acceptable, but long grain rice is simply not good for the correct consistancy
It is readily available in the supermarket and called paella rice
So what is Chorizo?
Well according to Wiki –
Chorizo is a type of pork sausage. In Europe, chorizo is a fermented, cured, smoked sausage, which may be sliced and eaten without cooking, or added as an ingredient to add flavor to other dishes.
Elsewhere, some sausages sold as chorizo may not be fermented and cured, and require cooking before eating.
Wikipedia
I love cooking with chorizo – I love the flavour – delicious!
It's quite fatty, however the great thing is it gives a lot of flavour to your dish, so you don't have to use too much!!
How do you make Chicken & Chorizo paella?
We'll is really super easy and doesn't take much skill at all
See full method below in the recipe card:
Fry off the ingredients
Add the liquid (Look at that colour – it's the paprika and saffron)

Cover and voila!

What should I serve with my Paella?
Paella is almost a dish on it's own and you don't really need anything further
However if you want to add some greens then how about a lovely big green salas and maybe some crusty bread?
(and a lovely glass of crisp white wine would go down a treat with this)
Jamies Chicken & Chorizo Paella recipe
If you like fish Jamie suggests adding prawn, muscles & clams etc
I'm not sureties recipe needs it and I'm allergic to prawns anyway
But if you fancy it – then why not. Jamies is rarely wrong 🙂
The Slimming Deets
All the ingredients except the chorizo are free
The chorizo is according to SW is 12 Syns for 100g – so I make that 3 syns per portion – if you are feeding 4
Or 6 syns for a bumper portion (half of this)
It's seriously delicious and VERY filling
The Slimming Group
I also have a Facebook Closed Group called Easy Peasy Slimming Style Recipes .
Come over and join this great honest community Facebook for Easy Peasy Slimming Recipes if you're interested
Just use the join button if you like real home cooked tasty easy food!!
We support encourage and laugh!!
Loads of tips and tricks – I promise
Oh and why not join me on Instagram – I'd love to see you there 🙂
Big Love Clare x
Other tasty Morsels
If you love this dish then I really think you'd like my Peri Peri Chicken – also really easy and packed with flavour
I think you'd also like my lovely Easy Lemon Chicken too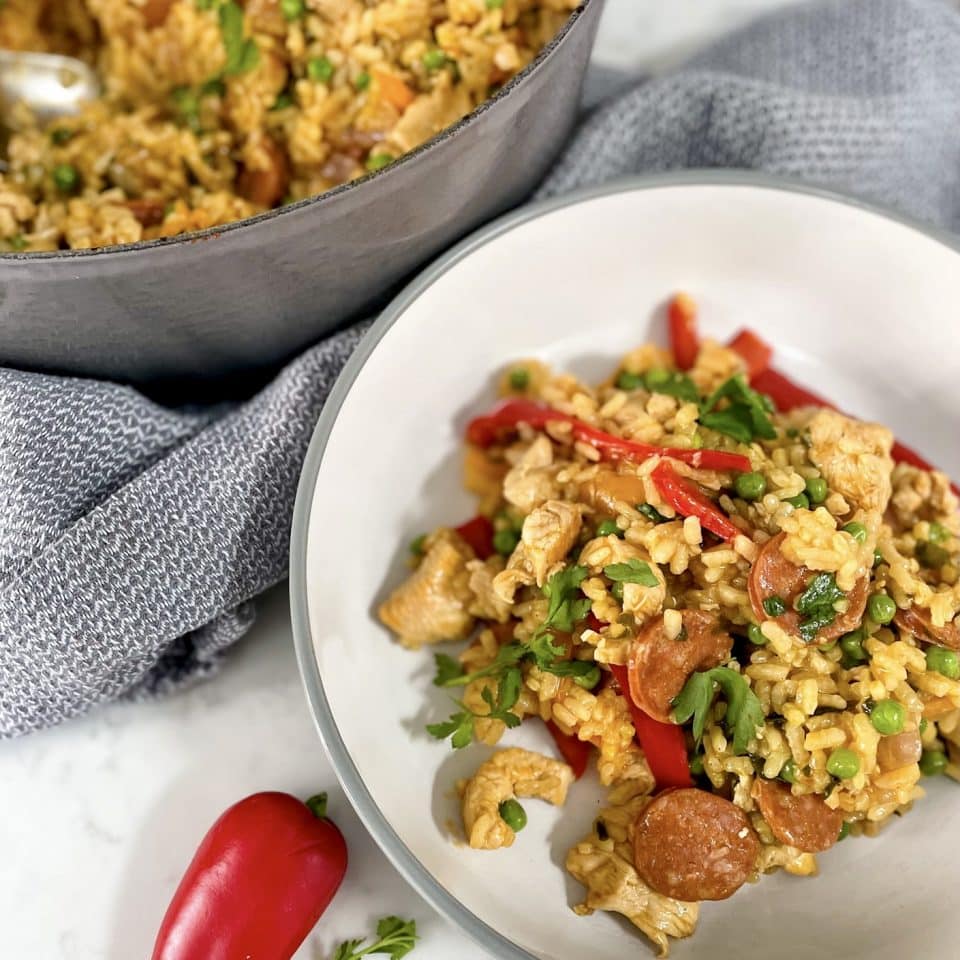 Print
Pin
Rate
A delicious flavour packed chicken & chorizo paella, slimming style
Ingredients
Fry lite 

2

cloves

Garlic

peeled and finely chopped

1

Red Onion

peeled and finely chopped

bunch parsley

torn

100

gram

chorizo sausage

sliced thinly into rounds

2

chicken breast fillets

cubed

1

teaspoon

smoked paprika

Few strands Safron

1

Red pepper

Deseeded and sliced

1

Yellow pepper

Deseeded and sliced

1

chicken stock cube

250

gram

paella rice

 600

gram

water 

Salt & pepper to season

100

gram

frozen peas 
Instructions
Take a large frying pan with a lid, or a heavy bottomed pan and spray with fry lite 1 cal spray

Add your garlic, red onion, chicken, chorizo, half your parsly and fry off for 5 minutes

Next add your sliced peppers, paprika and safron and fry for a further 5 minutes

Crumble in your stock cude and add your rice, quickly stir for a minute over the heat to ensure your rice is coated in spices

Finally add your water and give in all a quick stir, bring to the boil

Reduce to a simmer and pop the lid on your pan and leave for 15-20 minutes

Remove the lid, stir (not too much) check your rice is tender and the liquid is almost gone, season with salt & pepper. You can add a splash more water if your rice isn't soft enough and simmer for a furtther couple of minutes if necessary

Add your garden peas, and the remainder of your parsley, stir and pop the lid on and turn the heat off

Leave to stand for 5 minutes covered and then you are ready to serve your paella
Notes
***All nutritional information is approximate and intended as a guide 
Nutrition
Nutrition Facts
Chicken & Chorizo Paella
Amount per Serving
% Daily Value*
* Percent Daily Values are based on a 2000 calorie diet.