Hi and welcome to
Easy Peasy Lemon Squeezy
A place to inspire, share and talk everything kitchen with a side order of lifestyle and social ;)
1
2
3
Cherry & Chocolate Chip Biscuits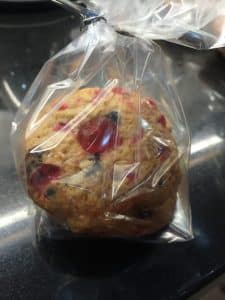 Cherry & Chocolate Chip Biscuits
These yummy biscuits are so quick and easy to make! Why not get the kids in the kitchen cooking – these would be perfect to start with. AND they can then eat them after. I for sure know that kids once they are in the kitchen love baking! To be able to cook and bake is so important – go on – we owe it to them!
There are so many easy recipes on this site they can try – why not? You could even allocate one evening and tell the kids it's up to them to cook for the family one night a week?
Have a go at these Cherry & Chocolate Chip Biscuits and let me know how you get on
Thanks Clare
Ingredients
225g (8 oz) Self Raising Flour
pinch of salt
170g (6 oz) Butter
110g (4 oz) Golden Caster Sugar
1 beaten egg
75g Plain Chocolate Chips
100g Glace Cherreis then a few more halves for the top decoration
Preparation Method
Preheat oven 180 C/ 350F / Gas 4
Sift flour and salt into a bowl, then rub in the butter until it resembles breadcrumbs.
Add sugar, Chocolate chips and chopped cherries
Add the beaten egg and mix into a stiff dough, turn out onto a floured surface and knead gently until smooth.
Wrap in cling film and chill in the fridge for minimum 30 mins.
Remove from the fridge and cut in 5mm – 10mm slices (makes about 20 biscuits)
Place these rounds on baking tray slightly press down – Do not place them to close or they'll stick together
Pop a half Glace Cherry on top of each biscuit – push down
Bake in oven for about 15 mins until golden.
Enjoy!