Hi and welcome to
Easy Peasy Lemon Squeezy
A place to inspire, share and talk everything kitchen with a side order of lifestyle and social ;)
1
2
3
Looks a bit weird at this point but it will be delicious
Easy Chicken Curry to Die For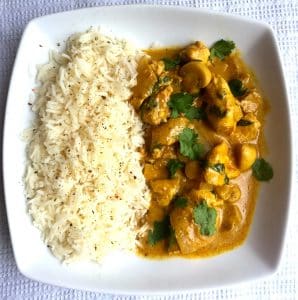 Easy Chicken Curry to Die for!!!! So easy!
Divine. This recipe is probably my favourite all time quick dinner. It's so tasty I have not met anyone yet who doesn't like it. Give it a go. You can make it quite low if you do a few switches, like use skimmed milk and fry lite spray. AND whatever you do – DO NOT skip the fresh coriander! It is probably the most popular recipe on Easypeasylemonsqueezy Blog! And it come close to being MY personal most made dish.
It's made it 30 minutes, I tend to make a big batch and pop some portions in the freezer and then I've always got a dinner to bang in the oven or microwave. My very own ready meal, but it's home made
and you must try it's little sister Banging Veggie Curry so lovely too!
Let's have your comments if you try this Easy Chicken Curry to die for!  Please, just a quick note below the recipe would be great I promise you'll love it
Many Thanks Clare x
Ingredients
Serves 4
5 sprays of fry light or – glug of olive oil
Squirt of Fresh garlic and ginger purée or 2 cloves garlic crushed
2cm Fresh ginger, grated
2 White Onions, chopped into large pieces as below sort of size
4 Chicken breasts (boneless and skinless) cut into 3 cm bits ish
2-3 heaped teaspoons Madras curry paste (Pataks best) (don't worry about the fact it's madras, it's the flavour profile you are looking for not the heat – I've tried all sorts trust me and this one is the best for this recipe)
200g closed cup Mushrooms or button (don't use flat field mushrooms they make it go a bit grey )
1/2 pt Skimmed or Semi skimmed milk
Bag of FRESH Coriander torn up – this is one of the most important ingredients !!!!
3 tablespoons extra light/or just light Elmlea single cream or single cream
Salt and freshly ground Black Pepper
Rice
Preparation Method
Spray large frying pan with oil or pour in olive oil
Fry off garlic, ginger, onions and chicken pieces for 5 minutes
Add curry paste and coat chicken and onions, add mushrooms fry approx. 5 minutes
 Add milk – simmer for 12- 15 minutes – Stirring occasionally (looks a bit thin and weird at this point, but trust me it will be divine, you will end up reducing the milk over the 12- 15 minutes simmering)
(Remember to put rice on, I use Basmatti but whatever will do)
 Add the torn coriander and finally the cream. Stir through bring to simmer
 Taste and season with Salt & Freshly ground Black pepper
Serve with rice and naan. Enjoy! Cx