Hi and welcome to
Easy Peasy Lemon Squeezy
A place to inspire, share and talk everything kitchen with a side order of lifestyle and social ;)
Wine Tasting at home? – Yes please :-)
Wine Tasting at home? – Yes please
As you probably know 'He-Who-Doesn't-Cook' had a big Birthday this year and his darling sis bought him a wine tasting evening –  at home! Sounds strange? Well let me tell you it was fabulous…..
The company
Is called Pieroth – The Home of Fine Wine and our Sommelier was Spencer! Spencer arrived at approx. 6.45pm  and brought with him some large cases. Eek! I had set the kitchen up for the 6 of us plus Spencer. He then proceeded to unload his stash and produced and placed 14 bottles of wine on the table. You supply the glasses, the cheese & biscuits etc (thanks Sue)
I am allergic to white so I couldn't partake in that part. We were given forms to help us remember which ones we liked and which ones we didn't and to make tasting notes. Spencer explained that the difference between their wines and the supermarket ones, the supermarket wines tend to be full of preservatives. He assured us that we would not have any hangovers with Pieroth Wine – yeah right!
We tasted an array of wines and learnt a lot in the process. I'm no wine buff but I know what I like and what I don't like and let me tell you there were 3 spectacular wines in the red section.
Interesting Facts
Some other interesting points I learnt:
Drink your white wine at 2 degrees warmer than fridge temp (whip it out the fridge 30 minutes before you drink)
Do not decant young red wine – no point
Always have a dry cracker between Red and White wine – to clear the palate
Pieroth White wine will keep for 2 weeks (ish) in the fridge (does anyone keep wine for 2 weeks – ha)
You can keep Pieroth red wine for up to 2 weeks in the fridge or not
I learnt a lot more but I can't remember 🙂
At the end of the tasting Spencer treated us with 3 further tastings, a tawny port, an amazing sherry and a wonderful chocolate liquor (perfect for Christmas).
How it works?  At the end of the evening you have the possibility to order. Minimum is  2 cases of 6 – however you can mix and match. Let's put it this way we have enough wine on order to last us until summer 2016 – including our Christmas celebrations – ooops. The wine is then delivered to a place of choice approx 7-10 days after! Result – no lugging bottles
I've been doing a bit of thinking – it is the most perfect present for that special occasion when you have no idea what to buy as a gift. We had the package where you are allowed 8 guests (we only had 6 as our house is so small)
Then we finished off with a supper for 6 – easypeasylemonsqueezy stuff and a couple of recipes from Liberty London Girls Cook Book #FriendsFoodFamily (I make so many dishes from her book – really good easy and tasty recipes- you should have a look at it) – I served:
Smoked Salmon Bellini's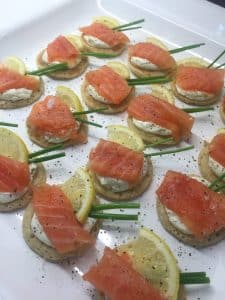 Hallumi & Chick pea Salad with Avocado (Liberty London Girl Salad) 
No-Nonsense Potato Salad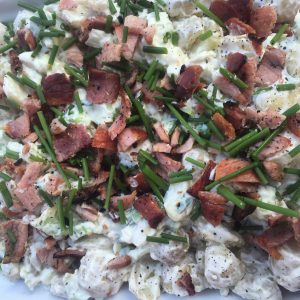 Fried Gnocchi with Cherry Tomatoes and Mozzarella (also from Liberty London Girl's book FriendsFoodFamily)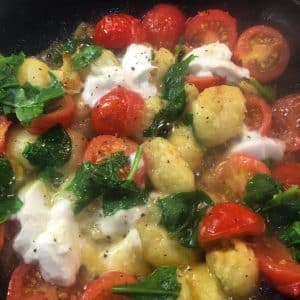 I also did, fresh bread, Pate, Olives, platter of Italian meats – it was soooo good and made such a change
We had a really great evening – and guess what no hangover! Result
The event costs range between £49 to £198 depending how many people and which package you choose. I can highly recommend it! Great evening
If you fancy it – here's the link: