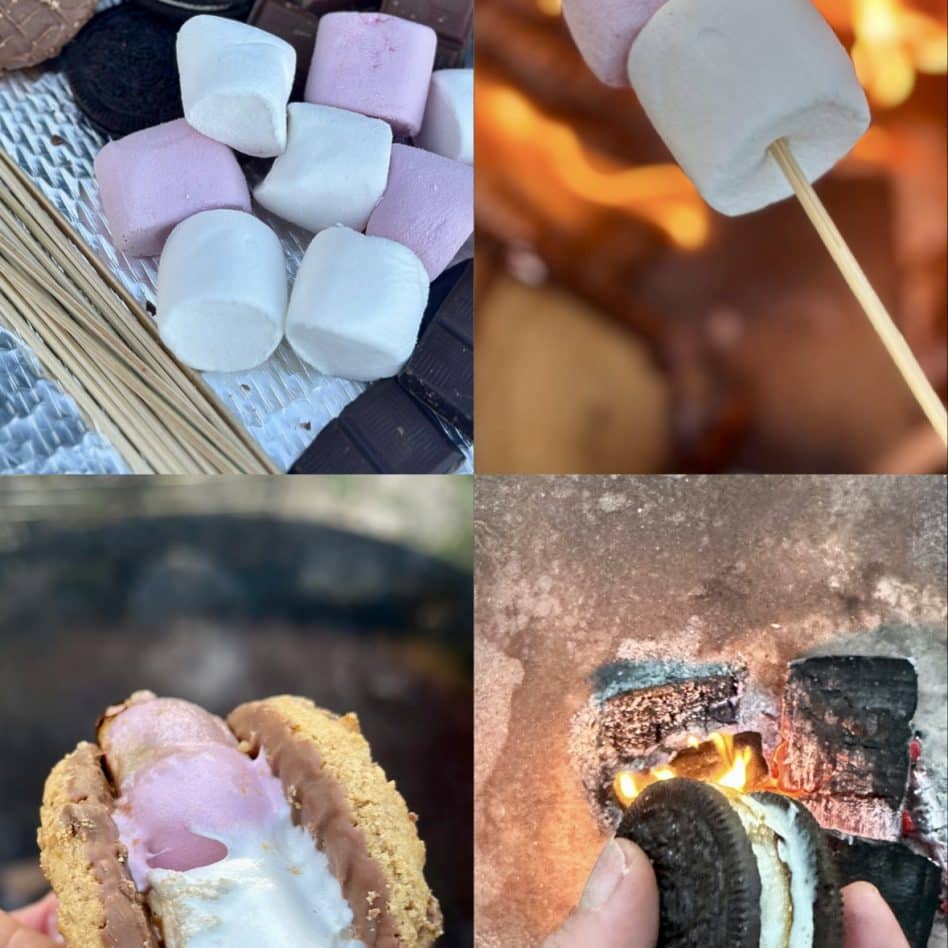 Easy S'mores
S'mores are delicious toasted marshmallows, sandwiched between 2 biscuits with a big lump of melted chocolate.
Perfect round the campfire or BBQ! So easy and so delicious
Try them 🙂
No more wondering about what to make for dessert when you have your BBQ or campfire supper
Simply set up a S'mores table and let everyone make their own – genius and lots of fun
What are S'mores, or Smores?
A s'more is a confection consisting of toasted marshmallows and chocolate sandwiched between two pieces of graham cracker. S'mores are popular in the United States and Canada, and traditionally cooked over a campfire. Wikipedia
Why are they called S'mores
History says that in America ……
These sweet, warm and gooey, delicious biscuits always leave kids wanting more.
Apparently the are named s'mores because you'll always want "some more"
They are very sweet but very delicious biscuits, sandwich filled with melted chocolate and gooey roasted marshmallow.
They're simple, ready in minutes, and loved by kids and adults alike.
How to make S'mores
There are So So easy and so much fun!
Simply toast your marshmallows on a skewer and pop them inside 2 cookies with a lump of chocolate
Alternative ideas for S'mores
Oh there are so many lovely tips and tricks and alternatives for your smores
Try any of these – the concept is the same really, but make the combinations you love
Cookies
Biscuits (any – digestives are good)
Add Raspberries
A teaspoon of Salted caramel sauce
Peanut Butter
Jam
Bananas
Oreos – my faves
White Chocolate
Dark Chocolate
Milk Chocolate
Nutella spread
Biscoff spread
Add sliced Peaches
add slices of Strawberries
Campfire BBQ or Oven
Perfect end to your BBQ or campfire meals and EVERYONE loves them
Lower Calorie S'mores
And if you're trying to be careful, there's no need to miss out!
Just choose 2 of your favourite low biscuits
Marshmallow are quite low in calories and zero fat
And use just one square of dark chocolate for that chocolatey flavour impact! Yum
I also worked out that one Oreo (split) and 2 marshmallow = 92 cals!! So don't miss out
So go ahead and enjoy your delicious S'more – round the campfire or BBQ!
It'll become a family fave I promise – such fun and so delicious
Oh and if you're having a BBQ or Campfire – try some of these get ahead sides that go beautifully with your BBQ
The Easy Slimming Group
I also have a Facebook Closed Group called Easy Peasy Slimming Style Recipes .
Come over and join this great honest community Facebook for Easy Peasy Slimming Recipes if you're interested
Just use the join button if you like real home cooked tasty easy food!!
We support encourage and laugh!!Loads of tips and tricks – I promise
Oh and why not join me on Instagram – I'd love to see you there 🙂
Enjoy
Much Love Clare x