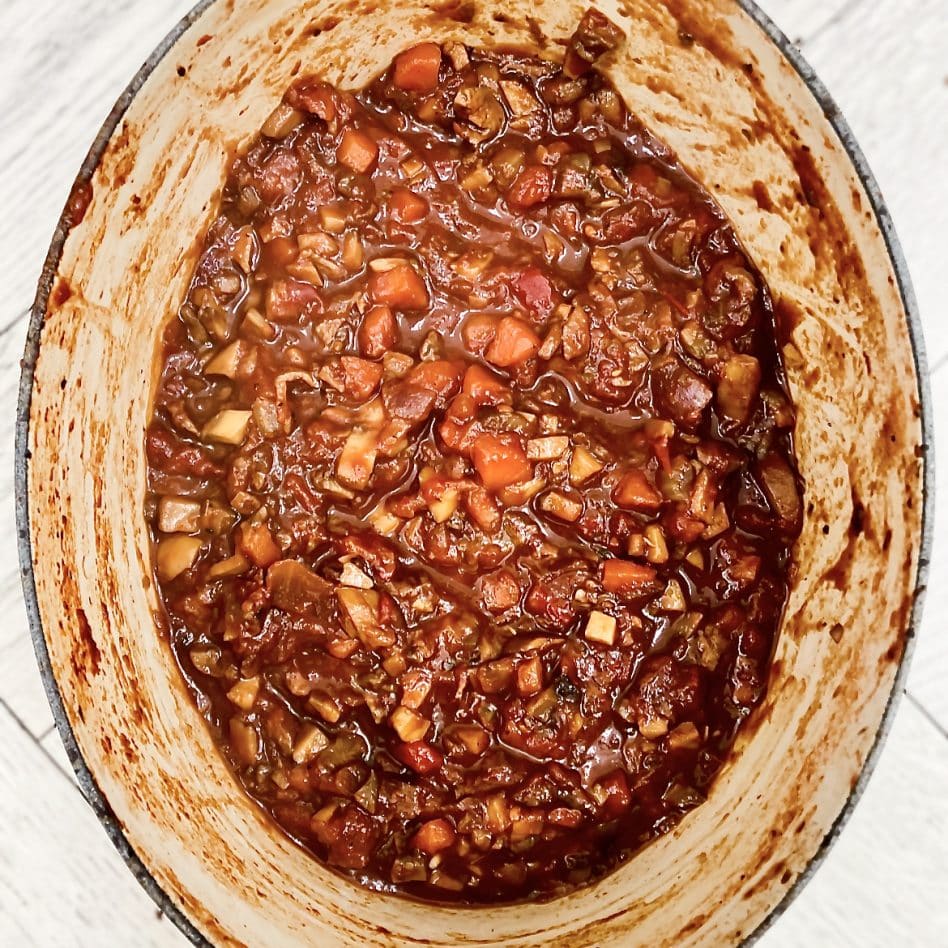 Mushroom Bolognese – Easy & Vegan
I love mushrooms, do you? In everything literally – and they give SO much meaty flavour, not to mention being a great source of fibre (more about that later). I thought based on my general and I have to say growing desire to eat less meat, why not make a healthy vegan Mushroom Bolognese and share my recipe with you 🙂
So here it is and it's good – really good – packed with flavour
Plant based veggie Bolognese
So a little more about mushrooms
Well clearly they are delicious, packed with fibre and rich in UMAMI
Low in calories and high in antioxidents
They are also a great source of Selenium
So what's this word UMAMI….
Umami? What's umami?
You've probably heard of the word Umami and wondered what it actually means – so here goes
Umami, or savoriness, is one of the five basic tastes.
It has been described as savory and is characteristic of broths and cooked meats.
People taste umami through taste receptors that typically respond to glutamates and nucleotides, which are widely present in meat broths and fermented products. Wikipedia
What are Porcini mushrooms and what are they good for?
Porcini mushrooms are a famous, and delicious, addition in Italian cuisine.
Due to their strong nutty flavor, this is an incredibly popular gourmet mushroom.
Like so many other good edible mushrooms, porcini are mycorrhizal. This means that the underground vegetative growth of the mushroom, called the mycelia, enters into a symbiotic relationship with the roots of plants.
Dried porcini mushrooms are add a strong intense mushroom flavour to pasta, soups, and sauces.
If you fancy learning more about Mushrooms check out the Mushroom Apprciation Website
How to make the best Mushroom Bolognese
It really is super easy and relatively quick.
Full details in the recipe card below however
Ingredients:
There's a fair bit of chopping but thereafter – really easy
Next simply, fry off your onion, garlic, celery & carrots
Add mushrooms – there's a lot!
Finally the wets, then simmer baby!
Ta Dah – 30 minutes later
The best Mushroom Bolegnese recipe
Well in my humble opinion 🙂
Serving Suggestions for your Easy Mushroom Bolognase
Well clearly with pasta of any type, and not just spaghetti
I like to eat mine with macaroni, however any pasta shape works really
Also great on top of a baked potato
You can add herbs, chilli a can of butterbeans, lentils or any beans and really mix it up
This recipe is a super base for so many other recipes
Maybe add beans, pulses or lentils and top with mash potato for a vegan Shepards Pie?
Oh so many options
Just look at it here, served simply with linguine
It's packed with flavour and everyone in my house loves it
Can I freeze my Vegan Mushroom Bolognese?
Yes, yes yes you can
Freeze in airtight plastic trays (or plastics bags) and use within 3 months
To reheat – allow to decoys over night in the fridge, then either reheat in the microwave or in a saucepan on the hot
Ensure it is piping hot
Another Bolognese Recipe
And if you're looking for a meat based Bolognese recipe then look no further than my Easy Bolognese Recipe
It's delicious and is packed with hidden veggies as well as beef mince
The Easy Slimming Group
I also have a Facebook Closed Group called Easy Peasy Slimming Style Recipes .
Come over and join this great honest community Facebook for Easy Peasy Slimming Recipes if you're interested
Just use the join button if you like real home cooked tasty easy food!!
We support encourage and laugh!!Loads of tips and tricks – I promise
Oh and why not join me on Instagram – I'd love to see you there 🙂
Other Tasty Vegan Recipes
And here's another lovely plant based recipe Chickpea & Spinach Curry – yum
I also think you've love my Cauliflower Kinda Tikka recipe
Packed full go veggies and packing a punch – it's also VEGAN
And finally my EASY RED LENTIL DAHL recipe – delicious & made in the slow cooker
Hope you enjoy all the recipe
Big Love Clare x
Easy Mushroom Bolagnese - Vegan
Print
Pin
Rate
A delicious Vegan Mushroom Bolognese, packed full of mushroom flavour
Ingredients
30

gram

Dried Porchini Mushrooms

3

tbsp

Water

1

tbsp

Olive Oil

1

Onion

Peeled & diced

2

Cloves Garlic

Peeled & finely chopped

2

Carrots

Peeled & Diced

1

stick

Celery

Diced

500

gram

Chestnut Mushrooms

Diced

1

tbsp

Tomato Puree

400

gram

Tinned Chopped Tomatoes

2

tbsp

Soy Sauce

Salt & Pepper
Instructions
In a small bowl add your Dried Porcini mushrooms and reconstitute with 3 Tablespoons water - this will take 10 minutes

In the meantime take a large frying pan or ovenproof casserole dish and heat your olive oil

Add your onion, garlic, carrot and celery and fry over a medium heat stiring occasionally for approximately 10 minutes, until softened

Next add your mushrooms (it will look like a lot of mushrooms) stir and fry off for approximately 15 minutes. The mushrooms will create water and fry until this reduces and evaporated

Remove dried mushroom from the liquid, reserve this. Chopped the dried mushrooms into small pieces and add to the pan, followed by the reserved liquid

Then add your tomato puree, soy sauce and finally your tinned tomatoes, finally fill your tomato tin half full of water and add this, stir and simmer for 30 minutes

Cook your chosen pasta according to on pack instructions and stir your sauce through your pasta and serve
Notes
*** Nutritional information is approximate and intended as a guide
Nutrition
Nutrition Facts
Easy Mushroom Bolagnese - Vegan
Amount per Serving
% Daily Value*
* Percent Daily Values are based on a 2000 calorie diet.