Hi and welcome to
Easy Peasy Lemon Squeezy
A place to inspire, share and talk everything kitchen with a side order of lifestyle and social ;)
The House of Peroni – Cocktail Infusion Recipes
Oh I LOVE Peroni – so when The House of Peroni contacted me and asked if I would to share some Peroni Infused Cocktail Recipes of course I said unreservadily yes! The House of Peroni – Cocktail Infusion Recipes – what splendid idea 😉
Here are 2 of the lovely Cocktail Recipes which are all on the Infusions menu at The House of Peroni this November. The House of Peroni is an immersive pop-up that takes place for a month on Brick Lane in celebration of Italian life and flavours. The mixologist who created the cocktails is called Simone Caporale. He is a bartender at The Artesian Bar in The Langham Hotel, which was recently named the number 1 bar of 2015.
Madre branch Cocktail
Inspired by the pristine whites which La Madre takes great pride and joy in. The blend of the fresh blossom and woodland notes resembles that of the fresh smell of clean linen drying in the warm, autumnal breeze. The added Peroni Nastro Azzurro gives this sensual drink a perfectly crisp finish.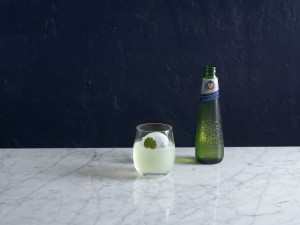 Ingredients:
40ml Peroni Nastro Azzurro
15ml Bergamot & yuzu juice
40ml Vodka
4 fresh Coriander leaves
15ml Cypress tree syrup
Garnish: Fresh coriander leaf, offer the option to add a spicy kick by adding drops of chilli extract
Ice: Regular ice cubes – 1 large single cube
Instructions: Mix all ingredients, aside from the coriander leaves, in a cocktail shaker. Shake vigorously and then add Peroni Nastro Azzurro to the mix. Stir and then strain into glass
Capotavola (head of the table)
Presenting a refreshing hops twist to the iconic Old Fashioned characterized by smooth, round and masculine flavours. Inspired by the traditional Italian family man who holds a strong place at the head of the table. This should be savoured at the end of the evening, enjoying the quieter moments as the day draws to an end.
Ingredients:
40ml Peroni Nastro Azzurro
50ml Bourbon
5ml Sugar syrup
2 dashes of angostura bitter
Garnish: Glazed cherry
Ice drink : Single ice cube
Instructions: Bourbon, sugar syrup and angostura bitters stirred on ice within a shaker. Pour over ice, top with cold Peroni Nastro Azzurro and garnish with a single cherry
Created by award-winning mixologist Simone Caporale for The House of Peroni.
The House of Peroni is open from 29th October – 25th November at 152 Brick Lane, London, E1 6RU. For more information, visit www.thehouseofperoni.com