Hi and welcome to
Easy Peasy Lemon Squeezy
A place to inspire, share and talk everything kitchen with a side order of lifestyle and social ;)
WeightWatchers an insight from Emily
Hi my name is Emily and I work for weight Watchers UK as a meeting leader. I was asked by Clare (who is a member of one of my meetings) to write a piece on successful weight loss. So I thought I would share with you my story and my top tips for weight loss success. Now you must remember I am a normal person living in the normal world, just like you. – No magic spells!
So what did it take for me to join my local Weight Watchers class in the first place – Well after I had my daughter in 2003 I piled on the weight, I now put it down to not really concentrating on myself and I guess not really caring what I looked like – who cared if I didn't wear nice clothes or brushed my hair today kind of thing, I wasn't going out so it didn't matter. I had a small baby who took up all of my time (you know as they do and all that), so things took a back seat. I was on my own with my daughter so I would just grab what food I wanted, a quick sandwich here and there or a cake, chocolate bar anything that was just easy- you know instead of having to cook proper meals, as long as she was well fed, that was the main thing. I did to go to my parents' house most weekends and had my proper meals there so why did during the week matter – It didn't. I carried on with this routine for months, not taking much notice that my clothes were going up in size quite fast – feeling very unhappy about my weight by this point, I was still young -I was 18, this wasn't where I imagined I'd be – young and fat. I wanted to do something but I just didn't know what to do about it – I'll ignore it, because that always works well! It wasn't until I was shopping in my local Morrison's one afternoon, when I was at the checkout just about to pay and the cashier said 'gosh are you brave dear' what do you mean? 'well you have one that age and one on the way' OMG I wanted to just cry and all I could come back with was – No I'm just fat!! Oh my goodness really was I really that big? Those words have always stuck with me and I'll never forget that.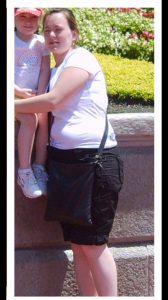 A few weeks later I was asked by my sister to be bridesmaid uh seriously me wear a dress no-no-no. But of course I did say yes in the end, we went dress shopping and found some lovely dresses in our local Debenhams. Yep they will do I say just get me a 16 it will fit no problem, no I don't need to try it on it will be fine. Ha no it didn't, a few weeks before the wedding we had a let's try it all on and low and behold it doesn't fit – so back we go to get a bigger size, but wait for it not one size bigger but two! A size 20 bridesmaid dress, oh that made me feel great, and no amount of spandex knickers are going to suck it in to make it look at least half decent on me.
So after the wedding and seeing the photos I decided that's it I'm going to lose weight, I saw an advert for Weight Watchers in the newspaper and thought oh wonder what that's all about. I found a local meeting and joined, I found it very uncomfortable to start with as I didn't know anyone and was quite shy. I didn't stay for many weeks as I just didn't understand it all. But a few months later I decided to try again, this time I went to one a bit further out as I was embarrassed to return to my old class as a failure. The new class I found was great, no one knew me and I knew no one great – a fresh start, I will do this. I joined this class in 2004 a year after I had my daughter. I can honestly say It wasn't easy not at all, but for me the more motivation I held the more I felt I could do this. I got to my goal weight in February 2009 and lost just over 4 stone. I felt I had made new relationships with foods, I was cooking real food for myself and I was thinking about myself more. I am a lover of chocolate and I always will be, but I never went without. I tried that at the beginning right I'll give up all the 'bad' stuff, I didn't last a week before I just pigged out on it all. So from then on I made sure I had enough points with in my allowance for it. If I enjoy it why would I want to give it up. I told myself everything in moderation, I can have it and still lose weight, but actually it's not all about losing weight- it's about becoming healthy! I have been at goal now since 2009 – 6 years. I became a leader back in 2010, I thought yes I can do that. I can help people lose weight like I was helped, I can use my knowledge to losing weight and help others in the same position as I was because it really is so hard to go at it alone.
My personal top 5 tips for losing weight are:
1; Join a local weight loss class – the support that you will receive from not only the leader but the members it is so worth it. You have to remember everyone at a weight loss class is there for the same reasons. – For the love of food and the want to lose weight and be healthy.
2; Planning– Plan your week in advance, so you know what you will be having and what you need to buy – My method is – If you plan it, you can buy it, you can cook it, you can enjoy it then you can track it…
3; Tracking – Keeping a record of the foods and drinks you have consumed throughout the day, this is where you can identify bad habits. Also if you are counting points or calories you have your record so you can see what you've used and what you have left for the day.
4; Weigh in weekly – never miss a class or weigh in, this can have a detrimental effect on your weight loss. Even if you know you have had a bad week you must weigh in, how can you move forward if you haven't weighed in… Weighing in is like drawing a line under a bad week to start a fresh the next, and what if you have had a good week? That's a weight loss missed, a missed success.
5; Motivation – Always keep in mind why you want to lose weight, maybe for health reasons, feel better, look better, more self-confidence, a holiday… Whatever your motivation for joining a weight loss class or losing weight, never lose sight of it. That is what is going to keep you motivated… If you are a member of a class, you should try and stay to your class too, it's here you will pick up tips and ideas for the week ahead, like I said before everyone is there for the same reason – to lose weight and be healthier.
Love Emily X
So if you are motivated and interested in joining Emily or indeed any WeightWatchers Class – I say just do it!
Emily's details are : Click here to get started and why not just start your journey now (Emily is so lovely and such a massive support)
Cx
(NOT SPONSORED)