Hi and welcome to
Easy Peasy Lemon Squeezy
A place to inspire, share and talk everything kitchen with a side order of lifestyle and social ;)
Breast Cancer Journey -Tracey – catch up
Breast Cancer Journey
Tracey Britten – my wonderful brave  beautiful friend
Friday 3rd June 2016
So it's not been such a good week – I've had worse though, so not too bad in the whole scheme of things – just the build up of stuff really. When you hurt it makes things more difficult to deal with. But sometimes a day happens like today that just picks you up and helps you to keep going. Today is a good day.
Since my last blog update Lewis' finger got worse again so we ended up back to hospital with yet more antibiotics. The doctors had discussions but decided it wasn't worth the risk of introducing more infection from surgery. Really worrying but he was so brave and grown up. OMG my little Lewis is big Lewis now! When did that happen? So at the moment of writing this his finger is still swollen, but he can move it and it's not red! So all looks to be on the mend.
Then poor Nathan has had an awful cough and cold (more like flu) – through his exams on top of his hayfever – so not good. But again, he didn't moan, he just got on with it and carried on. OMG my little Nathan is big Nathan now too!
Just to confirm that, yes, both my boys now tower over me! I am officially short!
Freya has been poorly coughing too but not quite as bad – lots of snuggling and movies to mend. Don't worry – she's still my little Freya!
Then Phil pulls a muscle in his back and can't move. I need him so much right now! But he doesn't moan – he just gets on with it. Is this what cancer does? It makes everyone brave? Luckily we have plenty of pharmacy drugs in the house so Phil is sorted with some strong pain killers and some diazepam and a nice bath and rest. What a relief.
Because to top it off I hurt my shoulder. No reason, I just couldn't move it at certain angles – like brushing Freya's hair, or getting dressed, or opening a door – random stuff that hurt like HELL! Didn't even notice that happening because of all the pain I have anyway. I did get myself into a little bit of a panic as it was on the side of the cancer and surgery. Luckily Dr Cochrane was brilliant and reassured me – he's one of our GP's that has experience in oncology. He thinks I've just got an impingement in my shoulder – no cancer in the bones! So treatment is to rest arm (great! I'm right handed), anti inflammatory pain relief (I have a stash of Ibuprofen), stretches (so gentle yoga and swimming all good). No lifting (lucky I have 3 strong boys!), and a steroid injection. But because of my medication and treatment he didn't want to give me the injection until they checked out my shoulder by ultrasound – just in case. So it's just more pain I'm dealing with until I get an appointment. Let's see if the Cancer Fast Pass works! Fingers crossed I get seen soon. If not the wait may improve my shoulder and I won't need the steroid injection after all – lets hope! But I have the feeling this could be a recurring problem – and going by the doctor's facial expression!
So my pain is getting worse by the week – I feel I have aged 10s of years over just one. I am pretty sure it's the accumulation of the Exemestane (Aromasin) – the hormone inhibitor I am on for 10 years! This is so not good. So I now have a love/hate feeling towards this little daily tablet. It's keeping the cancer at bay but causing me such bone and joint pain as payback! And the accumulation of Herceptin is just adding to it. We shall see as in 2 weeks I have my last one – Number 18!
And on top of all this, the weather is bloody freezing – yes, I'm dressed like an eskimo again, in June I have 4 layers on and my duvet coat. The cold makes everything ten times worse too. And my little car needs repairing. But hey!
I have felt a bit fed up as I have had to be signed off work for the rest of the term. I am missing my work friends and students already. But sometimes needs must and even my mind over matter isn't working – it's just all too much. I'm gutted but I know I need to rest and repair and be sensible so I can be back for the new term in September. I work with amazing people – thank you all for your kind reassurance that I'm not letting you all down.
I thought I was meant to feel better as I went along but I feel somuch worse that I did last summer! I suppose all drugs have side effects – it's a question of how much I can tolerate them.
But we did manage to have a few good days over half term – we went to Hertfordshire to take Grandma Gwenie out to lunch (Phil's mum). I feel for her so much as we haven't managed to see her much since I've been ill and she's so good to us and tries to help as much as she can. I wish she lived closer – it would be so much easier on everyone if we all lived near our families. The journey was really tough for me but I managed it and we had a lovely meal out.
Today I pulled myself together! I went for a gentle swim/sauna/steam/jacuzzi.
Booked the cinema for Freya and I to see "Me Before You" so we could chill and eat more popcorn. Popcorn helps! I think we have a popcorn addiction! We had read the book at Book club so I knew it was sad but happy too. Definitely recommend! Even going to the cinema totally exhausts me now though – Freya had to help me get up! I had a Grandma moment! Except she's double my age!
I had a little walk with Phil across the meadows with the dogs – just to try and get my body going and raise my energy levels. Movement definitely helps!
Beautiful poppies.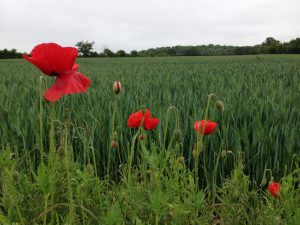 And then I opened my post……
Now this is the reason I've really needed to update the blog today. Because sometimes something really unexpected happens to make everything feel better. And today it was a card, letter and a cheque from my friend Clare www.EasyPeasy-LemonSqueezy.co.uk. Not sure if you can read the letter but as if seeing the movie wasn't emotional enough – this letter certainly was! Clare, we haven't known each other long but I feel we have known each other for years too – thank you so so much from all of us – we are going to save it for Cornwall! Thank you x
I believe that we meet people and that people cross our paths for a reason. I know Clare is one of them.
I have met so many amazing people on this Cancer road trip – people I would never have met otherwise – and far too many to list.
For example the junior plastic surgeon I met again when in hospital last week with Lewis – her name was Miya and it was a year ago she had seen me for mspyy pre-surgery appointment for the new boob, in a different hospital, on a different ward, for a different reason – so random – I remembered her as she'd worn such a pretty dress! She didn't remember me at first as I was very sick and bald this time last year – now I look like a crazy cat lady – do you see the resemblance? – same hair!
And the guy we were chatting to that had accidentally set himself on fire from a bbq – he was a human marshmallow! He is on the mend and doing amazing. But he made us realise things could always be worse and more frightening – stuff happens!
The friends I have met at the Essex while swimming and sitting in the sauna. I meet lots of interesting people in the sauna! I've nearly sat on a few in the steam room too! You would not believe it! They have all helped me along the way so much – more than they know. Like the lady that was a professional swimmer in her younger days – she's 98 and still swimming – what an inspiration! She said I had a beautiful stroke and she made me smile that day! Lots of people make me smile and it helps!
I hang out in the doctors surgery and the pharmacy a lot too – I know why the elderly people of the village actually find it is quite sociable to be sick now!
I understand the NHS far too well now too! I need to work in a hospital one day to help others. But for the moment I'll just continue to hang out in various hospitals!
It's hard to stay in touch with everyone and it's hard to be a good friend – I'm finding it hard at the moment as I'm having to think of myself and my immediate family more. And sometimes our friends come and go for different reasons along the way. So many people have been helping us and we are so grateful and always will be – it really does help.
Just a traditional postcard from my school friend, Jo, really helped this week – we haven't actually seen each other for over 10 years! It's all the little things too!
I truly believe that if you are kind to others then you will get kindness back when you really need it.
Thank you everyone x