Hi and welcome to
Easy Peasy Lemon Squeezy
A place to inspire, share and talk everything kitchen with a side order of lifestyle and social ;)
Lovely Tracey's Cancer Journey Update :-) Battle of Britten
Friday 11th September 2015
SEPTEMBER 11, 2015 ~ TRACEY BRITTEN
We're back! We have had a wonderful, much needed holiday in Turkey and I thank everyone who has made this possible, especially my friends Jane Collett and Tracy and the girls from the Hair Shop, and everyone else who clubbed in to send us. So grateful and always will be, makes me really emotional when I think of the kindness everyone has shown me and my family. I really hope one day I can do the same for them. Thank you.
We've never done an all inclusive package holiday before – not really our thing as Phil doesn't like crowds but it was the best thing for us at this time and a bargain! We didn't even have to make the beds! Go shopping, think of dinners, anything! It was perfect. The absolute best thing about it was that we had quality time as a family – every minute of each day. Some families would hate it but we didn't. This cancer journey has brought us so much closer. You know what it's like at home, busy busy, all in different rooms doing different stuff.
On holiday we were together. It was lovely. We had loads to chat about and it was wonderful to spend time with each other. My kids make me laugh so much and the boys have a wicked sense of humour now. It was exactly what we needed! And it was so nice and warm – in the 90s. I didn't realise how much the cold hurt, well I did as I hadn't been good before we went, but I really noticed that the heat helped with the pain. It was lovely not to ache for a week. Must be similar to arthritis I think. Unfortunately now we're back and it's colder I'm not so good already, but hey, small price to pay to keep stupid cancer away!
We mostly spent our days at the beach, swimming – kids loved snorkelling with the fishes. Eating – so much food! We booked some fun for them too – Ringo and a jet ski – so much fun and just what they all needed. I had a go as Lewis didn't want to. Phil loved it! So much laughter!
We also had a family Turkish Spa day. With a bit of sign language and explaining they realised they had to be very gentle with me so the boob was fine! My therapist guy was amazing – he gave the best massage I've ever had – so good – he was better than me at a foot massage too! He kept saying I had really good energy! It was perfect. Me and Phil had a few hours together being pampered and so did the kids – they loved their feet being fish food the best! Lewis said he wants a fish tank with lots of fish in to nibble his feet at home! So funny! No! Not happening!
The kids loved the fact they could get food whenever they were hungry. Ice cream, crepes, pizza, burgers, best chips ever, multicoloured cocktails – kid heaven. And that was what this was all about, to give my wonderful children something good to remember 2015 and wipe out some of the bad stuff they've had to go through.
Me and Freya had lots of girl time together – especially being mermaids with the fishes!
Lots of kittens everywhere too, which Freya loved. So she got the name of the 'Crazy Cat Lady' this holiday!
So, now we're home. Home sweet home. We had a wonderful time but it's good to be back. We missed the doggies and they missed us. Clover won't leave our side – except of course to dig a few holes in the garden! Bless! Thank you Kerry and Co for house sitting.
Holidays have always been very important to me but this holiday has proved how so important it is to have family time away together. Unfortunately we can't plan ahead but we'll see how it goes, maybe a mini break to Italy next?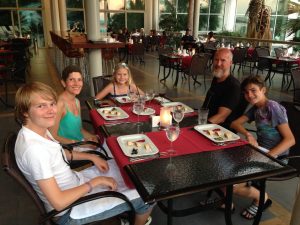 Me and Freya did a bit of shopping at the airport…….
I have a new charm for the bracelet of love – the turquoise one to represent our holiday – the colour of the sea! Of course Freya had to have one too – she chose some sparkly angel wings! Perfect for my little angel!
So what's next? Well next week I'm going back to work at college. I am so excited but at the same time hoping I will be ok. I love my job so much so I hope my body can cope. Work means getting back to normal! You crave 'normal' after cancer. Strange isn't it?
Next Wednesday is Herceptin number 5 already! And on Friday we meet with our lovely Dr Chakravorty to discuss how I'm doing and what happens next I suppose. Still waiting on the Gene results.
So will update in a week or so, thank you for reading and keep checking for lumps and bumps!